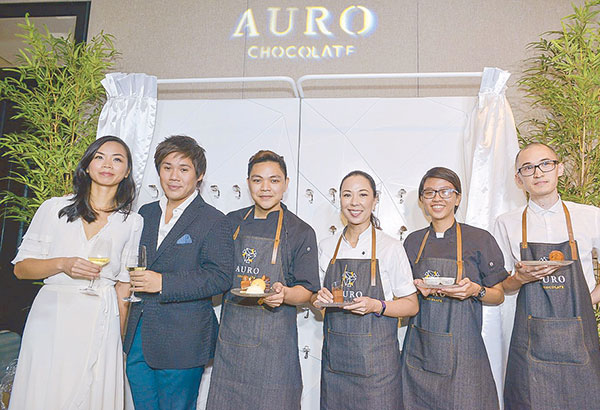 (From left) Auro Chocolate co-managing director Kelly Go and Mark Ocampo with chefs Miko Aspiras, Sunshine Puey, Eliz Tumambing (for chef Peachy Juban) and Richie Manapat.
THE PEPPER MILL
-
Pepper Teehankee
(The Philippine Star) - May 29, 2017 - 4:00pm
Chocolate lovers trooped to the Manila House Private Membership Club in Taguig City for the launch of Auro Chocolate, a proudly Filipino chocolate-producing company.
The company, which empowers local farmers to sustainably create the finest single-origin cocoa and chocolate products, is headed by its founder and president Jacki Go and daughter Kelly Go as co-managing director with partner Mark Ocampo, grandson of lawyer Estelito Mendoza.
Manila House chefs, headed by Selena Ocampo, whipped up a finger-food menu for the event, which included taro chips with white chocolate dip and goat cheese; pumpkin soup shooter with white chocolate foam and chocolate liqueur dust; jamon Serrano, 72-percent dark chocolate and baguette; seared salmon with white chocolate cauliflower puree and scallion oil; and slow-roasted beef belly with chocolate barbecue sauce and horseradish. Guests also enjoyed the Auro Chocolate-infused cocktails by the Avenue Bar.
The event was made even more special when sought-after pastry chefs served their one-of-a-kind desserts: Sunshine Puey (chocolate silk with hazelnut crumble), Peachy Juban (Ding, Ang Bato!), Miko Aspiras (Bubbles/Block/Dark of the Moon) and Richie Manapat (Sourdough Rum Baba).
Xandra Rocha-Araneta emceed the event and the retro party music was courtesy of DJ Paul Mauricio.
The night ended with the unveiling of a chocolate wall full of spoons with sumptuous chocolate creations by Auro.
I tried the milk chocolate, white chocolate and three types of dark chocolate (each with a higher percentage of cocoa). I couldn't decide which one I liked the most since all were very good. I was very impressed with the quality of chocolates from Davao!
(The Auro Chocolate shop will open soon at Fabtech Building, Santiago St., Paseo de Magallanes Commercial Center, Makati City.)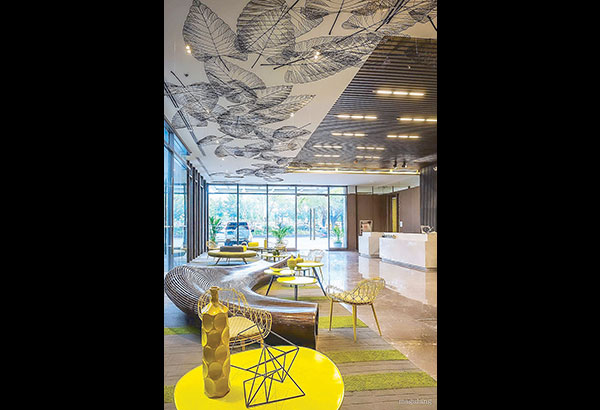 Vibrant pops of color and unique furniture mimicking nature at the lobby of Citadines Millennium Ortigas Manila.
Vibrant city living
Vibrant city living will be coming to Ortigas center as Citadines Millennium Ortigas Manila opens its doors to the public during the second quarter of the year.
Its opening will mark the entry of the largest international serviced residence owner-operator in the country, The Ascott Limited, in the northern part of Manila.
A briefing of the new international serviced residence was recently organized for the media and led by regional general manager for The Ascott Limited in the Philippines and Thailand Arthur Gindap. He explained that the new international serviced residence is designed for young business executives and leisure travelers who are looking for an ideal home within the city.
President and CEO of CDC Holdings Inc. Melesa Chua, COO and vice president for sales marketing Charlene Chua, Citadines Millennium Ortigas Manila residence manager Glenn Magalang and senior manager Richie Cua were also present during the briefing.
"By building Citadines Millennium Ortigas Manila in the central business and commercial district of Ortigas, we are providing our future residents with a space where they can both work and enjoy a dynamic city lifestyle," Gindap said.
(For more information, visit www.citadines.com or call 814-6888.)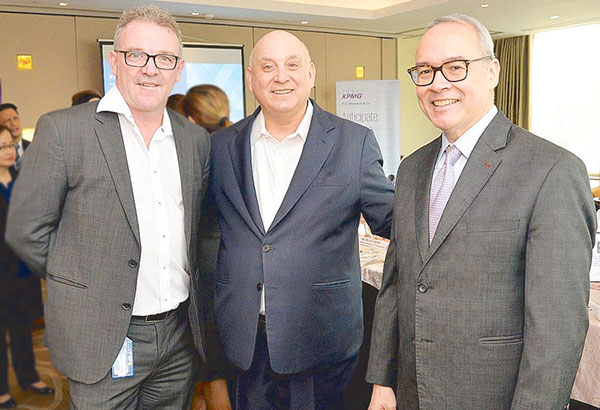 Ericsson Telecommunications Inc. CEO Sean Gowran, Optel Ltd. managing director Don Felbaum and KPMG RGM&Co. vice chairman and COO Emmanuel Bonoan.
Boosting economic ties
Top local auditing firm KPMG R.G. Manabat & Co. (KPMG RGM&Co.) hosted a luncheon with Sweden Ambassador Harald Fries.
During the event held at the Tower Club in Makati City, Fries acknowledged KPMG RGM&Co.'s efforts in bringing more Swedish businesses to the country while addressing barriers to investments with the support of the Swedish Embassy. Also discussed were developments in the local and global economies, which impact the Philippine consumer markets sector.
KPMG RGM&Co. executives present were vice chairman and COO Emmanuel Bonoan, vice chairman and head of advisory Henry Antonio and chief finance officer Pacifico Castañeda.
Also in attendance were members of the Swedish business community in the Philippines, including Ericsson Telecommunications Inc. CEO Sean Gowran, Retail Software Associates Corp. CEO Bo Lundvqist, Auto-Delta Volvo Bus president Robbie Torres, Swedish Embassy senior trade promotion officer Giselle Yap, Atlas Copco business line manager Raymond Buenaventura, Ikano Philippines Inc. marketing manager Jasmin Cruz, Electrolux Philippines country marketing manager Andrea Soto-Pionilla and Swedish Match Philippines sales area manager for Asia Pacific Martin Ejecklint.
Optel Ltd. managing director Don Felbaum and Ayannah CEO Mikko Perez shared insights on digital commerce and online payment services.
(KPMG RGM&Co. is the Philippine member firm of KPMG International. For more information, visit www.kpmg.com.ph.)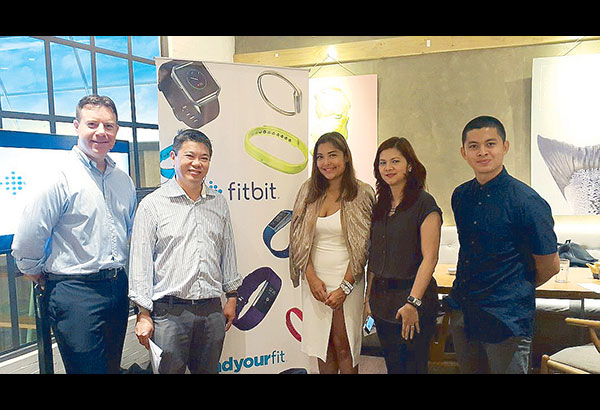 (From left) Fitbit head of product marketing for Asia Pacific Alexander Healy and regional lead for Southeast Asia, Hong Kong and Taiwan Louis Lye with Globe Executives Lea de Guzman, Gladys Rojas and Philip Bondoc.
Slim & chic
Fitbit, a leader in the connected health and fitness market, launched the newest addition to its family of activity trackers — the slim and chic Fitbit Alta HR.
The Fitbit Alta HR has a PurePulse heart rate technology upgrade. Its latest features include Sleep Stages and Sleep Insights, which are perfect to gauge how much quality sleep one gets.
This fitness band comes in classic black, coral, blue gray or fuchsia, while leather interchangeable bands are in lavender, brown, indigo. Steel metal bracelets may only be purchased separately.
Fitbit regional lead for Southeast Asia, Hong Kong and Taiwan Louis Lye and head of product marketing for Asia Pacific Alexander Healy were in Manila recently to formally unveil the Fitbit Alta HR.
Be one of the first to get this amazing activity tracker from the following Fitbit retailers: Digital Walker, Beyond the Box, select Toby's stores, iBOOK, iCENTER, Mobile1, Globe, Gadgets in Style, Hive mind, Lazada, Zalora, Timeline, The Inbox Store, iLiberty and Rnnr stores.
(Follow me on Instagram @pepperteehankee.)