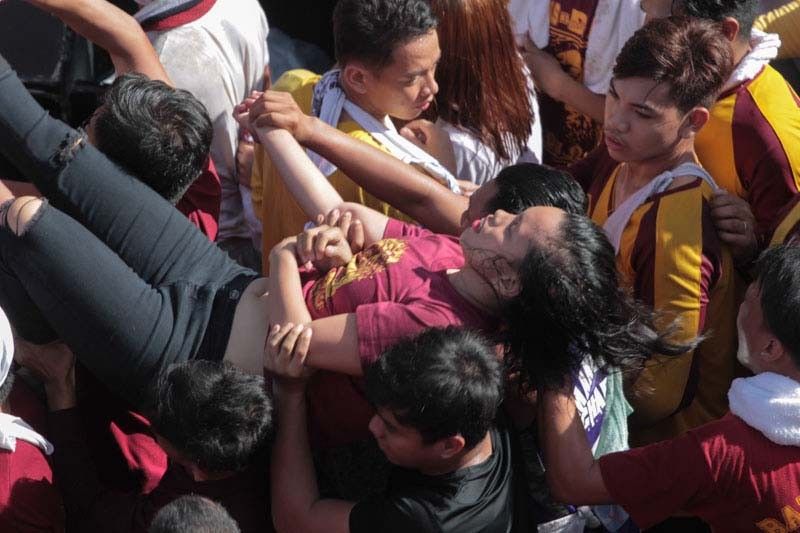 Devotees of the Black Nazarene help carry a woman who appears to have fainted during the traslacion.
Philstar.com/Efigenio Toledo IV
WATCH: First aid given to 'traslacion' devotees
MANILA, Philippines — The Philippine Red Cross treated more than 1,600 patients in the 21-hour procession for the feast of the Black Nazarene 2019.
In its report, the PRC said that it gave aid to 1,613 patients, 747 of those had their blood pressure monitored and 603 were treated as minor cases.
The PRC said that minor cases include those who were suffering difficulty in breathing, fainting, puncture, sustained abrasion, bruises, laceration, toothache, nosebleed, sprain, hypoglycemia, swelling muscle spasm, body weakness and dizziness.
There were also 62 major cases (laceration, difficulty in breathing, dizziness, blunt and body weakness) brought to them.
Their team also gave psychosocial support to 197 individuals and transported four patients who experienced hypertension and chest pain and sustained fracture and deformity to nearest hospitals.
Director Guillermo Eleazar, National Capital Region Police Office chief, said that around four million devotees joined the annual procession.
READ: Tagle: Love is the difference between a 'devotee' and a 'fanatic'
The traslacion lasted for 21 hours and seven minutes as the venerated image of a suffering Jesus Christ returned to Quiapo Church in Manila.
Watch how the responders gave first aid to traslacion devotees of the Black Nazarene: