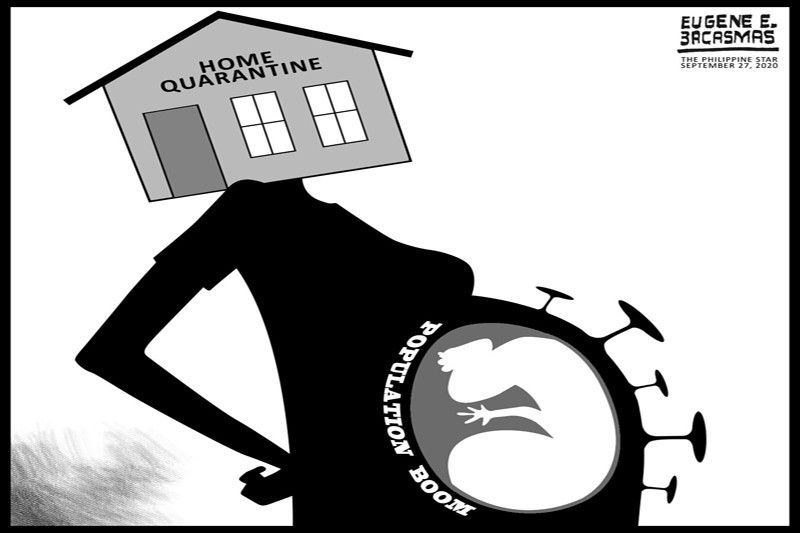 EDITORIAL - Pandemic population boom
(The Philippine Star) - September 27, 2020 - 12:00am
The coronavirus disease 2019 continues to take lives, with nearly a million deaths worldwide and 5,196 in the Philippines as of yesterday. But the lockdowns imposed to contain the COVID-19 pandemic have also led to the creation of life.
The Commission on Population and Development sees 214,000 more births this year, on top of the projected 1.7 million, as a result of people forced to stay home due to pandemic quarantines. With the country joining the international community in marking World Contraception Day on Sept. 26, POPCOM has expressed concern over the impact of the pandemic lockdowns on unplanned pregnancy rates and the delivery of reproductive health services.
While childbirth is typically a cause for celebration, unplanned pregnancies can produce socioeconomic problems, especially in households hit by unemployment and the loss of livelihoods as a result of the pandemic. The heavy economic impact of this public health crisis is expected to persist for at least another year, with some livelihood dislocations likely to be permanent. With the economy in recession, government resources to provide public health care and financial assistance are being stretched to the limit.
Adding approximately two million more to the population next year will put more pressure on limited resources. POPCOM noted that Republic Act 10354, the Responsible Parenthood and Reproductive Health Act, doubled the number of families joining the family planning program, from four million when the law was passed in 2012 to nearly eight million by 2019.
Adolescent birth rates, however, are on the rise as a ruling of the Supreme Court has limited minors' access to RH services, according to POPCOM. Citing a 2017 study, the commission notes that 10 percent of Filipino girls aged 15 to 19 have given birth. POPCOM has recorded sexual activity and childbirths even among 10 to 14-year-olds in this country.
This year, the contraceptive pill turns 60. The United Nations estimates that 151 million women worldwide between 15 and 49 years old pick the pill as their contraceptive method. The latest National Demographic and Health Survey shows that 20 percent of Filipinas take the pill. The
RH program also provides information on other methods of avoiding pregnancy, including the natural method that is preferred by the Church. Regardless of the method, the RH program must continue to be promoted especially during the pandemic.