EDITORIAL - Steep cost of hospitalization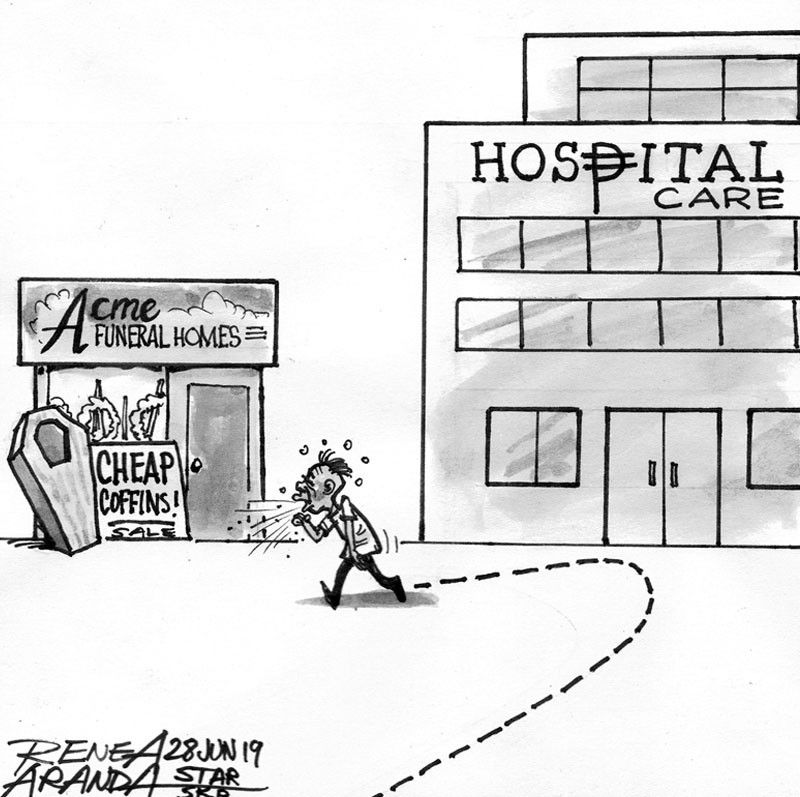 Most Filipinos cannot afford the cost of hospitalization, according to a recent study. The 2nd Philippine Wellness Index, initiated by hospital maintenance organization and insurer PhilCare, showed 40 percent of 1,350 respondents from across the country expressing uncertainty over their capability to pay medical bills.
About 30 percent of the respondents were not sure if they could afford regular medical checkups. To pay medical bills, 37 percent said they use their savings while 25 percent seek help from relatives. Some 15 percent used personal health insurance while 63 percent relied on the Philippine Health Insurance Corp.
Even without a survey, a visit to any government hospital will illustrate this problem dramatically. In birthing centers, new mothers share not just free wards but even beds, lying with their heads on opposite sides of the bed just so they can fit. The overcrowding in some hospitals has sometimes led to disease outbreaks and even infant sepsis.
Universal health insurance coverage will certainly help, especially with the expansion of the ailments covered by state subsidies. But even the additional resources allocated to PhilHealth are still not enough to cover the cost of hospitalization under most circumstances.
Health care is a problem even in advanced economies, but even more so in developing countries where large segments of the population live below the poverty line. State subsidies are limited and governments can only do so much.
Preventive measures and programs to promote healthy lifestyles can best augment those limited resources. Merely stopping or cutting down on smoking as well as moderating alcohol consumption can improve health, reduce health care costs and add years to one's life. Current laws regulating smoking need to be enhanced to include vaporizers or e-cigarettes. With the steep cost of medical care, every effort must be made to be healthy enough to stay out of hospitals.