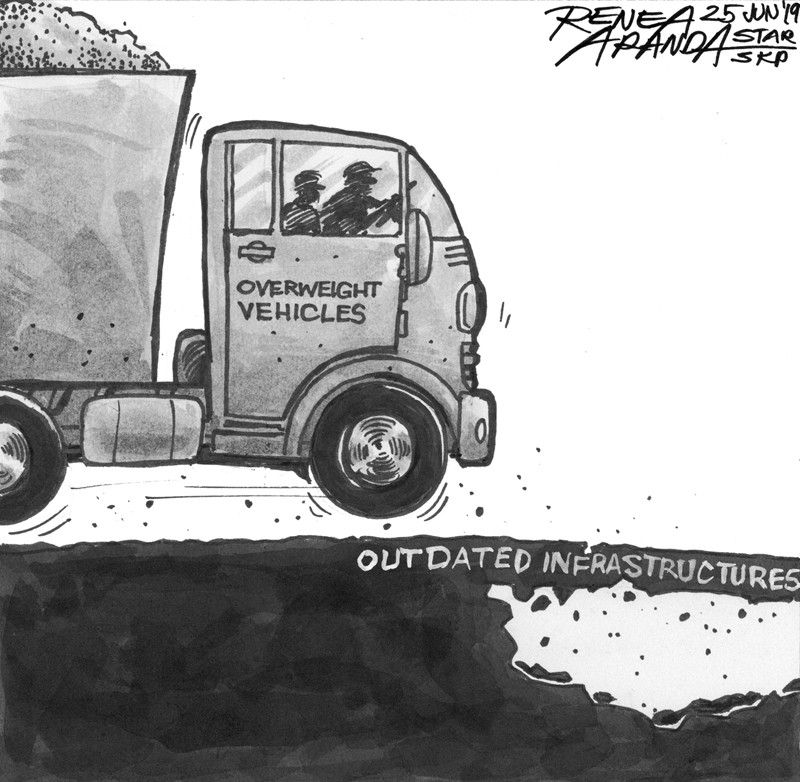 EDITORIAL - Not for heavy duty
(The Philippine Star) - June 25, 2019 - 12:00am
Sunday traffic is usually light on Roxas Boulevard, unless there is a special event being held. Last Sunday, however, traffic crawled around the area due to a freak accident: a portion of Remedios Street running alongside Rajah Sulayman Park near the boulevard in Malate had collapsed under the weight of a 14-wheeler truck hauler laden with sand.
The road section sits atop a double barrel box culvert. As of yesterday, the collapsed section – about as long as a regular shipping container – was waiting to be repaired, and remained fenced off to traffic.
Public works personnel said the road, which has no support over the culvert, could carry no more than 20 tons. The truck, however, was reportedly carrying nearly 40 tons of sand. The truck driver said he was supposed to take Roxas Boulevard on the way to Manila's Baywalk at around 1 a.m. to deliver the sand for a bay area rehabilitation project, but was diverted to the side streets by traffic enforcers due to preparations for a morning marathon in the area.
Fortunately, no injuries were reported. But the area is usually crowded with vehicles and people, especially when there are special events such as concerts in Rajah Sulayman Park or a regatta in the bay. How many other spots along the road, which the public works department says was constructed in the 1970s – and in other places around Metro Manila – lack sufficient support for truck haulers carrying heavy loads?
Because of the Port of Manila, all types and sizes of truck haulers ply the streets of the National Capital Region on their way to and from the metropolis to various points in Luzon and even the Visayas. The trucks are weighed by public works personnel upon leaving the Port Area so the drivers know if their vehicles can be borne by roads and bridges along the way.
Only a few roads, however, carry advisories on vehicle weight limits. Last Sunday's accident shows that public works authorities may have to review the structural integrity of the road network in Metro Manila, before more such accidents occur, and with possible worse consequences. Heavy vehicles can be properly advised about safe routes. Certain roads can be fortified to support heavier weights. If sufficient warnings are given, violators of vehicle weight limits can also be held accountable for damaging public property and endangering public safety.