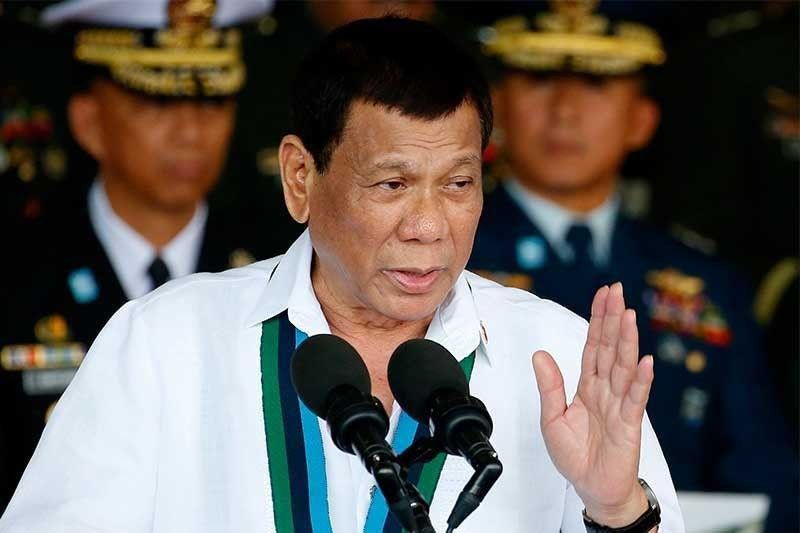 A final word about blaspheming God
SHOOTING STRAIGHT
-
Bobit S. Avila
(The Philippine Star) - June 28, 2018 - 12:00am
I taught that by this time, the issue on Pres. Rodrigo Duterte making blasphemous statements against God would have already passed. Apparently we just have too many Catholic lay organizations that has to say their piece in the defense of God. As I already pointed out, my group opted to pray for Pres. Duterte because he needs prayers from all of us. But a friend of mine Engr. Douglas Gacasan, head of our Task Force for Family and Life (TFFL) wrote me through Messenger a statement that I should publish. Here it goes:
"Good. He is listening. Otherwise, he will be the loser as the president. On the part of the church, an apology should be coming on the traumatic event of Digong's early life claiming that he was raped by a priest. Our president has to start the personal healing process and the bishops must understand this. If past Popes apologized for the pedophile priests, there is no reason the CBCP cannot offer its sincerest apologies to PDU30. The apology should be in the sincerest manner possible, but conditional in fairness to the priest who has since passed away and who cannot defend himself.
Every time PDU30 hears of pedophile priests and those who maintain partners of the opposite or same sex I am sure old wounds and the trauma PDU30 experienced are reopened. The president needs healing too. The church must find in its souls the grace to accept its sins and mistakes and the humility to offer this apology to the president. Thus could be the start of new and positive cooperation between the biggest sect in the country and the state. The president has made the first move for a true dialogue. The church must respond in humility too. Then we can all move forward as a nation. God bless the Philippines."
I would have wanted to move forward and deny discussing this issue, except for this suggestion as written by my friend. I guess I will take this up until this week and then leave the issue behind. But whether the Catholic Bishops Conference of the Philippines (CBCP) would come up with a task force to put an end to the issue plaguing Pres. Duterte, it is up to them. Let me just point to you that from the time I decided to support the candidacy of then Davao City Mayor Rodrigo Duterte, I knew from day one that he was no longer Catholic and therefore I don't think he'd have a Catholic upbringing even if his parents were staunchly Catholics.
I have always believed in the reality that at the end of our lives, we will be presented before God and his justice. If we obtain mercy, then we should call ourselves lucky. But in truth, while we are awaiting our faith before St. Peter, we will be amazed to see people that we know whom we feel should not be in heaven but are there, or people we know who should be in heaven, but are not there. These are the great mysteries that unfortunately no matter what Google or Facebook tries so hard to do, would never know the answers. Only when death comes to us will we know all these things!
* * *
I was about to write on another issue when The Freeman News came up with breaking news…. That SPO1 Adonis Dumpit has been killed in an encounter with police operatives and NBI agents yesterday morning in Barangay San Isidro, Tagbilaran City, Bohol. His death was confirmed by Police Regional Office-7 Director Chief Supt. Debold Sinas. I really don't know why SPO1 Dumpit had an encounter with police and NBI agents when he is supposed to be a loyal police officer of Cebu City Mayor Tomas Osmeña.
Who then was this Adonis Dumpit? He was known as the close-in bodyguard of Cebu City Mayor Tomas Osmeña. Dumpit was apparently convicted of homicide in August 2014 for shooting dead a 17-year-old robbery suspect in Cebu City, almost 10 years ago. Regional Trial Court Judge Ester Veloso sentenced the policeman to six to nine years and four months of imprisonment and ordered him to pay P50,000 to the heirs of the victim.
When Mayor Osmeña won the mayorship of Cebu City from then Mayor Michael Rama in the 2016 elections, one of the first things he did when he took office was to spring SPO1 Adonis Dumpit from jail. Dumpit was then detained at the Leyte Regional Prison in Albuyog, Southern Leyte. Dumpit was Mayor Osmeña's close-in bodyguard and aide when the latter was Mayor of Cebu City. Osmeña said he would get Dumpit as his aide once he posts bail. In his resolution, Associate Justice Pablito Perez of the CA 20th Division found no sufficient basis to deny Dumpit's application for bail. Upon his resumption as Mayor of Cebu City, Mayor Osmeña sent a small plane to fetch Dumpit in Leyte to bring him back to Cebu City.
I don't know what happened to Dumpit since he returned to Cebu City. Apparently he went back to Bohol he had this encounter with the police and NBO and his death apparently saddened Mayor Tomas Osmeña, although he said that he hasn't seen Dumpit in the last two years. Abangan!
* * *
For email responses to this article, write to vsbobita@gmail.com. His columns can be accessed through www.philstar.com.
* * *
Email: vsbobita@gmail.com