EDITORIAL - Fake drugs
December 4, 2017 | 4:00pm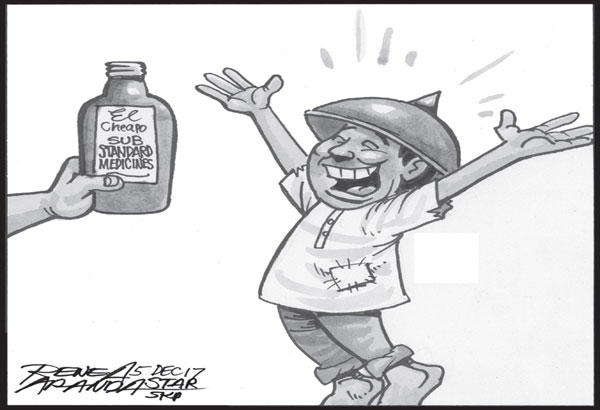 Besides the anti-dengue vaccine whose use may have put some 70,000 children at risk, the country has also been saddled with the proliferation of counterfeit medicine.
For many years now, public health advocates have warned about the proliferation of fake drugs in the Philippines. The counterfeit drugs range from medication for common afflictions such as cough and diarrhea to maintenance drugs for hypertension and fake Viagra for erectile dysfunction. As early as 2010, health advocates had estimated that one in 10 drugs sold in the country was fake.
Over the weekend the World Health Organization gave a similar estimate, but on a global scale, with developing countries including the Philippines reported to be the principal markets for fake drugs. WHO officials believe tens of thousands of children worldwide die every year from afflictions such as malaria and pneumonia due to the use of fake drugs. Of some 48,000 drugs covered by 100 studies reviewed by WHO experts, 65 percent of the fake medicines were for treating malaria.
There are no suppliers if there is no demand. And demand in developing countries is high, not for fake drugs but for more affordable medicine. This is what suppliers of fake drugs can offer: products that are dirt-cheap when compared with the branded originals.
Those who profit from meeting this demand either produce fake drugs or bypass global rules on intellectual property rights, manufacturing generic or copycat versions long before international patents lapse, without the consent of the companies that developed the medicine. The companies then cannot impose product quality controls and efficacy of the imitations cannot be guaranteed.
Fake drugs also proliferate in countries where regulation is weak. This is true in much of the developing world, including in the Philippines, where practically anything can be smuggled through Customs by anyone with the right connections and financial means. If P6.4 billion worth of shabu can breeze through the Port of Manila without even a cursory check, think of how many other types of illegal drugs including fake ones are waved through from what health advocates said were the top sources: China, India and Pakistan.
If the government wants to protect public health, the smuggling must be stopped. The government must also provide the manpower and resources – all acutely lacking in this country – to prevent the local manufacture, distribution and sale of fake medicine, and to expand the capacity for screening all types of drugs for safety. Finally, to give justice to victims and prevent impunity, purveyors of counterfeit medicine must be caught and appropriate punishment imposed.