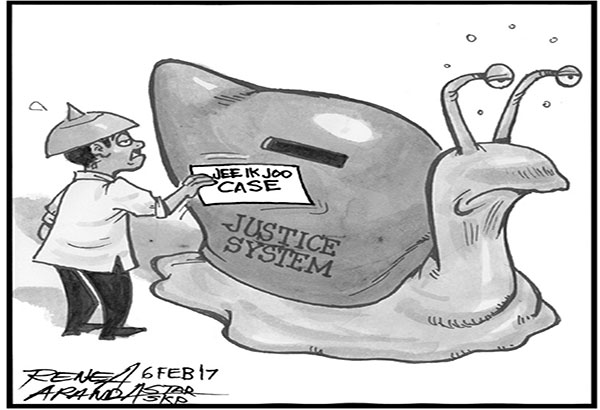 EDITORIAL - The next national embarrassment
(The Philippine Star) - February 6, 2017 - 12:00am
President Duterte has apologized to the victim's widow as well as to the South Korean government and their people for the ransom kidnapping and grisly murder of business executive Jee Ick-joo. Acknowledging the crime as an embarrassing scandal, the President has also stopped the Philippine National Police and the National Bureau of Investigation from carrying out anti-narcotics operations.
The next national embarrassment will be the prosecution of Jee's case. While the judiciary is an independent and co-equal branch of government, there must be ways by which the executive can help speed up the administration of justice. It would be a disaster if this case languishes in the courts for two decades.
During the regime of Ferdinand Marcos, special courts were created to resolve ASAP cases involving foreign visitors. Minor cases could be resolved as quickly as three days. While a dictatorship can do many things much faster than a democratic government, it should be possible under current circumstances to speed up adjudication of cases involving foreigners.
President Duterte, who has openly professed admiration for Marcos, may want to discuss this with government prosecutors and the administrators of the judiciary. If such discussions push through, they may also want to expand the initiative to cover all regular courts. The glacial pace of Philippine justice is an injustice and a national disgrace. Koreans, who have one of the world's most efficient judicial systems, will not be the only ones watching the prosecution of Jee's killers.
Everyone wants speedy justice, with punishment imposed after a credible trial. Shaming cops accused of involvement in "tokhang for ransom" by making them do push-ups in public presumes that they are capable of shame. Also, reassigning rogue cops to the Autonomous Region in Muslim Mindanao as punishment, and then urging ARMM folks to go ahead and kill the misfits is an insult to that region.
Erring cops must be barred from inflicting more harm on the people they are supposed to serve. Within a reasonable period, they must be prosecuted and the guilty convicted and rendered appropriate punishment. That is the only time the nation can reassure the world that there is justice in the Philippines.