Abalos leads fun run vs drugs
February 27, 2023 | 12:00am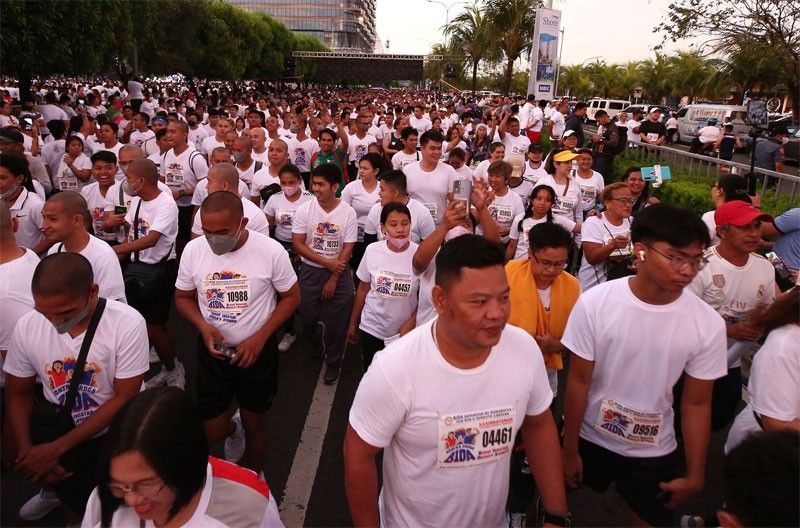 MANILA, Philippines — Department of the Interior and Local Government (DILG) Secretary Benhur Abalos yesterday led a run against the use of illegal drugs at the SM Mall of Asia complex in Pasay City.
In his speech before the start of the race, Abalos said physical exercises could help former drug dependents turn their back on the use of dangerous substances and lead healthier lifestyles.
He cited Dangerous Drugs Board data from a 2019 household survey, which showed that 4.7 million Filipinos have used drugs at least once in their life.
Of the number, 1.8 million Filipinos are called "current drug users" or have used drugs more than once.
"Most of them have methamphetamine hydrochloride or shabu as their drug of choice. I don't need to mention how that drug destroys the body and the brain," Abalos said in Filipino.
He said the run, called "Buhay Ingatan, Droga Ayawan (BIDA) Bayanihan ng Mamamayan," is part of the DILG's "whole of nation" approach to fight drugs.
"This is a testament that it is not only about the lifestyle, it is an awareness against drugs," he said.
Abalos had vowed that the war on drugs would comply with the Constitution while being as "intensive" as the one waged by the previous administration.
Former president Rodrigo Duterte faces crimes against humanity investigation before the International Criminal Court for alleged extrajudicial killings in his crackdown on drugs.