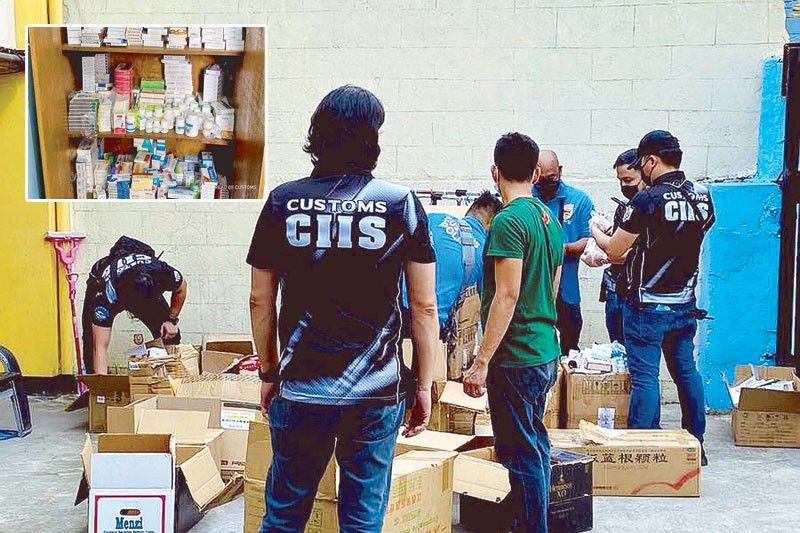 Bureau of Customs operatives take an inventory of medicines during a raid on a makeshift COVID-19 clinic in Pasay City on Thursday. Inset photo shows some of the medicines seized during the raid.
STAR/ File
BOC raids COVID-19 clinic in Pasay
MANILA, Philippines — The Bureau of Customs confiscated P1.5 million worth of medicines during a raid on a storage facility reportedly being used as a makeshift COVID-19 clinic in Pasay, the BOC reported yesterday.
In a statement, the BOC said the raid was staged in coordination with the National Bureau of Investigation and the Philippine Coast Guard.
Seized during the operation were various Chinese medicines, including "ribavirin," which the BOC said is "used for treatment of pneumonia and bronchitis, thus leading to strong suspicions that the clinic was treating COVID-related cases."
The BOC said the seized medicines are being inventoried as part of its investigation. The bureau said the persons behind the makeshift clinic's operations and the smuggling of Chinese medicines will be charged with violating the Customs Modernization and Tariff Act.
Following the seizure of the medicines, the BOC warned the public against using medicines that do not have clearances from the Department of Health and the Food and Drug Administration.
The BOC also appealed to the public to avoid conducting business with illegal clinics and reminded those with COVID-related symptoms to seek help from accredited medical institutions.