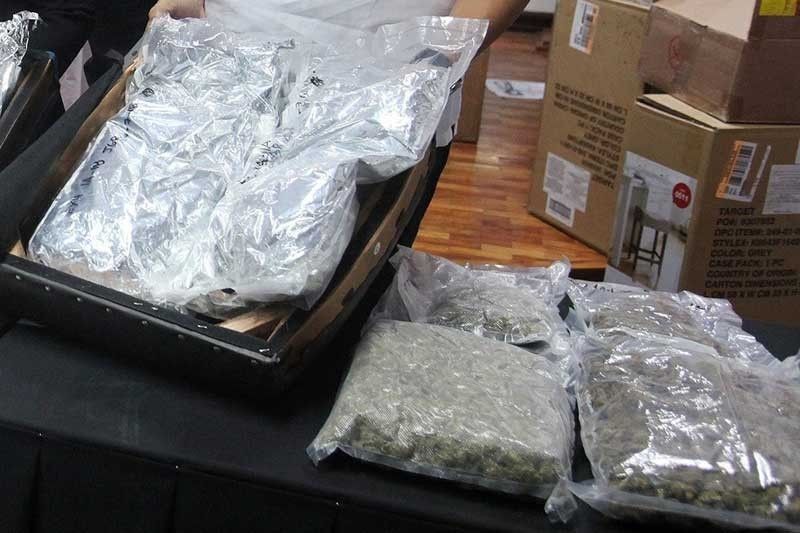 Three young men were nabbed over the weekend for being alleged drug couriers.
The STAR/Rudy Santos, file
Youths nabbed transporting marijuana in Cordillera
BENGUET, Philippines – Tourists, mostly students from the lowlands, are being used as couriers for illegal drugs, Cordillera police said as authorities seized more than P9 million in dried marijuana leaves over the weekend.
Two alleged drug transporters were arrested at a checkpoint in Tublay, Benguet on Saturday afternoon after police officers discovered they were transporting marijuana bricks.
Aldrin Bombio Rabutan, 20, from Tondo, Manila and a 17-year-old boy were on a Rising Sun bus plying the Bontoc – Baguio Halsema Highway when it was flagged down at the checkpint.
Police and Philippine Drug Enforcement Agency personnel confiscated two large backpacks containing 35 marijuana bricks valued at P4.2 million.
RELATED: Nine nabbed at CAR checkpoints for transporting marijuana
The confiscation happened a day after abandoned backpacks and a travelling bag reportedly containing 35 marijuana bricks also valued at P4.2 million were discovered by Bontoc police inside the Cable Café and Restaurant in Bontoc, Mountain Province.
Another student, Kevin Lhar Blanko Aguila, 18, a student from Tuktukan, Taguig City, was caught along the Bontoc-Kalinga Road in Bontoc on Sunday with 10 bricks of dried marijuana leaves valued at P1.18 million.
According to 2014 data on the Dangerous Drugs Board website, 35.77% of 4,392 admissions to rehabilitation centers reported in the year 2014 reported marijuana as their primary drug of abuse, making it the second most commonly used among rehabilitation patients.
Methamphetamine Hydrochloride (shabu) was the most commonly used, with 91.23% of admissions saying it was their primary drug of abuse.
There have been attempts in Congress to legalize medicinal marijuana but President Rodrigo Duterte has indicated he will not allow it. He made the statement after hinting that he might.
RELATED: In about-face, Duterte says he won't legalize medical marijuana