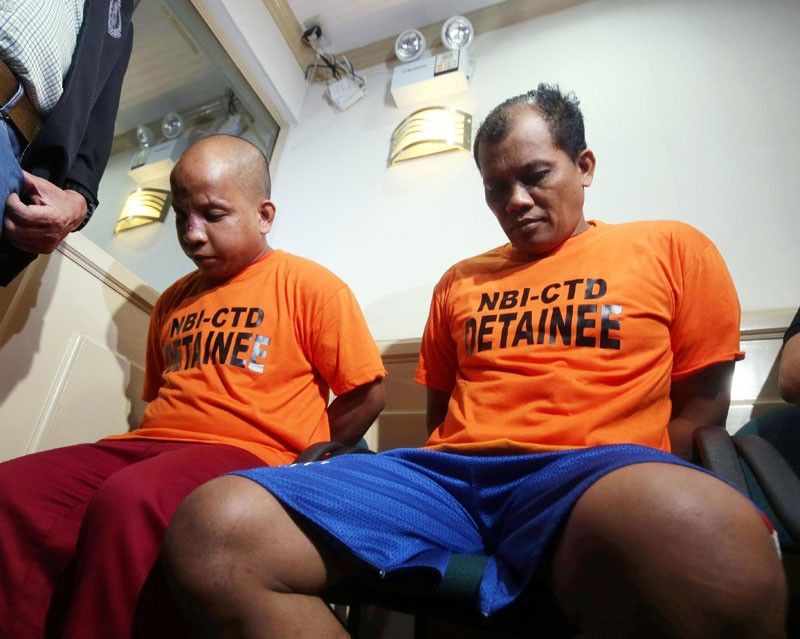 Suspected Abu Sayyaf members Anwar Sabarul Mohotoh and Julmain Maomar Timbao were presented by the NBI at a press conference yesterday.
KrizJohn Rosales
NBI nabs 2 alleged Abu Sayyaf men
MANILA, Philippines — After 17 years in hiding, two suspected members of the bandit group Abu Sayyaf were arrested recently by the National Bureau of Investigation (NBI) in Metro Manila for their alleged role in a 2002 kidnapping case.
Anwar Sabarul Mohotoh and Julmain Maomar Timbao were apprehended in Quiapo, Manila, and Culiat, Quezon City on July 12 and 17, respectively.
Eric Distor, NBI deputy director for intelligence services, said Mohotoh and Timbao were among the 13 alleged Abu Sayyaf terrorists arrested by the NBI since February.
The Pasig City regional trial court has issued warrants for the arrest of the suspects for the kidnapping of six Jehovah's Witness members. The suspects beheaded two of the victims.
Mohotoh posed as a pedicab driver and Timbao opened a food stall in their efforts to hide from authorities by integrating with the community, Distor said.
Mohotoh, said to be a nephew of slain Abu Sayyaf leader Isnilon Hapilon, had planned to stage bombings in Metro Manila and to extort business establishments, according to NBI counterterrorism division chief Raoul Mangerra.
Timbao, a bomb-making expert, is reportedly a member of the Abu Sayyaf Urban Terrorist Group-Special Operations Unit and a trusted man of Hapilon.
He reportedly accompanied Hapilon's son and Abu Sayyaf spokesman Abu Sabaya to and from Marawi.
Authorities have yet to establish if Timbao was involved in the 2017 Marawi siege staged by the Maute group, Mangerra said.
The suspects will be transferred to the custody of the Bureau of Jail and Management and Penology at Camp Bagong Diwa in Taguig.