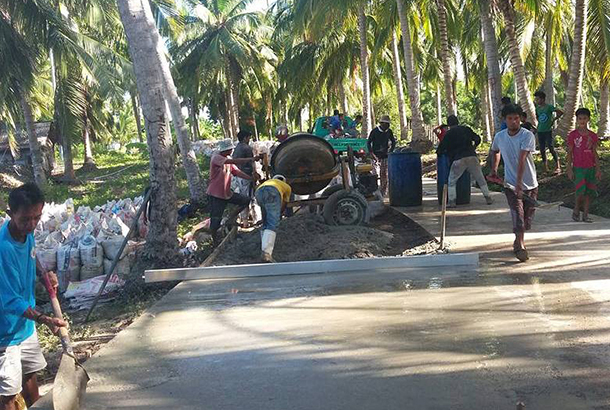 This file photo shows concreting works at a portion of the Pilas-Muthamad Road in Basilan. Former ARMM officials attribute the region's economic growth to infrastructure projects implemented there since 2012.
John Unson, file
ARMM fifth in regional economic growth in 2018
John Unson
(Philstar.com) - April 28, 2019 - 11:56am
COTABATO CITY, Philippines — The defunct Autonomous Region in Muslim Mindanao ranked fifth among the 17 regions in the Philippines that posted considerable economic growth in 2018.
Razulden Mangelen, director of the Philippine Statistics Authority-Bangsamoro Autonomous Region in Muslim Mindanao, said Sunday the ARMM had a 7.2-percent growth in its Gross Regional Domestic Product last year. According to the PSA, the GRDP covers the value of goods and services produced in the region.
The ARMM was replaced by the Bangsamoro Autonomous Region in Muslim Mindanao in February following the ratification of Republic Act 11054 (Bangsamoro Organic Law) in plebiscites in January and February.
Mangelen said there was a 0.4-percent downswing in ARMM's economy in 2015 but the region's economy grew by 0.3 percent in 2016 and 7.3 percent in 2017.
Mangelen said agriculture, forestry and fishing were top contributors to ARMM's economic growth in 2018, at 55.6 percent, while the services and industry sectors contributed 5.9 percent.
Former ARMM officials attributed the improvements in the region's economy in 2018 to the implementation of infrastructure projects in the region since 2012. The projects under ARMM Regional Gov, Mujiv Hataman have been turned over to the BARMM, which is now headed by a transition authority appointed by President Rodrigo Duterte.
All five provinces of ARMM — Maguindanao and Lanao del Sur in mainland Mindanao and the islands of Basilan, Sulu and Tawi-Tawi — are now under the Bangsamoro regional government, whose chief minister is Al-Haj Ahod Ebrahim, whose nom de guerre was Murad Ebrahim.
Ebrahim is chairman of the the Moro Islamic Liberation Front, whose 22-year peace talks with Malacañang resulted in the creation of the BARMM.