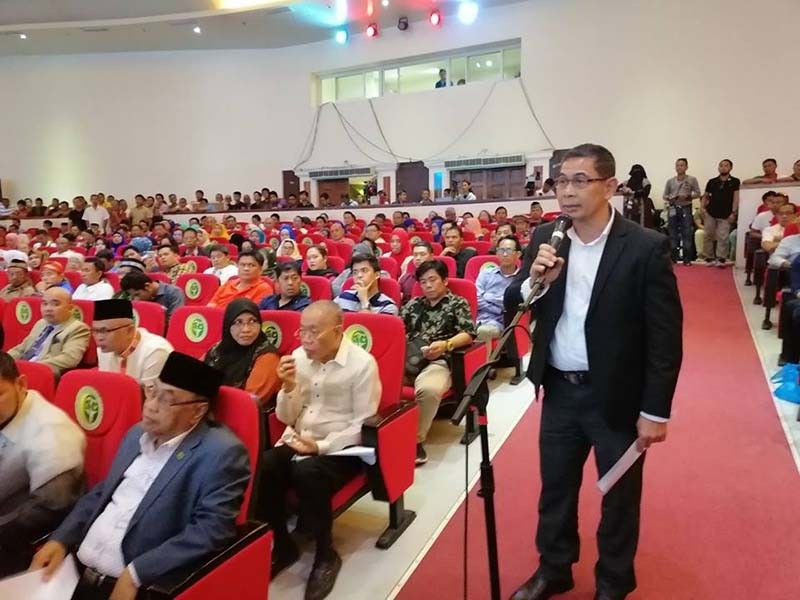 Bangsamoro parliament member Romeo Sema talks during their first ever session in Cotabato City on Friday morning.
John Unson
Ebrahim: Success of BARMM best antidote to extremism
John Unson
(Philstar.com) - March 29, 2019 - 4:58pm
COTABATO CITY, Philippines — The success of the Bangsamoro government's peace and development programs will help against violent radicalism in the regions, its top official said Friday.
Hadji Ahod Ebrahim (Al Haj Murad Ebrahim), chief minister of the Bangsamoro Autonomous Region in Muslim Mindanao, urged members of the Bangsamoro Transition Authority during their first session Friday to focus on transparent, accountable and responsive governance to hasten efforts of addressing the nagging problems besetting its constituent-sectors.
Ebrahim, chairman of the Moro Islamic Liberation Front, also heads the BTA that President Rodrigo Duterte appointed to oversee the transition from the Autonomous Region in Muslim Mindanao to BARMM until regional officials are elected during the 2022 elections.
"The success of our government is the best antithesis to violent radicalism," Ebrahim told BTA members during their first ever session at the Shariff Kabunsuan Auditorium in the BARMM capitol in Cotabato City.
Members of the BTA, comprised of 80 members, 41 of them representing the MILF, are also members of the Bangsamoro Parliament.
There are three militant blocs, the Abu Sayyaf in Sulu, the Maute terror group in Lanao del Sur and the outlawed Bangsamoro Islamic Freedom Fighters in Maguindanao, that are trying to sabotage the peace process between the MILF, now at the helm of BARMM, and Malacañang.
All three groups operate in the fashion of the Islamic State of Iraq and Syria and are stoking animosity between Muslims and non-Muslims.
Ebrahim said the BARMM has four initial solutions to poverty and underdevelopment in its provinces — education, health, economic development, strategic infrastructures and moral leadership.
BARMM covers Maguindanao, Lanao del Sur, Basilan, Sulu and Tawi-Tawi—the territory of the former ARMM.
The Bangsamoro region also covers 63 barangays in the province of North Cotabato and all 37 barangays in Cotabato City, both originally under Administrative Region 12.
Ebrahim said to hasten BARMM's peace and development efforts, the interim regional parliament needs to legislate regional administrative, local government, civil service, education and tax codes as guides for the operation of the Bangsamoro regional government.