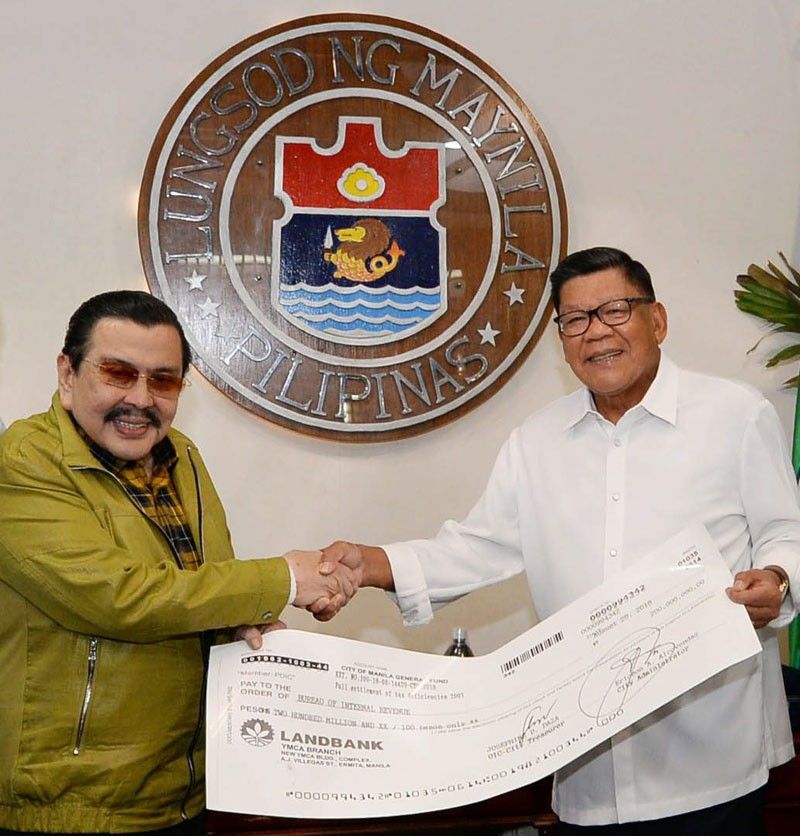 Manila Mayor Joseph Estrada hands over a P200-million check to Bureau of Internal Revenue Commissioner Caesar Dulay in a ceremony at the city hall on Thursday.
Edd Gumban
Erap Estrada settles Manila's P200 million back taxes
MANILA, Philippines — Manila Mayor Joseph Estrada handed over on Thursday P200 million to Bureau of Internal Revenue (BIR) Commissioner Caesar Dulay to finally settle the city government's 2007 tax liabilities he said were left unpaid by former mayors Lito Atienza and Alfredo Lim.
With the payment, Estrada said the city of Manila is now totally debt-free.
Estrada said he inherited a bankrupt administration when he assumed office as mayor in 2013. The city government had an unpaid debt amounting to more than P5 billion, including P630 million in electricity bills, he added.
In 2015, he declared the city government debt-free after instituting various fiscal reforms.
Estrada previously said that his administration was committed to implementing a massive urban renewal program that would help the city reclaim its title as the Pearl of the Orient.