Eight more BIFF killed in Maguindanao clashes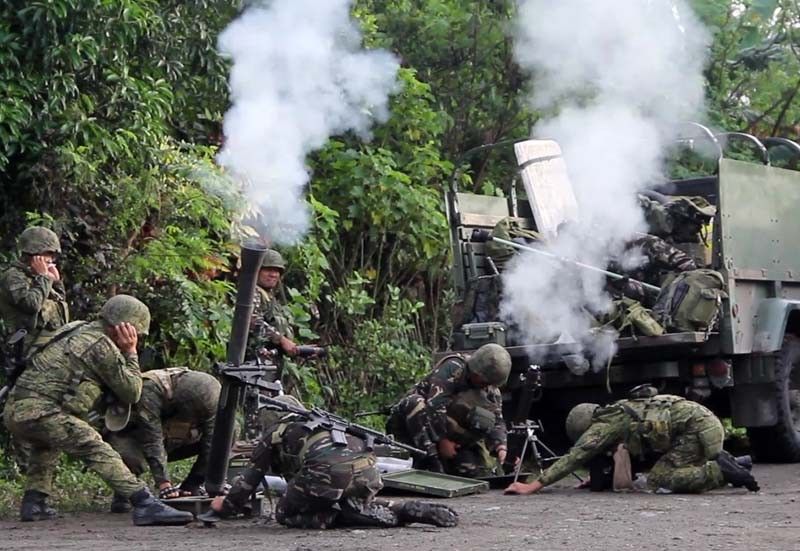 COTABATO CITY, Philippines —Eight more members of the Bangsamoro Islamic Freedom Fighters have been killed in aseries of clashes in Maguindanao that began on Sunday.
A platoon from the Army's 40th Infantry Battalion gunned down four BIFF bandits in an encounter Wednesday morning in Barangay Pidsandawan in Mamapasano, Maguindanao.
Members of the 40th IB were proceeding to Pidsandawan to check on the reported presence there of a senior BIFF commander, Nanding Mama, when they were attacked from three directions, sparking a running gunbattle that lasted for two hours.
Four followers of Mama, whom villagers identified only as Usop, Banding, Kamensa and Udtog, were killed in the encounter. Local leaders also reported that four other bandits — Sarip, Munda, Norodin and Faisal — were wounded in the incident.
Soldiers seized firearms left by Mama and his companions in the scene of the encounter as they fled.
The firearms — four M16 rifles, three M14 rifles, an M1 Carbine, a .30-cal M1 Garand, a 5.56-mm Ultimax automatic rifle and three 12-gauge shotguns — are now in the custody of the 40th IB.
Four other BIFF militants had been killed in earlier clashes in Datu Paglas, also in Maguindanao, on Tuesday.
Traditional Moro elders and barangay officials have confirmed that four bandits — Ali Tudon, Alamid Yusop, Kalon Benzar and a certain Murshid — were killed in encounters with soliders and police officers sent to check on the reported convergence of gunmen led by Abu Solaiman in Mupak, near the town proper of Datu Paglas.
Abu Solaiman and his followers retreated to the marshy bundary of Datu Paglas and General Pendatun town carrying three wounded companions — initially identified only as Odin, Guiday and Kalid, all residents of nearby Shariff Saidona Mustapha, Maguindanao.
Soldiers, led by Lt. Col. Harold Cabunoc of the 33rd IB, recovered improvised explosive devices laid along the route to where the group of Abu Solaiman gathered the day before.
On the government side, two soldiers and a militiaman were wounded in the series of clashes
Cpls. Millard Bacatan and Musa Kalim of the Citizens Armed Forces Geographical Unit were injured when a 40-mm projectile grenade landed and went off near them during a gunfight with members of the outlawed Bangsamoro Islamic Freedom Fighters.
Pvt. Allan James Cabildo was shot in the lower torso while he and his companions were advancing towards a BIFF position in the Mupak area of Datu Paglas.
The 33rd IB and the police Special Action Force from the Sultan Kudarat and Maguindanao provincial police offices launched on Tuesday an offensive against BIFF bandits in Datu Paglas after local officials had repeatedly tried, but failed, to convince the militants to leave.
NGO urges authorities to protect, address needs of displaced residents
In a related development, peace-building NGO Initiatives for International Dialogue earlier this week urged troops and government officials "to provide utmost priority" to the humanitarian needs of communities affected by the fighting.
The NGO said that, based on reports, around 5,136 families had been forced to flee areas of Pagalungan, Datu Montawal, Sultan sa Barongis and General SK Pendatun in Maguindanao and Pikit in North Cotabato because of the clashes.
IID executive director Gus Miclat said in a statement: "In the immediate, aside from ensuring the safety and security of civilians in the conduct of military operations by the government forces, we invoke the state's responsibility to protect and fulfill the rights of internally displaced persons (IDPs) during evacuation until their safe and dignified return to their places of origin."