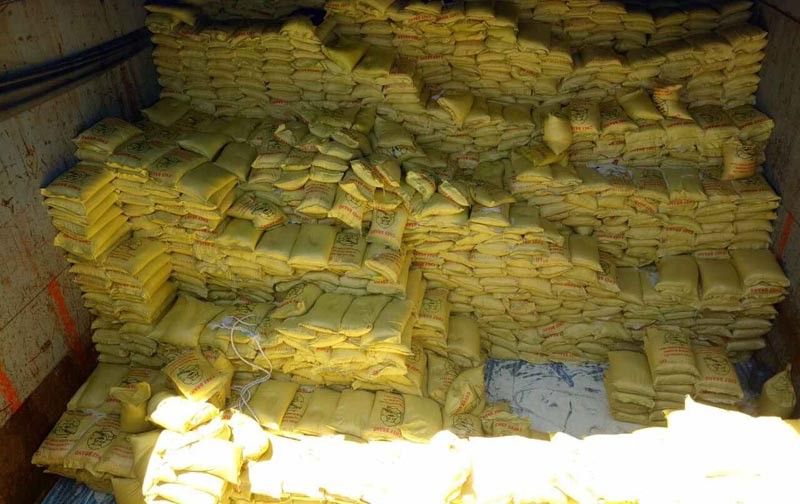 Navy personnel found more than 27,000 sacks of rice when it seized the M/V Diamond 8 off Zamboanga Sibugay,
Roel Pareño
Navy seizes ship with P67.9M in smuggled rice off Zamboanga Sibugay
ZAMBOANGA CITY, Philippines — Naval Forces Western Mindanao seized a Mongolian-flagged cargo ship that was found loaded with smuggled rice off Olutanga Island in Zamboanga Sibugay on Saturday night.
Rear Adm. Rene Medina, NFWM commander, said Naval Task Force 61 intercepted M/V Diamond 8, which was found to be carrying 27,180 sacks, around 1,359 metric tons, of Vietnam rice. The cargo is estimated to be worth around P67.9 million.
The Diamond 8 was intercepted by the BRP Mariano Alvarez (PS-38), which had been about to launch a rescue and assistance operation for the ship. The Diamond 8 had been unresponsive and the Navy thought it had been harassed by terrorists.
The Diamond 8 had already unloaded around 7,000 to 8,000 sacks of smuggled rice to two motor vessels — identified as M/V Yssa Maine and M/V Yousra — which managed to slip away before the Alvarez arrived.
The Navy has launched an operation to track down the two boats.
Navy personnel also arrested 51 Filipino workers and 15 foreign members of the Diamond 8's crew. Of the crew, 11 are Bangladeshi and four — including its captain, Lin Yang Yin — are Chinese.
Mongolia, a landlocked state, is considered a flag of convenience by the International Transport Workers' Federation. The use of flags of convenience has been criticized for making it more difficult to determine the real owners of ships, especially those involved in crime.
Medina said NFWM immediately coordinated with the Department of Trade and Industry, Bureau of Customs and the regional police Criminal Investigation and Detection Group after the arrest.
The Navy also got in touch with the Department of Social Welfare and Development because some of the Filipino workers apprehended are minors.
The Alcaraz escorted the Diamond 8 to Naval Station Romulo Espaldon in Zamboanga City for further investigation and documentation.
"The successful foiling of the illegal transport of smuggled tons of rice is a result of an intensified and focused maritime patrol and operation of the Philippine Navy," Medina said.
The Alvarez was one of five Navy ships that went on a joint patrol exercise with the Royal Australian Navy in in the waters around Tawi-Tawi, Sulu and Basilan from March to early this month.