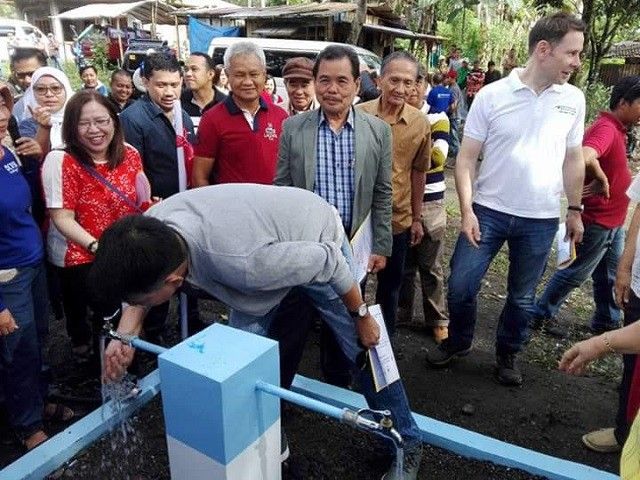 A guest drinks from a tap connected to a water supply facility built for former guerrillas in Camp Iranun in Barira town in Maguindanao while officials of the Moro Islamic Liberation Front, led by Muhaquer Iqbal, looks on.
JOHN UNSON
Gov't, MILF reps visit former rebel stronghold as partners
John Unson
(Philstar.com) - January 18, 2017 - 1:02pm
MAGUINDANAO, Philippines -- Government and rebel negotiators on Tuesday visited the former frontier of the Moro Islamic Liberation Front the military took over on July 9, 2000. This time, they did it as partners.
World Bank representative Matthew Stephens, government implementing panel chair Irene Santiago and her counterpart in the MILF, Muhaquer Iqbal, on Tuesday launched socio-economic projects in Camp Iranun -- formerly called Camp Abubakar -- in Maguindanao. The projects are meant to help decommissioned MILF rebels reintegrate into mainstream society.
The World Bank is helping push the peace process forward as main benefactor of the Mindanao Trust Fund, a source of grants for peace and development projects in underdeveloped and conflict-stricken areas.
Santiago, Iqbal, and Stephens led the distribution of a herd of cattle to the families of 145 MILF rebels who turned in their firearms last year as an initial step in restoring normalcy in their villages.
The military took Camp Abubakar, renamed Camp Iranun in 2001, from rebel control on July 9, 2000 after a bloody three-week offensive that resulted in the deaths of over a hundred soldiers and guerrillas.
Among those who benefited from the livestock distribution activity were widows of fighters who perished in encounters with the military in previous years.
Camp Iranun, now guarded by the Army's 37th Infantry Battalion, originally was a sprawling 10,000-hectare guerrilla camp the MILF's founder, the late Imam Salamat Hashim, established in 1980 after he bolted from the Moro National Liberation Front due to differences with founding chairman Nur Misuari.
Hashim, who studied Islamic theology at the Al-Azzhar University in Egypt, was an ethnic Maguindanaon from Barangay Cudal in Pagalungan town in Maguindanao. He died of a cardiovascular ailment in 2003 in Butig town in Lanao del Sur.
Santiago, Iqbal and Stephens also launched a newly-built P2.3-million water supply facility for peasant families in the camp, whose center is at Barangay Tugaig in Barira town in the first district of Maguindanao.
Their visit to the former MILF bastion was capped with a simple commencement rite marking the completion by 70 villagers of a basic literacy course via a program assisted by World Bank.
"This is very symbolic. After almost 17 years, both panels came here together to show support and commitment to peace and development," Stephens said, referring to their activity on Tuesday in the camp.
Santiago said she was elated to see a large number of women graduate from the basic literacy schooling program for dependents of MILF members.
All-out war in 2000
The peace talks between the government and the MILF started January 7, 1997 but repeatedly stalled by security problems and misunderstandings on many issues both sides tried to resolve on the negotiating table.
The problems worsened when President Joseph Estrada waged an all-out war against the MILF in 2000 that sparked hostilities in many areas and led to his conquest of Camp Abubakar, the rebel group's main frontier then.
President Gloria Macapagal-Arroyo named the guerilla enclave Camp Iranun a year later in honor of the Iranun tribe dominating the area, after deploying there the Army's 54th Engineering Brigade under then Col. Eduardo Lena to implement infrastructure projects needed to boost the agricultural productivity of local farmers.
Iqbal told reporters it was his first time to return to their former main camp after President Estrada hoisted the Philippine flag over the area on July 10, 2000.