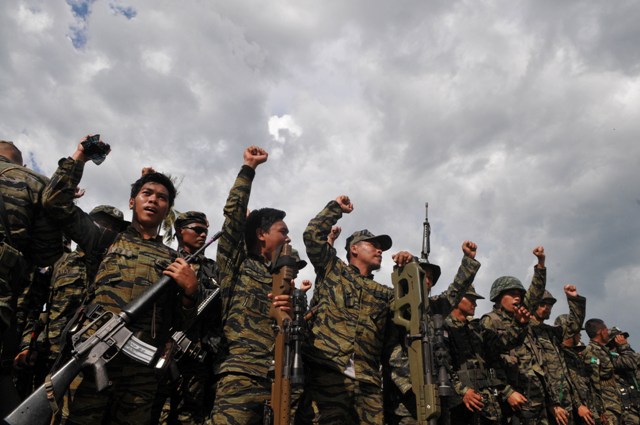 In a recent meeting with Presidential Adviser on Overseas Filipino Workers and Muslim Concerns Secretary Abdullah Mama-o, Commander Bravo clarified that he is still on the side of the government. President Rodrigo Duterte earlier told Mama-o to "get rid" of the Moro Islamic Liberation Front commander who reportedly takes payoffs from drug dealers. File
Commander Bravo denies creating own gov't in Lanao del Sur
MANILA, Philippines — Moro Islamic Liberation Front (MILF) commander Abdullah "Commander Bravo" Macapaar has denied establishing his own government in Lanao del Sur and remains supportive of President Rodrigo Duterte's war on illegal drugs, a Malacañang statement said Sunday.
Macapaar clarified that he is still on the side of the government during his meeting with Presidential Adviser on Overseas Filipino Workers and Muslim Concerns Secretary Abdullah Mama-o last Dec. 10.
Last month, Duterte gave Mama-o 20 days to "get rid" of Macapaar, whom he said has formed his own government in Mindanao. Macapaar reportedly got payoffs from drug dealers and distributors from Metro Manila, Cavite, Batangas, the Visayas and other parts of the country who had come to Lanao to hide from authorities.
"In line with President Duterte's directive, I immediately sought a meeting with Commander Bravo. We held the meeting inside a mosque in his mountain hide-out in Lanao del Sur in the presence of his men," Mama-o said.
"Bravo clarifies that his operations in the MILF NWMF (Northwestern Mindanao Front) were, in fact, in support of the president's anti-drug war," he added.
Macapaar claimed that drug syndicates had cooked up "wrong information" that reached the president to make it appear that he has established a separate government.
"He (Bravo) said his command will continue complementing the president's drive against the scourge of drugs. He also said that he abides by the on-going peace process between the government and the MILF," Mama-o said.
Mama-o said he submitted a report about his meeting with Macapaar to Duterte last December 12.
Macapaar was the chief of the 105th MILF Base Command that launched bloody attacks in Lanao in 2008 after the government dropped a territory deal that would have provided the MILF greater powers in parts of Mindanao.