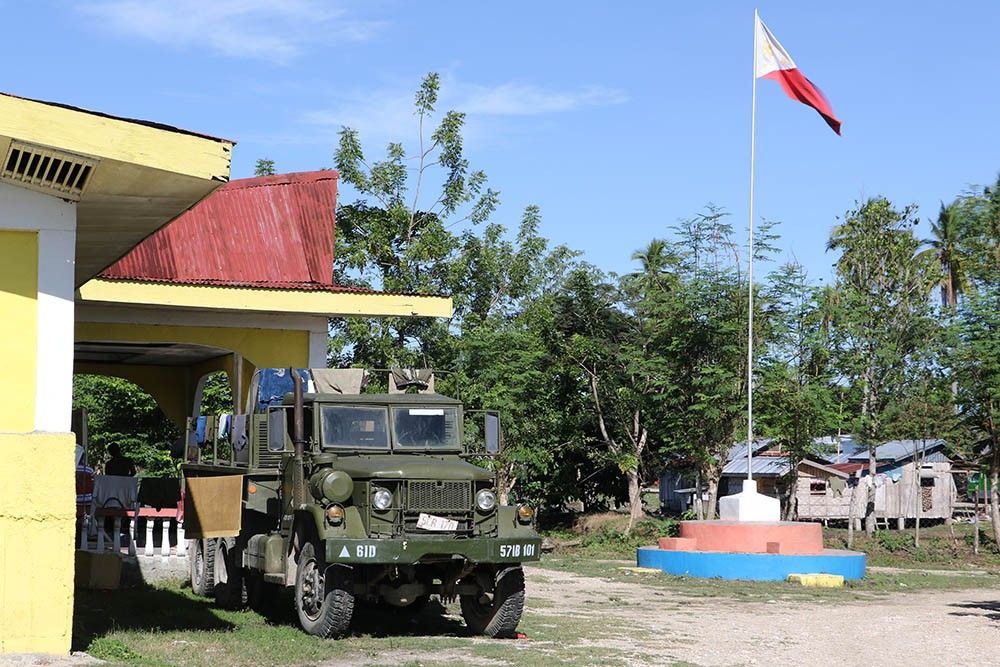 The town hall of Talitay is now guarded by soldiers following a breakdown of law and order in the municipality as a result of the abandonment by its mayor of his office.
Philstar.com/John Unson
High-powered weapons found from missing narco mayor armory
John Unson
(Philstar.com) - November 23, 2016 - 8:03am
MAGUINDANAO, Philippines - Soldiers on Tuesday found crew-served weapons, mortar launchers and shoulder-fire grenades in a hidden armory of the missing mayor of Talitay who is wanted for possession of drugs.
The now fugitive Mayor Muntassir Sabal was earlier tagged by President Rodrigo Duterte a "narco-politician," included in Malacañang's list of drug traffickers in the country.
He is now in his third term as mayor of the poor Talitay town that became a major transshipment point for methamphetamine hydrochloride (shabu) after he got to the helm of its local government unit (LGU) six years ago,
Officials of the Army's 601st Brigade confirmed on Tuesday that two .50 caliber machineguns, four .30 caliber machine guns, two 81-millimeter mortar launchers and a 60-millimeter launcher were recovered Tuesday in a house built by Sabal for his partisan armed group.
Soldiers also found an imported ammunition reloading machine and dozens of rifle-propelled grenades from one of the houses of the mayor's security escorts, according to sources.
The recovery of the heavy armaments, civilians can never keep according to Philippine laws, was preceded by Monday's encounter in Talitay between personnel of the Army's 5th Special Forces Battalion and members of the outlawed Bangsamoro Islamic Freedom Fighters coddling local drug lords identified with Sabal.
A soldier, Staff Sergeant Giovanni Olimpo and four BIFF bandits, Kamir Sukarno, Bitol Samad, Ubaida Diwan and an adolescent initially identified only as Omar, were killed in the ensuing gunfight.
A raiding team of combined policemen, agents of the Philippine Drug Enforcement Agency (PDEA) and some 300 personnel of different Army units found shabu and unlicensed guns at the house of Sabal in Talitay last November 18.
Sabal has been absent from office since early September, about a month after Duterte named him "drug lord" and warned of dire consequences of the mayor's alleged illegal business.
Sabal's brother, Abdulwahab, the vice mayor of Talitay, whom Duterte also implicated in drug trafficking activities, was arrested last September at the Maguindanao airport in Cotabato City by anti-narcotics agents and has been detained since.
Lt. Col. Markton Abo, spokesman of the Army's 6th Infantry Division (ID), said the recovered crew-served weapons and explosives will be used by state prosecutors as additional evidence in prosecuting Sabal and his henchmen.
"It is the Maguindanao provincial police office that is in the forefront of the efforts to build strong cases against him and his accomplices," Abo said.
He said units of the 6th ID involved in ongoing operations in Talitay are just providing the police and the PDEA tactical support to hasten efforts of putting end to the illegal drug trade in Talitay and other towns in central Mindanao.
Military and police sources privy to the tactical details of the on-going operations in Talitay municipality, located in the second district of Maguindanao, said pursuing soldiers learned of Sabal's arms and explosives cache from confidential informants, among them field commanders of the Moro Islamic Liberation Front (MILF).
"We are thankful to the cooperation of the MILF in this operation," said Major Gen. Carlito Galvez, commander of 6th ID, which has jurisdiction over central Mindanao's adjoining Maguindanao, North Cotabato and Sultan Kudarat provinces.
Maguindanao Gov. Esmael Mangudadatu said on Tuesday he and members of the provincial board, chaired by Vice Gov. Lester Sinsuat, will declare vacancies in Talitay's mayoral and vice mayoral posts to pave the way for the designation of legitimate caretakers.
Mangudadatu said Sabal violated the Local Government Code when he left the country last September to perform the hajj in Makkah, Saudi Arabia without written permission from the provincial government and the Department of Interior and Local Government.
"An elected local official cannot leave the country for whatever purpose without the full blessing of the government," Mangudadatu said.
Abo, who is civil-relations staff of Galvez, assured residents of Talitay during a dialogue Mondaythat the 6th ID, the office of Mangudadatu and the Maguindanao provincial police, will help restore the normal operation of Talitay's LGU that got compromised and beset with administrative woes as a result of Sabal's abandonment of his office.
Mangudadatu said he has tapped two lawyers, Israelito Torreon, a dean of a private school in Davao City, and Bobby Katambak, a former member of the Maguindanao provincial board who had also served as a military judge, to help him workout the installation of successors to the mayoral and vice mayoral posts in Talitay.
"The caretakers shall be incumbent elected members of the Sangguniang Bayan," the governor said.