Marcos-Biden meet yields clean energy, environmental protection pledges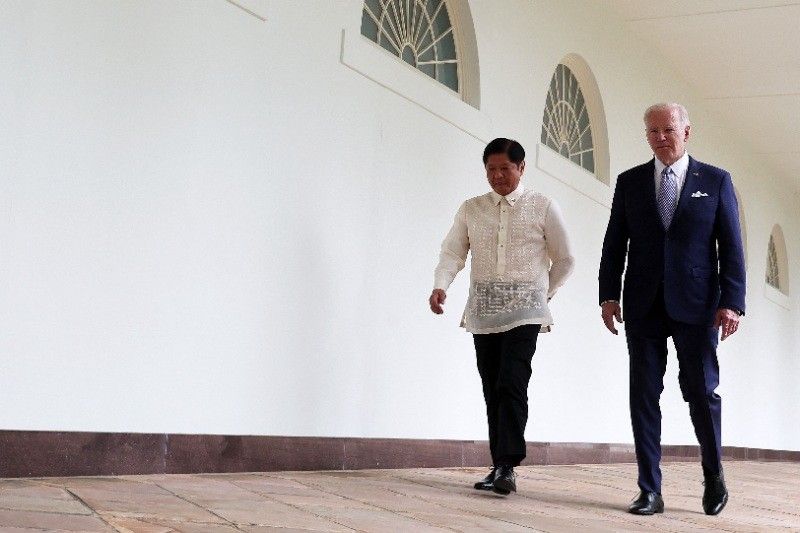 MANILA, Philippines — President Ferdinand "Bongbong" Marcos Jr. and United States President Joe Biden committed to enhance the cooperation of Manila and Washington in addressing the climate crisis and investing in the transition to clean energy.
Marcos met with Biden at the White House Monday to deepen the Philippines' relationship with the US, its traditional ally.
Aside from reaffirming their decades-old security alliance, the two countries also agreed to expand their collaboration on clean energy transition and environmental protection.
"The United States and the Philippines are deepening collaboration to fight climate change, expand clean energy production, and protect the environment," a release from the White House read.
Here are the agreements of Manila and Washington on clean energy and environmental protection, according to the White House:
Partnership on critical minerals
USAID will invest an additional $5 million (P277.1 million) to support the increased production of processed minerals and expand downstream mineral industries in the Philippines such as the production of electric vehicle components and information and communications technologies (ICT) equipment, while improving governance standards in the mining industry.
The Department of Environment and Natural Resources and the US Department of the Interior plan to partner on the identification of mineral commodity resources, and capacity-building on minerals governance.
The US Department of State will establish a technical cooperation with the Philippines to develop the country's nickel and copper resources "in a manner that promotes sustained economic growth and social benefit."
The Philippines is rich in minerals used in clean energy technologies such as chromium, cobalt, copper, nickel and silver. The extraction of minerals needed for renewable energy technologies drives deforestation and the climate crisis, threatens water sources, and displaces people.
The Legal Rights and Natural Resources Center earlier said the Philippines needs a law on the management of minerals needed in the clean energy transition, and social and environmental justice should be the priority of that measure.
Green energy auctions
USAID will partner with the Department of Energy to conduct the Philippines' second round of green energy auctions—bidding out a combined 11.6 gigawatts of solar, onshore wind, biomass and waste-to-energy (WTE) capacity to be installed from 2024 to 2026.
Green groups such as the Global Alliance for Incinerator Alternatives (GAIA) Asia Pacific oppose WTE, saying incinerators emit planet-warming greenhouse gases and harmful pollutants, and displace waste pickers.
Partnership on nuclear energy
Manila and Washington earlier agreed to pursue negotiations for a potential US-Philippines Civil Nuclear Cooperation Agreement—or 123 Agreement.
The White House said the US will provide capacity-building support through Foundational Infrastructure for Responsible Use of Small Modular Reactor Technology (FIRST) program. This seeks to help the Philippines develop a national civil nuclear engineering workforce.
The US will also arrange a study tour for Philippine lawmakers and government officials to explore the potential of nuclear energy.
Greenpeace Philippines campaigner Khevin Yu said small modular reactors are "still untested and unproven, and there is currently no way to safely store nuclear waste." He however pointed out that nuclear energy is an "expensive and risky investment."
Environmental protection
The DENR and the UN Environmental Protection Agency committed to collaborate to address the serious health and environmental risks associated with climate change and environmental degradation.
The Philippines is one of the most vulnerable countries to the impacts of climate change.
"This partnership will apply best practices and cutting-edge technologies to address challenges like methane reduction, food waste, marine plastic litter, water quality, and environmental justice," the White House said.
The US interior department also plans to partner with the DENR to protect shorelines and ecosystems through "ridge-to-reef" conservation and research efforts. The ridge-to-reef approach aims to provide a holistic intervention for protection the coastal area by targeting environmental degradation in the uplands that impact coastal ecosystems, and by restoring and protecting marine ecosystems.
Water security
USAID will mobilize $100 million (P5.5 billion) over the next five years to increase access to safe drinking water for 1.22 million Filipinos and provide sanitation services to 710,000 people.
This also aims to strengthen water management institutions in the Philippines, increase access to climate-resilient water supply, improve water resources management, and address water financing gaps.
Disaster risk reduction
USAID will provide an additional $5.3 million (P293.7 million) for disaster risk reduction and resilience programming in the Philippines.