Student suicides on the rise – DepEd
February 1, 2023 | 12:00am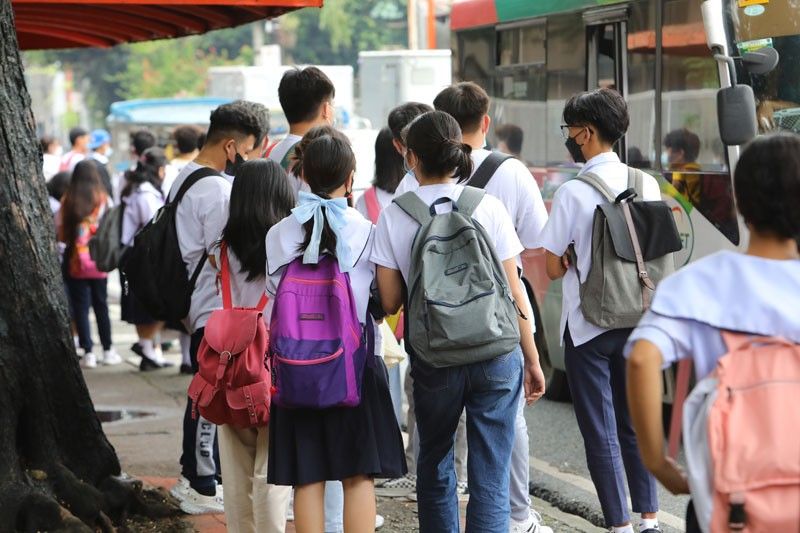 MANILA, Philippines — A total of 404 learners from public schools committed suicide in 2021 at the height of the COVID-19 pandemic which affected students' mental health, an official of the Department of Education (DepEd) told a Senate panel yesterday.
At the public hearing of the Senate committee on basic education jointly with health and finance presided over by Sen. Sherwin Gatchalian, DepEd Assistant Secretary Dexter Galban said that aside from the 404 students who ended their lives, 2,147 learners had attempted and 775,962 sought guidance counseling in the year 2021, among the 28 million student population.
"At least in 2021, the total number of suicide cases recorded, and again, this is something that we should look into, is 404. I believe that even one suicide case is too much, and that's why we are very much in support of the bill," Galban said.
"Based on our data, we have had 2,147 learners that attempted suicide and this is an alarming rate that continues to go up," he stated.
"Worryingly, the expert said that the numbers are growing, especially during this pandemic. It is because of the lack of mental health programs and mental health experts," added Gatchalian, who filed Senate Bill 379 or the Basic Education Mental Health and Well-Being Promotion Act that seeks to strengthen the promotion and delivery of mental health services in primary education.
"So in terms of the number of learners who sought guidance counseling from a guidance counselor, we have roughly 775,962 learners and this is based on 2021 data that is approximately 2.85 percent of the population again," Galban said, adding that of the 60,157 schools, there were only 16,557 guidance officers and 2,093 registered guidance counselors.
"We have roughly 2,093 guidance counselors, and for a population growth target of 28 million, the ideal ratio is not hit. The recommended ratio actually is one to 250," he added. "But if you look into the numbers, 2,000 to 28 million that's one is to 13,394. So clearly there is a gap to be filled."
The DepEd official noted there were also issues with the salary of guidance counselors.
"More so that the degree requirement is not commensurate with the compensation that is provided. For example, a guidance counselor typically would be required to have a master's degree, and their entry-level into the department would be SG (salary grade) 11. In contrast, for example, nurses at the entry level as our law is SG 15. So clearly there is a disparity there," he added.
Falling short
For its part, the Alliance of Concerned Teachers (ACT) on Tuesday said that the government's plan to address issues in the country's education sector falls short on "tangible and time-bound" solutions.
ACT chairman Vladimer Quetua said there was nothing new with the assessment of the education system presented by Vice President and Education Secretary Sara Duterte during her Basic Education Report (BER) 2023 on Monday.
What it achieved, he said, is for the education agency to admit in public the undeniably dismal state of the country's basic education system.
He pointed out that Duterte's "Matatag Education Agenda" was merely a summary of the promises she already articulated in the past months.
For instance, he noted that Duterte only spoke of a target of 6,000 new classrooms this year despite the fact that there are more than 100,000 classrooms that are no longer fit for use.
With regard to the ongoing K-12 review, which Duterte said aims to produce more job-ready graduates, Quetua said the government is already "very late" in finalizing its assessment.
In a separate statement, industry-led advocacy group Philippine Business for Education (PBEd) expressed support for DepEd's bid to address the challenges hounding the education system.
"The basic education report and the 'Matatag' agenda is a welcome development. We are supportive of the move to focus on foundational skills. Teach them numeracy and literacy at an early age, make sure that they learn in the language that they understand so that they can progress to more subjects and areas of learning as they grow older," said PBEd executive director Justine Raagas.
Caution
The Commission on Human Rights (CHR) on Tuesday cautioned the police over its appeal for schools to allow cops inside campuses as a way to supposedly deter crimes, as it noted that the DepEd, in a department order released in 2021, already discouraged the presence of armed police in schools to ensure that students "feel safe, secured and nurtured" within the school environment.
"When carried out effectively, CHR believes that these policies, together with consultations, provide the necessary means to foster a setting conducive for child development and learning," the commission said.
"CHR reminds everyone that child development is a multi-sectoral responsibility. As we stress that it is the government's primary duty to protect, promote and uphold human rights, we similarly encourage families and communities to engage children through empathy and open communication, which are necessary precursors in establishing a just and humane society," it added.
In an earlier press briefing, PNP chief Gen. Rodolfo Azurin Jr. urged public and private schools to allow the presence of police officers inside their premises as a "crime deterrent" measure.
Azurin likewise ordered police commanders to coordinate with schools in their areas of responsibility and discuss security concerns in schools, PNP spokesperson Col. Jean Fajardo said over Teleradyo yesterday.
Apart from deploying at least two police officers in the vicinity of schools, Fajardo said local police units can provide more personnel at special activities upon the request of campus officials.
Fajardo said police officers can do routine patrol operations near schools.
Azurin issued the order following a series of violent incidents that recently took place in schools, including a fatal stabbing of a student in Quezon City, the accidental shooting of a student in San Jose Del Monte in Bulacan and bomb threats received by several schools. – Janvic Mateo, Emmanuel Tupas