Cebu activists say readying legal action over abduction at city pier
January 24, 2023 | 7:45pm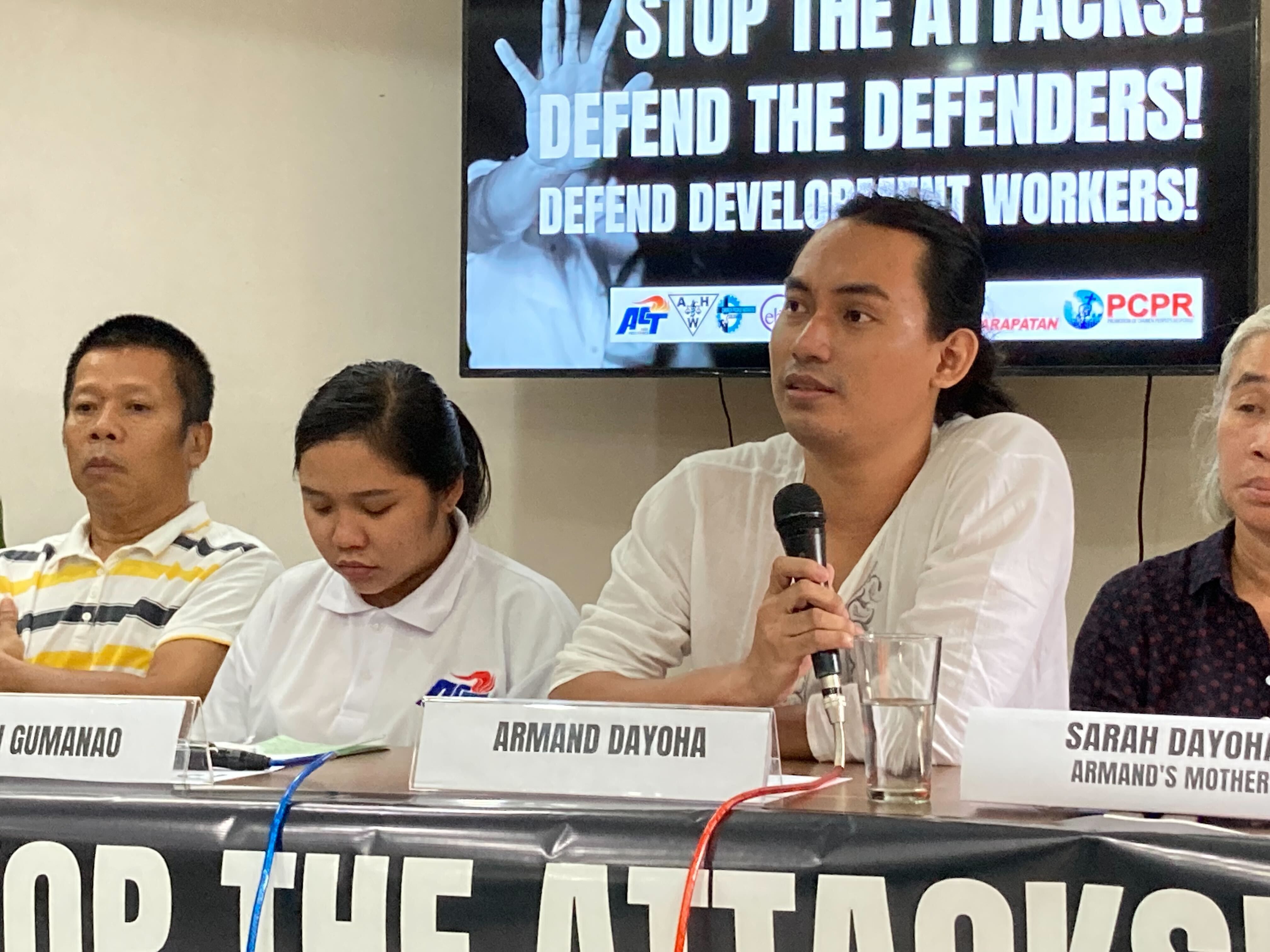 MANILA, Philippines — Development workers Dyan Gumanao and Armand Dayoha are calling for accountability for their abduction in Cebu City earlier this month, which they attributed to state forces.
Rights group Karapatan last week also called on authorities to answer for their silence and seeming inaction in response to the kidnapping of the two, who were grabbed and forced into a van in broad daylight at the Cebu City port.
Gumanao of the Alliance of Concerned Teachers and Dayoha of the Alliance of Health Workers said in a briefing in Quezon City on Tuesday that they have already sought legal counsel on what they will do next.
The activists said they will go to Philippine courts or to international bodies to hold the Philippine National Police and the Armed Forces of the Philippines accountable for their five-day disappearance.
The two also presented details of their kidnapping to delegates of the International Labor Organization - High Level Tripartite Mission on Monday, while a meeting with the Commisssion on Human Rights is slated for Wednesday.
"We are looking forward that there will be an immediate and strong action made on the part of the ILO-HLTM and we're hoping they will make strong recommendations, not only for the cases filed… but in other attacks against union organizers and violations in freedom of association of our workers," Gumanao said in a press conference on Tuesday.
Karapatan said perpetrators may also be held liable under the Anti-Enforced Disappearamce law.
Karapatan, ACT and AHW are calling to junk the Anti-Terrorism Act and abolish the National Task Force to End Local Communist Armed Conflict, saying these have been used to go after legitimate activists, rights workers and labor organizers.
What happened
Gumanao and Dayoha were taken into a vehicle and were blindfolded while at Pier 6 in Cebu Port on January 10 at around 9:30 a.m, an incident that was captured on video that was later released through UP Cebu student publication Tug-ani.
While there were other persons of authority who saw their abduction, Danilo Gumanao, Dyan's father, said that port authorities were given notice that police will be taking some individuals in relation to the ongoing Sinulog festival.
When the two were abducted, those who took them in introduced themselves as members of the police but city police had denied even getting reports about the abduction.
"During one of the interrogations, they even introduced themselves as part of a task force," Gumanao said in Filipino. "They also told us that there were other units that wanted to take us in, unfortunately, they just intervened and that's why they got to us first."
Gumanao and Dayoha said they were also being forced to sign documents, which detail how the two would be used as state assets. Gumanao's testimony to the ILO-HLTM noted that the abductors threatened them with "fatal consequences" should they refuse to cooperate.
"Under duress, we were made to sign documents as we negotiated our release to our families," she said.
The two reached out to their families on January 15, after their captors told them they would be dropped off at a resort in Carmen, Cebu.
"What happened to us — consider it as a desperate act but at the same time a show of power," Dayoha said.
Dayoha: Yung mga aktibista, totoo naman yung sinasabi namin e. Bakit kailangan i-abduct ? Ini-equate talaga yung pag unyon at pagiging aktibista sa terorista @PhilstarNews pic.twitter.com/6wemGiu4t5

— Kaycee Valmonte (@kayceevalmonte) January 24, 2023
The two had already suspected they were being observed and tailed because of their activism.
RELATED: Manila court: Not all activists are part of underground movement
Gumanao was among eight arrested during a peaceful protest against the Anti-Terrorism bill outside UP Cebu in 2020. The two were also tailed by people they suspected of being with the security sector when they joined a peaceful protest to commemorate the Mendiola Massacre in January 2021.