More labor protests seen
December 1, 2022 | 12:00am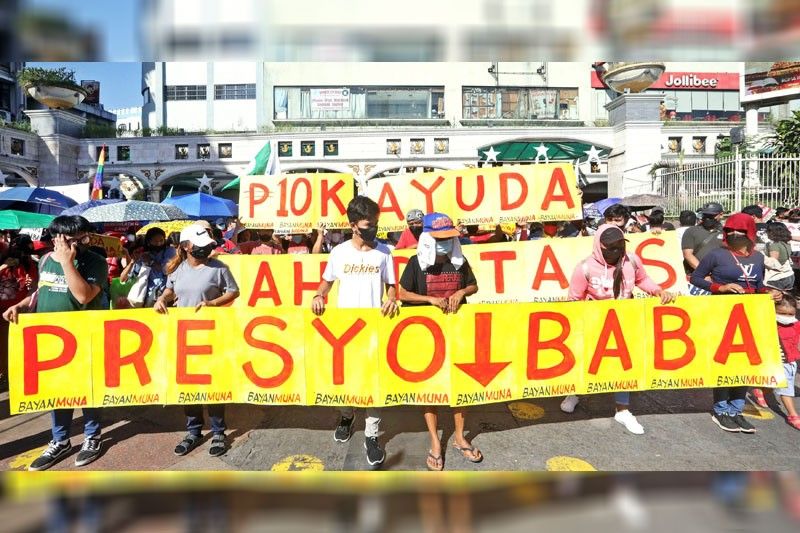 MANILA, Philippines — Until the Marcos administration moves to grant salary hike petitions and heed their other demands, workers will continue to mount more and bigger protest rallies.
Kilusang Mayo Uno (KMU) chairman Elmer Labog said yesterday's protest action is just a "warning" for President Marcos to urgently act on workers' demands.
Labog added that yesterday's protest action is just the first of many mobilizations uniting workers and other sectors for wage increase petitions and other just demands.
He said that Marcos could issue an executive order granting salary increases or certify as urgent pending wage bills before Congress.
Yesterday, various labor groups joined forces to mount what they dubbed as "Araw ng Masang Anakpawis."
"We are calling for pay of not lower than P1,100 per day for the private sector and P33,000 per month for the public sector," Labog said.
Aside from wage hike, workers pressed for more jobs, quality public service and labor rights.
Members of the labor coalition Nagkaisa mounted a "blank paper" protest to press for a labor agendum which, they said, is sorely lacking in the Marcos administration.
Nagkaisa staged the "blank paper" and "die-in" protest at Liwasang Bonifacio in Manila before joining other labor groups in Mendiola, also in Manila.
"Today is the first time that most of our placards bear no slogans. It is because the blank papers themselves convey the message that a labor agenda remains blank or missing under this new administration," Nagkaisa chairman Sonny Matula said.
For Sentro ng Nagkakaisa at Progresibong Manggagawa secretary general Josua Mata, workers continue to suffer from wages, unemployment and contractualization.
Mata expressed hope that workers will be treated as priority of the Marcos administration.
Peasant groups Anakpawis and Kilusang Magbubukid ng Pilipinas, fisherfolk group Pambansang Lakas ng Kilusang Mamamalakaya ng Pilipinas (Pamalakaya) and activist group Bagong Alyansang Makabayan also held their protest rally in commemoration of Bonifacio's birth anniversary.
The groups lamented that the current P570 daily minimum wage in the National Capital Region (NCR) is far below the P1,133 daily family living wage or the amount of wage needed to support a family of five members.
It added that while Filipino workers are reeling from the impacts of rising inflation and the COVID-19 pandemic, big corporations, including foreign firms, continue to rake in profits.
"The government continues to favor them with tax incentives and (tax) holidays. The government also continues to allow oil cartels, sugar cartels and other cartels to flourish and continue with their opportunist schemes," the KMU said in Filipino.
In a separate statement, Bayan secretary-general Renato Reyes also echoed the call for a wage increase.
"Bayan joins working people throughout the Philippines today in demanding a substantial increase in wages and for government action to stem the rise in prices. The cost-of-living crisis gripping every working class family and even the middle class requires immediate government action beyond rhetoric and the usual targeted subsidies," Reyes said. – Elizabeth Marcelo, Ghio Ong, Emmanuel Tupas, Cecille Suerte Felipe