Vax drive in typhoon areas suspended
September 26, 2022 | 12:00am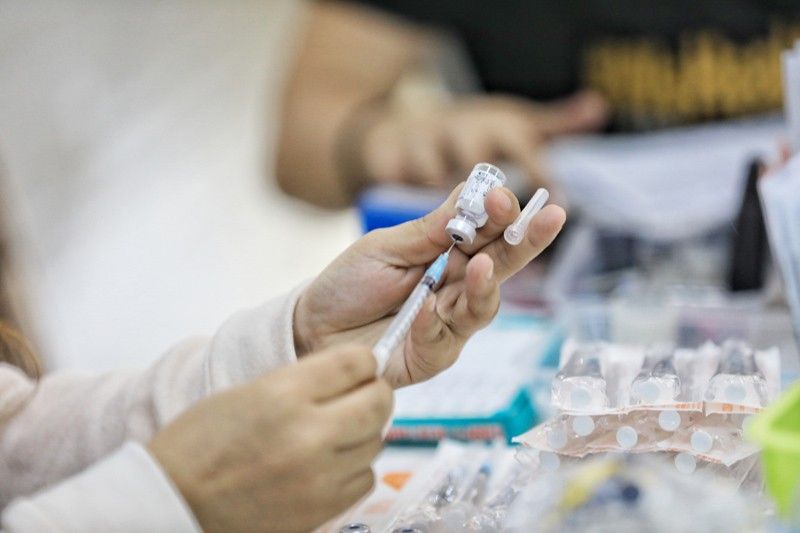 MANILA, Philippines — All vaccination activities in the National Capital Region (NCR) and the rest of Luzon are suspended due to inclement weather, the Department of Health (DOH) announced yesterday.
"We will be cancelling all PinasLakas activities in all affected areas (today)," DOH officer-in-charge Maria Rosario Vergeire said.
However, she clarified that the launching of the Pinaslakas Bakunahan Bayan in areas that are not directly affected by the weather disturbance will proceed as scheduled.
The government's special vaccination program dubbed "Bakunahan Bayan: Pinaslakas Special COVID-19 vaccination program" was supposed to start in various parts of the country today.
It aims to give booster shots to 23.4 million individuals who comprised 30 percent of the 78 million eligible population. As of Sept. 18, a total of 18.9 million individuals nationwide have already received their booster shots.
Vergeire, who is set to attend the scheduled launch of the Bakunahan program in Trece Martires city in Cavite today, urged the public to check the vaccination schedules in their respective localities and to avail of the free COVID-19 vaccines for their additional protection.
"Head over to your vaccination sites between Sept. 26 to 30. Get registered with your LGU (local government unit) so you can get vaccinated and boosted," a DOH advisory posted on social media reads.
Vergeire assured that even if work will be officially suspended today, the DOH offices involved in the delivery of emergency and other vital services are expected to continue. She added that all DOH executive committee members would remain in their assigned areas to monitor disaster preparedness and response activities.
Meanwhile, DOH-Calabarzon regional director Ariel Valencia said the newest campaign aims to increase the number of Filipinos who are given a booster shot, as ordered by President Ferdinand "Bongbong" Marcos, to maximize their capacity to combat a coronavirus infection.
"This is to help maintain the country's wall of immunity by vaccinating 90 percent of the A2 or senior citizen population, as well as increase booster dose coverage to 50 percent of the total target population before Oct. 8, which marks the first 100 days of the Marcos administration," Valencia said in a statement.
To ensure a smooth rollout of the vaccination drive, Valencia said the DOH in the region would be monitoring all 626 active vaccination sites in the region, which already include public markets.
Of the number, 422 are fixed sites while 204 are mobile vaccination sites. The mobile vaccination sites are deployed to different settings that include marketplaces and malls, schools, workplaces and public transportation terminals.
The Calabarzon region 2,839,240 individuals who are due for at least one booster dose and 52,736 unvaccinated senior citizens.
In Ilocos Region, DOH-regional director Paula Paz Sydiongco said they would do a settings-based approach in the COVID-19 vaccination drive to make the vaccines more accessible to the people.
"This is also to ensure that the targets for the first 100 Days will be achieved. The 'Bakunahang Bayan' will continue to bring vaccines in communities, including workplaces, malls, markets, terminals, plaza and churches, " Syndiongco said.
With a focus on high-target population areas, the regions health office would also partner with civil society organizations and the private sector, aside from encouraging LGUs to provide incentives to the vaccinees and vaccination teams, she added.
"All vaccination sites shall adopt the 'No Wrong Door Policy,' which means all individuals who wants to avail of the free COVID vaccine shall be accommodated in any vaccination site as long as they have with them their vaccination cards," Syndiongco said.
"For those who are unable to receive their vaccines during weekdays for whatever valid reasons, you can proceed to any vaccination site during the weekends. There is no reason for us to fail to get vaccinated. You need it to complete your protection against COVID," she added.
The Ilocos Region has a total of 447,077 senior citizens with primary series and 1,213,457 individuals, aged five to 59 years old, with 1st booster dose.