PNP to look into poll sabotage claims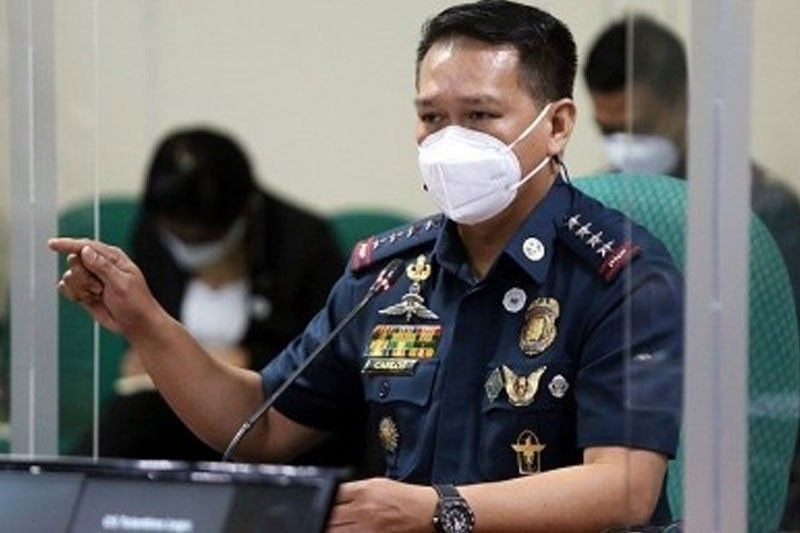 MANILA, Philippines — The Philippine National Police will validate reports of an alleged plot to sabotage the May 9 elections as claimed by three presidential candidates during a press conference on Sunday, the top PNP official said yesterday.
PNP chief Gen. Dionardo Carlos said that while they have not received such reports, they were continuously monitoring developments that might compromise peace and order during the elections.
Sen. Panfilo Lacson and fellow candidates Manila Mayor Isko Moreno and former defense chief Norberto Gonzales made the claim during their joint press conference on Sunday.
Lacson said the reports were not validated.
"We'll get the details from Senator Lacson so we can look into it. So far I have here Maj. Gen. Val de Leon. He's monitoring the elections and so far we don't have major reports of such sort. So we will get it from Sen. Ping," Carlos told reporters. De Leon heads the Special Task Force-National and Local Elections (STF-NLE).
Carlos, who would be retiring on the eve of the May 9 elections, said he was overseeing preparations being made by the PNP to ensure peaceful and orderly elections.
"From our end, we don't see anything that would hamper or derail the election up to May 9. When May 9 comes, I'm once again Mr. Carlos. So I always look at what the STF is preparing," he said.
The Armed Forces of the Philippines (AFP), for its part, said investigating destabilization reports is a law enforcement function.
"We will support the PNP should they need us. But they are the lead when it comes to law enforcement," AFP spokesman, Col. Ramon Zagala told The STAR.
On the alleged "destabilization" plot after the elections, President Duterte's political party said the voice of the majority should be respected.
Melvin Matibag, secretary-general of the Duterte-led PDP-Laban faction, said another uprising similar to the EDSA Revolution should not be allowed to damage or destroy the country's institutions.
"The PDP-Laban position has always been to respect the voice of the people and the Constitution we all signed up for. The party believes in the Filipino voters. The voice of the majority should prevail. We cannot allow another EDSA to destroy and damage our institutions," Matibag said in a statement.
Gonzales, meanwhile, said in an interview with CNN Philippines that he wanted to lead a public rejection of vote-buying culture.
"I will write the Comelec formally," Gonzales said. "We have to dislike this kind of practice, vote buying."
Gonzales cited a "concrete action" taken by the AFP when it set up checkpoints to stop the distribution of cash.
"Maybe they should do it again," Gonzales said. – Alexis Romero, Rainier Allan Ronda, Michael Punongbayan