Bongbong Marcos announces bid for presidency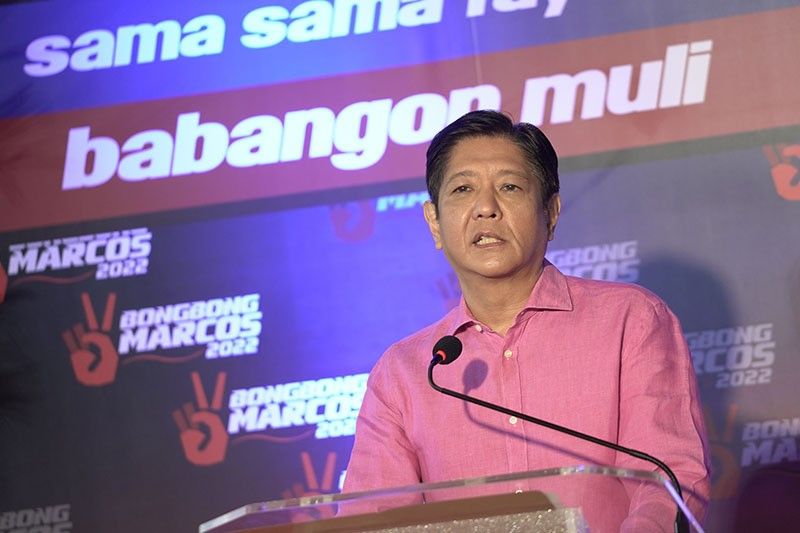 MANILA, Philippines (Updated 3:48 p.m.) — Thirty-five years since the historic ouster of his dictator father, former Sen. Ferdinand "Bongbong" Marcos Jr. announced his bid for Malacañang, marking the family's second attempt to return to the Palace.
Clan matriarch Imelda, most recently a member of the House of Representatives, ran for president in 1992 and placed fifth among seven candidates.
Marcos went on Facebook live to announce that he is joining the race for president in the 2022 national polls.
In a pre-recorded video, he said: "I am announcing here today my intention to run for the presidency of the Philippines in the coming May 2022 elections. I will bring that form of unifying leadership back to our country."
In his short speech, Marcos said the pandemic has destroyed the lives of people, and it is a challenge that the country must face as one.
Marcos is seeking a political comeback after failing to secure the second-highest position in the land to Vice President Leni Robredo — an electoral win that he challenged but lost before the Presidential Electoral Tribunal.
Marcos takes oath as member of Partido Federal ng Pilipinas
On Tuesday morning, Marcos posted on his Facebook page that he had joined Partido Federal ng Pilipinas, which was formed by Agrarian Reform Secretary John Castriciones and other allies of the administration of President Rodrigo Duterte in 2018.
Marcos was previously with the Villar-led Nacionalista Party.
His election lawyer Vic Rodriguez told Philstar.com that following Marcos' oath-taking as PFP member, the former senator is now also its chairman. The party, in 2018, wanted Duterte to be its chairman, according to a report in the Manila Times.
Duterte is chairman of the administration PDP-Laban party.
"Nacionalista Party will still be a very important ally as we have embraced the policy of haing the broadest political alliances," Rodriguez said.
Marcos was also nominated the presidential bet of Kilusang Bagong Lipunan, the former ruling party founded by his father and namesake.
FOLLOW: LIVE updates: Filing of COCs for 2022 elections
KBL said in a resolution adopted during their national convention on September 24 that the younger Marcos was highly favored by party officers and members to be their party's presidential bet.
During the nomination, Marcos through a recorded video said he hopes to achieve the ideals, dreams and visions his father had for the country. He did not say that he was accepting the nomination.
He has also been endorsed by the Labor Party of the Philippines and Partido Lakas ng Mangagawang Pilipino.
EXPLAINER: A look at the tribunal ruling dismissing Marcos' poll protest vs Robredo
Marcos has yet to announce when he will be filing his certificate of candidacy. He has also yet to name his running mate for vice president.
Political rehabilitation
This marks the latest attempt of the Marcos family's political rehabilitation amid a time of massive misinformation and disinformation in social media.
In 2020, Marcos was accused of tapping controversial political data company Cambridge Analytica to change perceptions on his family on social media — an allegation his camp denied.
The former senator has distanced himself and the Marcos clan from abuses and corruption during his father's dictatorship, when thousands of human rights violations were recorded and billions were plundered from the nation's coffers.
In the latest court win of the Presidential Commission on Good Governance against the Marcos, the Sandiganbayan ordered Traders Royal Bank to pay value of peso- and dollar-denominated bank certificates totaling P96 million and $5.435 million, which form part of the ill-gotten wealth of their family.
Marcos ranked second in the latest Pulse Asia pre-election survey for presidency, behind only Davao City Mayor Sara Duterte who stated that she would not run for the chief executive post in the 2022 elections.
FOLLOW: LIVE list: Aspirants for national posts in the 2022 elections
In the said poll, 15% of Filipinos would have voted for Marcos as president if elections were held on September 6 to 11, the period when the survey was conducted. — with Xave Gregorio