Faithful urged: Storm the heavens with prayers vs COVID-19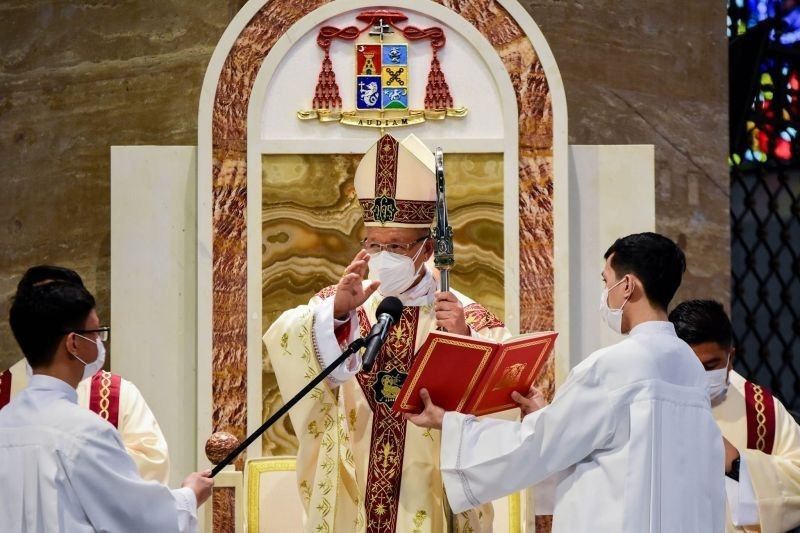 MANILA, Philippines — Manila Archbishop Jose Cardinal Advincula urged yesterday the Catholic faithful to storm the heavens with prayers to stop the spread of COVID-19, amid the threat of the infectious Delta variant.
Advincula said in an interview over Church-run Radyo Veritas that the Filipino people should also do their part in helping the government curb the spread of COVID-19 as he urged them to have themselves vaccinated.
"We have a threat right now – especially with the Delta variant – we need to prepare so this vicious Delta variant does not spread," Advincula said in a mix of Filipino and English.
"Get vaccinated. Although experts say that this is not an assurance against COVID, if we get infected it seems our condition won't be as serious or as severe as compared to those who are not vaccinated," he added.
In a statement, Advincula also prayed that the Lord will extend his healing hand to protect the people "from the threat that is brought about by COVID-19, especially by this new Delta variant" and to continue to guide and enlighten frontliners.
"We ask you also to continually guide and enlighten those who take care of our health, the government, our doctors, our nurses, those who are working, especially in the hospitals and all the frontliners so that they may continue their work in order to safeguard the health of the community," he added.
In another development, Archdiocese of Manila Chancellor Reginald Malicdem announced yesterday that public masses will be suspended in the Manila Cathedral starting today until Aug. 20 except for funeral and wake masses with limited people.
Malicdem emphasized that scheduled baptisms and weddings that fall on the enhanced community quarantine (ECQ) period should be rescheduled, while masses will be made available online through their official social media pages.
The Diocese of Novaliches also said that no public masses will be held during the ECQ period in Metro Manila, but emphasized that all churches may be left open for personal prayer, while observing the proper health protocols.