OCTA recommends shorter vaccine jab intervals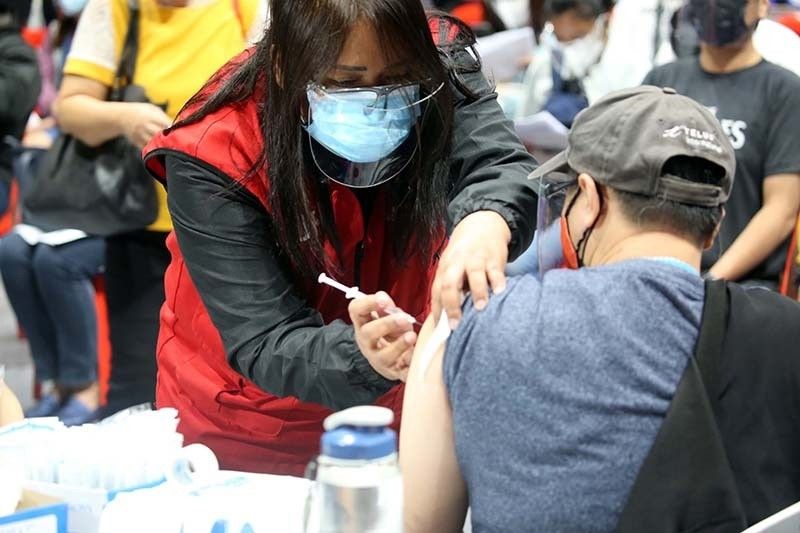 MANILA, Philippines — The OCTA Research Group has recommended shortening the interval between the first and second doses of Sinovac and AstraZeneca vaccines to protect more Filipinos against the highly contagious Delta variant of COVID-19.
At a virtual forum yesterday, OCTA fellow and molecular biologist Fr. Nicanor Austriaco stressed the need to accelerate the vaccination program to slow down the transmission of the Delta variant.
He proposed shortening the interval of Sinovac vaccines to just 14 days from the current 28 days.
"The Turkish trial published in The Lancet showed 83.5 percent protection with this schedule, though with an earlier variant of SARS-CoV2," said Austriaco, referring to the virus that causes COVID-19.
"For AstraZeneca, (we recommend shortening) the two-dose interval to eight weeks. It is currently 12 weeks and there are studies in many, many populations that show that an eight-week two-dose interval is still protective," he added.
The goal, he said, is to vaccinate more people to achieve population protection against the virus.
OCTA Research has also recommended a two-week hard lockdown in Metro Manila to reverse the growing trend in cases.
In an interview with "The Chiefs" on Cignal TV's One News Tuesday night, OCTA fellow Guido David stressed the need to implement more restrictions before the number of new cases reaches an unmanageable level.
"Delaying it will just make the problem bigger. If you fix it now, you're fixing a smaller hole whereas if you make the hole bigger, then it's more difficult to patch it up," he said.
He warned that the number of new cases in Metro Manila – currently at around 1,000 per day – can double in a span of one week if the status quo is retained.
During Wednesday's briefing, David said an early circuit breaker lockdown starting Aug. 1 "needs just two weeks or even one week to regain effective control of the pandemic."
Implementing it later next month would mean higher cases and longer period for lockdown, he added.
Not if, but when
Citing the cases of other countries in Southeast Asia currently dealing with a Delta-driven surge, Austriaco said the matter of imposing a hard lockdown is not a question of if but when.
"I think it is not a question of whether or not we will have a hard lockdown," he said. "What we have learned from other countries is that the earlier the lockdown, the shorter."
OCTA fellow Ranjit Rye said they will leave it up to the government to decide whether to impose enhanced community quarantine or modified ECQ in Metro Manila.
But he maintained that the current general enhanced community with heightened restrictions would not be enough to reverse the alarming trend.
OCTA said implementing hard lockdown now would also be beneficial to businesses in the long run as they would be able to avoid closure of establishments in the last quarter.
Save the 4th quarter
During the forum, presidential adviser for entrepreneurship Joey Concepcion said he would support the government should it decide to impose a two-week hard lockdown.
"If the government, Health Secretary (Francisco) Duque will push for a two-week hard lockdown, we will support it because we prefer that we solve the problem early and not wait for it to get bigger and we will have to lock down for months," he said.
"I think the fourth quarter is the most important quarter… Because this is the quarter when consumers spend because of Christmas, this is the quarter that I believe election spending will come," he added.
Allowing businesses to operate in the last quarter, said Concepcion, would enable them to recoup some if not most of their losses this year.
"If we have to do it, let's do it, let's prepare for it. Who are we saving here? We are saving the lives of the unvaccinated… We have to be decisive, we have to move quick," said the presidential adviser.
Rights of unvaccinated
On moves to restrict the movement of unvaccinated individuals, Interior and Local Government Secretary Eduardo Año said it is not yet a good time for local government units (LGUs) to implement a "no vaccine, no entry" rule in commercial establishments.
Año said that while he understands the sentiment of the Lapu-Lapu City LGU in making the suggestion, the move to require its residents to be vaccinated before entering establishments would be discriminatory and restrictive.
He pointed out that vaccination against COVID-19 has not yet reached a great proportion of the population and that such a restrictive policy on the greater part of the population who are not vaccinated cannot be implemented without the approval of the President.
Año said they have reached out to Mayor Junard Chan to clear out his executive order that was supposed to be effective come Aug. 25. – Romina Cabrera