Duterte: VP run for immunity amid threats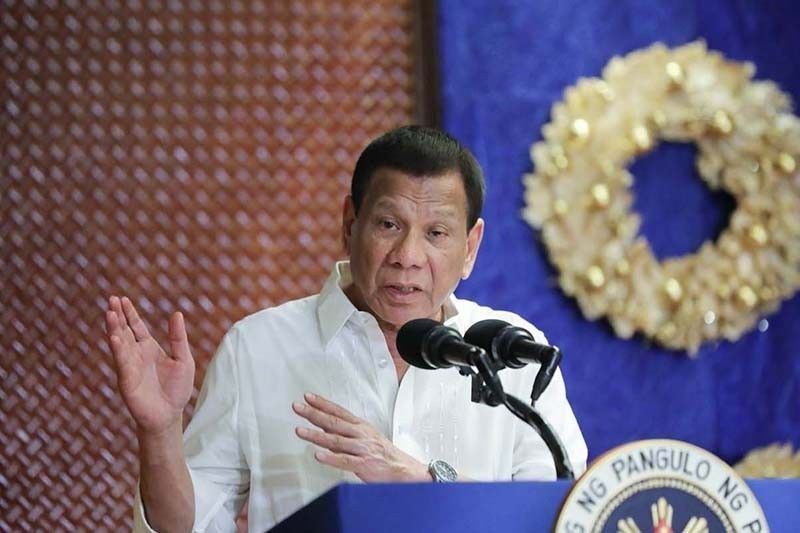 MANILA, Philippines — President Duterte said yesterday that he has considered running for vice president next year to get immunity from lawsuits, after his critics and the political opposition threatened to bring him to court.
Following attacks from his political enemies such as former senator Antonio Trillanes IV, the 75-year-old leader said he mulled running as vice president to deter his critics from bringing him down.
"I don't know what I can really do, what a vice president can do to have an impact in policies of the president. The Constitution is very silent. It does not have a job at all. The job for the vice president is to lay down on his official residence and wait until he dies," Duterte said.
Duterte openly talked about his views during his speech at the National Assembly of the PDP-Laban, which is divided between Duterte, Energy Secretary Alfonso Cusi and the group of PDP president Manny Pacquiao and executive vice chairman Sen. Aquilino Pimentel III.
Not on good terms with incumbent Vice President Leni Robredo, Duterte played with his words on thinking ill of anybody when he talked about the role of the vice president. He did not say in particular if he was generalizing his views or referring to Robredo in his speech.
"Yan lang ang trabaho ng vice president hanggang mamatay siya, hindi yung presidente… kung yung presidente, eh di mas OK. Pero tingnan naman natin kung sino yung president (That's the only job of a vice president until they die, not the president… if it's the president's, then it's more than OK. But let us see who is the president)," he added. "Hindi lahat ng presidente gustong mamatay (Not all presidents want to die)."
At the same event, Duterte led the oath-taking of new members, including chief presidential legal adviser Salvador Panelo, Executive Secretary Salvador Medialdea and Labor Sec. Silvestre Bello III.
Duterte also called for unity among party officials and members, while he belittled Pimentel and Pacquiao's camp.
"I am urging all our party officials and members to remain focused on uplifting the quality of life of the Filipino people, especially now that we are still grappling with the challenges brought by the COVID-19 pandemic," he said.
"Let us not be blinded by wrong ambitions. Let us not allow this party to be used to advance personal interests," Duterte added.
The Chief Executive admitted that the "foolish" statements of his critics made him think about seeking another elective post.
"Sa totoo lang, yung akin is a reaction to the foolish statements nung mga dilawan, threatening me as if, parang bat ba ako… na pagbaba mo may kaso ka (In truth, my reaction to the foolish statements of the 'yellows' threatening me as if… it's like, when I step down I have a case)," he said.
Duterte then hurled invectives against Trillanes before daring him. "It was almost like a knee-jerk reaction. Tatakbo ako ng vice president, kaya ninyo? (I will run for vice president, can you take it?) Ngayon (Now,) from a knee jerk reaction to an applause every time I mention the vice president…," he said.
"Considering the magnitude of the responsibility that awaits the next batch of elected officials in 2022 elections, we must remain focused on how to continue the reforms that we have instituted in the last five years," Duterte said.
The party members present during the two-day general assembly at Clark field, Pampanga also passed a resolution supporting the President in the fight against drugs and criminality.