Pacquiao asks China to withdraw vessels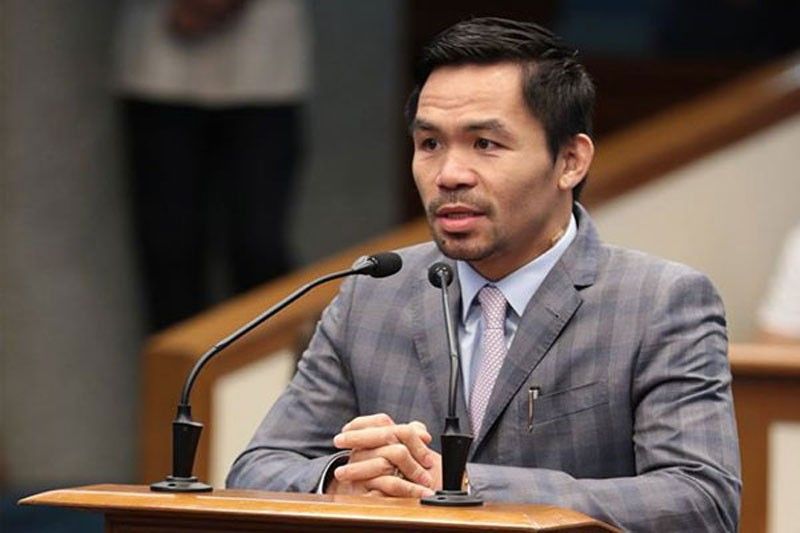 MANILA, Philippines — Sen. Manny Pacquiao has asked Beijing in a letter to Chinese Ambassador Huang Xilian to withdraw Chinese militia vessels from the West Philippine Sea (WPS).
In his letter dated April 10 addressed to Huang, Pacquiao expressed his deep concern over "recent reports that at least 220 Chinese vessels remain in line formation at the Julian Felipe Reef."
The letter was sent 16 days before 11 of his Senate colleagues, led by Minority Leader Franklin Drilon, signed a resolution condemning the presence of Chinese fishing vessels around Julian Felipe Reef.
"The continuing presence of Chinese ships at the said reef, which is within the Philippines' exclusive economic zone and continental shelf, only creates tension and harbors divisiveness in our region and evidently destabilizing to the international rule of law," Pacquiao said.
"In line with this, we reiterate our call to your government to promptly withdraw these vessels from our territory. We demand nothing less than for your country to respect our sovereignty," he said.
The senator said instead of creating animosity with its neighbors, China should behave as a "unifying figure of regional solidarity."
"Our governments must instead work together towards creating lasting peace and cooperation in the whole Asia-Pacific region, especially during these trying times brought about by the pandemic," he said.
Prior to his letter, Pacquiao had also issued an official statement urging China to pull out its militia fishing boats from the waters around the Julian Felipe Reef.
Pacquiao sought to dispel claims that he deliberately refused to sign Senate Resolution 708 expressing the sentiments of the Senate "condemning the activities of the People's Republic of China in the exclusive economic zone of the Philippines and other parts of the West Philippine Sea."
He said the communication was not immediately released to the media, as it was his "personal letter" to Huang.
"Two weeks after, Senator Drilon passed a resolution of the same nature which I did not sign because I already had a letter pending before the Chinese ambassador here," Pacquiao said.
'Know your real friends'
At a virtual vaccine summit yesterday, Huang urged Filipinos to know their "real friends" and "reliable partners."
Huang said China and the Philippines are neighbors "that cannot be moved away."
He also noted that it is normal for neighbors to have differences.
"China always values promise and integrity. We Chinese people always mean what we say. And we also firmly believe that a friend in need is a friend indeed, and time will tell," he said.
Huang said the COVID-19 pandemic is a "test of friendship" between the two nations.
He also accused "certain countries" of trying to take advantage of the "differences" between China and the Philippines.
"Certain countries, while looking on Philippines' anxiety of vaccine need with indifference, tried to sow discord by taking advantage of the differences between China and the Philippines. We should stay alert," Huang said.
"Tougher the time is wider our eyes open. We would eventually know who the real friends and reliable partners are," the diplomat said.
The Philippines has filed several diplomatic protests against Beijing over its vessels' continued illegal presence in the West Philippine Sea.