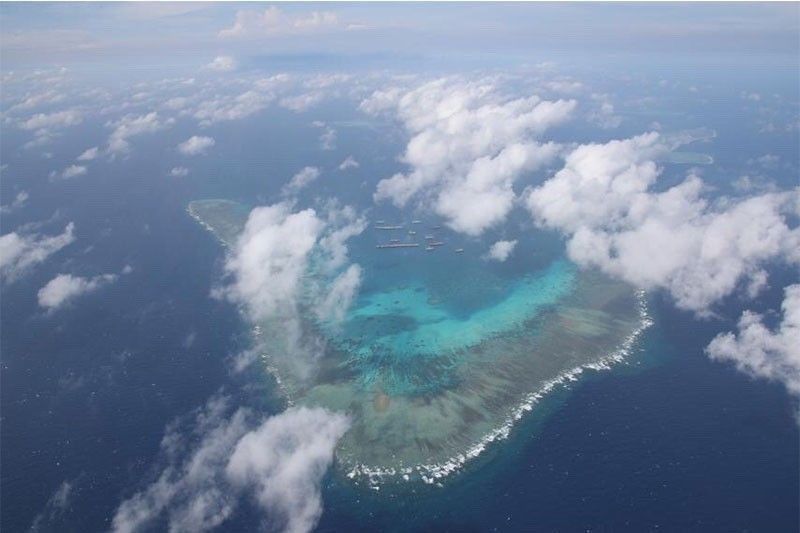 The TUCP believes that the Chinese presence is "an encroachment both of the territorial integrity of the Philippines and a denigration of national sovereignty."
Armed Forces of the Philippines
TUCP backs calls for China pullout from reef
Paolo Romero
(The Philippine Star) - April 17, 2021 - 12:00am
MANILA, Philippines — The Trade Union Congress of the Philippines (TUCP) supports the statements of Secretaries Delfin Lorenzana and Teodoro Locsin Jr. in demanding the withdrawal of Chinese naval, militia and maritime presence in and around Julian Felipe Reef.
The TUCP believes that the Chinese presence is "an encroachment both of the territorial integrity of the Philippines and a denigration of national sovereignty."
"With these senior officials of government, we cannot, as an independent, self-respecting people, allow this brazen effrontery and continuing Chinese incursion into the Philippines, to remain unmet and unchallenged," the group said.
It added that "not only is Chinese presence violating the rights of our fishermen to Philippine fishing waters and denying them their right to their livelihood and a decent living, the Chinese are endangering our national food security. Further, they are denying the fundamental right of the Filipino people to develop and fully exploit the bounties of our territorial seas, as well as that of our exclusive economic zone and all that is above and beneath."
In calling on Filipinos to support defense chief Lorenzana and Locsin of foreign affairs, the TUCP noted that "too much has transpired in the near-term, including Chinese reclamation work in what are clearly Philippine territorial waters, characterized by a not-so-veiled build-up of a threatening external military presence."
"That makes it imperative for Filipinos to now demonstrate unqualified, multisectoral support for the strong, categorical statement of both Secretaries Lorenzana and Locsin demanding that the Chinese leave and vacate what is ours," TUCP stressed.
It noted that the Filipino people and workers are long-time friends of the Chinese working class.
"The long history of struggle of both the Filipino working class and the Chinese working class in our respective countries have been animated by both strong nationalist fervor and a rejection of foreign encroachment into our respective territories. Hundreds of thousands of Chinese now work in the Philippines, even as there are hundreds of thousands of Filipinos also working in Chinese territories," the group said.
"We have both contributed to creating employment opportunities for each other's peoples, as well as helping each other's economies progress. This is the kind of confidence building and trust which our respective peoples should foster. It is in this spirit that we speak candidly and call on China to match deed to words, and respect, observe and abide with Philippine national sovereignty, if we, as peoples and nations, will truly keep the peace and build prosperity for all," TUCP said.
Meanwhile, Sen. Risa Hontiveros said yesterday that President Duterte's plan to use his "friendship" with Chinese President Xi Jinping to ease tensions in the West Philippine Sea "will not work as Beijing has never acted as a friend of Filipinos."
She issued the statement following presidential spokesman Harry Roque's assurance that Duterte would privately resolve the alarming intrusion of hundreds of Chinese militia vessels in the West Philippine Sea as he is "friends with Xi."
"It would be a good thing if that (friendship) had been marked by mutual respect. But we've been too respectful that even if China has been blatantly doing wrong, we bow to them, and they're not showing friendship or respect to us," Hontiveros told CNN Philippines.
She said Beijing's violations of the country's sovereign rights and international laws have been flagrant – from enacting a sweeping and draconian coast guard law to driving away Filipino fishermen, from harassing an ABS-CBN news crew to building militarized artificial islands.
Hontiveros described Roque's statements as a double-whammy against proper diplomacy and freedom of information.
"Malacañang, do something. China is becoming the region's biggest bully. It's time to unequivocally stand up to her. We must confront who supposedly is our best friend. Those vessels have been in our waters for the past many weeks. When will all these lies stop?" the senator said.
For her, the Duterte administration must be ashamed that the country does not have freedom of navigation in its own waters.
"And it's infuriating to repeatedly hear statements from the highest office of our government, of our nation, that the Philippines and China will resolve these issues because we are 'friends'," Hontiveros said.
"So the call remains: we demand that every single Chinese vessel leave Philippine territory. Their continued and obstinate presence is a direct challenge to the international rules-based order in the oceans that has maintained stability in the region for so long," she added. — Catherine Talavera