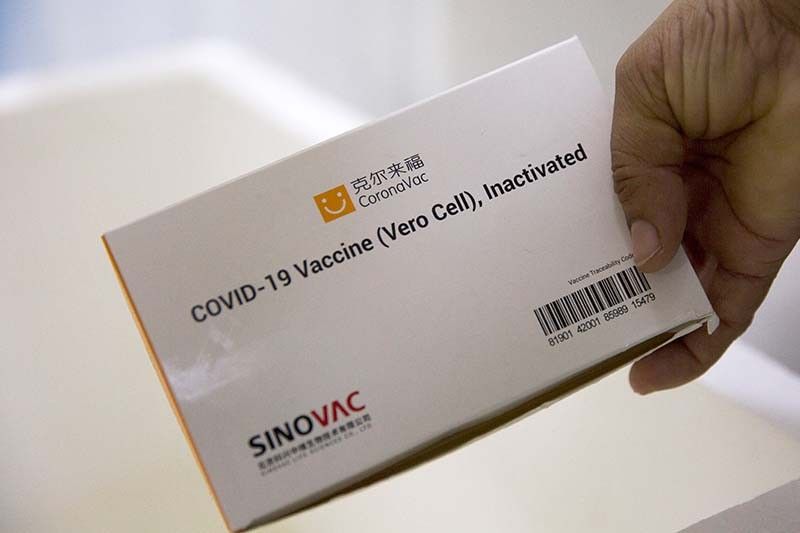 View of a box containing a vial of the Sinovac vaccine against COVID-19 during the vaccination campaign in Santo Domingo on February 25, 2021.
AFP/Erika Santelices
National experts recommend use of Sinovac jab for health workers
MANILA, Philippines (Updated 5:01 p.m.) — The country's National Immunization Technical Advisory Group recommended the use of the COVID-19 vaccine developed by Sinovac Biotech for health workers but said that medical frontliners can still opt not to receive the China-made jab.
In a briefing Friday, Health Undersecretary Maria Rosario Vergeire said members of the NITAG and the department's Technical Advisory Group have concluded that the Sinovac vaccine, known as CoronaVac, is safe and will be "beneficial" to medical frontliners.
NITAG is a group of experts responsible for providing independent, evidence-informed advice to policymakers on issues related to immunization and vaccines.
"The NITAG and TAG has deemed it sufficient to recommend the use of vaccine for healthcare workers as it bears to reiterate that our goal for prioritizing healthcare workers for vaccination is to reduce morbidity and mortality among their group, while they maintain the most critical essential health services," she said.
The government's inter-agency task force on pandemic response has already approved the recommendation of NITAG.
"This will be presented to the president," Vergeire said.
FDA recommendation
The country's Food and Drug Administration gave emergency approval Monday to CoronaVac— with the first doses set to arrive on Sunday—but did not recommend its use for health workers because they are constantly exposed to COVID-19 patients. The drug regulator later clarified that medical frontliners are not prohibited to receive the vaccine if they want to.
According to late stage trials in Brazil involving health workers who have had exposure to COVID-19 cases, the jabs yielded only a 50.4% efficacy rate.
Vergeire stressed the recommendation of the FDA was not a question of vaccine safety but a "question of rational use of available resources."
The FDA said the vaccine can be given to "clinically healthy" adults aged 18 to 59 after it was found to have an efficacy rate of 65.3% in clinical trials held in Indonesia and 91.25% in the study conducted in Turkey.
Health workers' choice
Health experts emphasized it is for the medical frontliners to decide whether they will take the Sinovac shot or not and that the prioritization framework will still be followed.
Health workers are at the top of the government's priority list for vaccination.
"Vaccination with the incoming Sinovac donation is voluntary... If they are hesitant to accept this vaccine, then they can wait for the next available vaccine but we don't know when that would be," Dr. Nina Castillo-Carandang, NITAG member, said.
Dr. Edsel Salvana, member of the DOH TAG, said the vaccine "looks like it will save lives" and it is right to offer the available jab to the frontliners.
"If they feel this is not the right vaccine for them, then we are not going to penalize them. They are still first in line for either Pfizer or AstraZeneca," he said.
The initial doses of 600,000—which are donated by vaccine—are expected to arrive in the country on Sunday.
As It Happens
LATEST UPDATE: April 19, 2021 - 12:17pm
The national government has so far secured two official deals for COVID-19 vaccine supplies in the Philippines, one with Chinese pharmaceutical company Sinovac and another with the Serum Institute of India.
Watch this space for bite-sized developments on the vaccines in the Philippines. (Main image by Markus Spiske via Unsplash)
April 19, 2021 - 12:17pm
The Department of Health approves the resumption of the distribution of AstraZeneca COVID-19 vaccines to persons below 60 years old.
Health Undersecretary Maria Rosario Vergeire says this was upon the recommendation of the country's Food and Drug Administration.
April 16, 2021 - 8:19am
As approved by the inter-agency task force on COVID-19, Priority Group A4 of the National COVID-19 Vaccine Development Plan will include:
commuter transport (land, air and sea), including logistics

public and private wet and dry market vendors

frontline workers in groceries, supermarkets, delivery services

workers in manufacturing for food, beverage, medical and pharmaceutical products

frontline workers in food retail, including food service delivery

frontline workers in private and government financial services

frontline workers in hotels and accommodation establishments

priests, rabbis, imams and other religious leaders

security guards/personnel assigned in offices, agencies and organizations identified in the list of priority industries/sectors

frontline workers in private and government news media

customer-facing personnel of telecoms, cable and internet service providers, electricity distribution and water distribution utilities

frontline personnel in basic education and higher education institutions and agencies

overseas Filipino workers, including those scheduled for deployment within two months

frontline workers in law/justice, security, and social protection sectors

frontline government workers engaged in the operations of government transport system, quarantine inspection worker safety inspection and other COVID-19 response activities

frontline government workers in charge of tax collection, assessment of businesses for incentives, election, national ID, data collection personnel

diplomatic community and Department of Foreign Affairs personnel in consular operations

Department of Public Works and Highways personnel in charge of monitoring government infrastructure
April 15, 2021 - 2:28pm
The US, through the United States Agency for International Development (USAID), will provide P170 million in support to help the Department of Health rollout the government's COVID-19 vaccination program.
According to the US Embassy, the aid was announced by US Embassy Chargé d'Affaires John Law during a visit to a Caloocan City vaccination site with Health Secretary Francisco Duque III and other officials.
"Through this new funding, USAID will support the Philippines in strengthening the vaccine supply chain, monitoring vaccine safety, and delivering effective communication campaigns to address vaccine hesitancy. This assistance will also support local government units as they plan for, track, and administer vaccines."
April 13, 2021 - 8:42pm
Top US health authorities recommended a "pause" in the use of the Johnson & Johnson Covid-19 vaccine "out of an abundance of caution" as they investigate any links between it and blood clots, a regulator said Tuesday.
The US Food and Drug Administration and the Centers for Disease Control are assessing the "potential significance" of six reported cases of a rare blood clot in patients who have received the shot, the FDA tweeted.
"Until that process is complete, we are recommending this pause," it said.
The regulator said that as of Monday more than 6.8 million doses of the J&J vaccine had been administered in the US.
"CDC & FDA are reviewing data involving 6 reported U.S. cases of a rare & severe type of blood clot in individuals after receiving the vaccine. Right now, these adverse events appear to be extremely rare," the FDA stated on Twitter. — AFP
April 13, 2021 - 11:20am
Some 20 million doses of Russian-made Sputnik V COVID-19 vaccine are expected to arrive in the Philippines within the next four months.
Vaccine czar Carlito Galvez Jr. says the government will sign a supply agreement with Russia's Gamaleya Research Institute this week.
"It can be used on the elderly, so from 18 and above. So we can use this and the good thing is at least in the absence of AstraZeneca, we can use this," Galvez says in an interview with ANC's "Headstart."