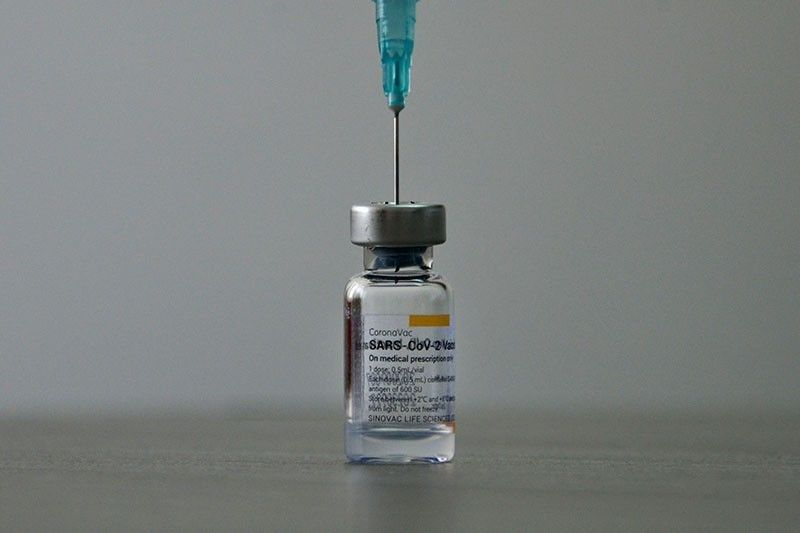 A Sinovac vaccine against the Covid-19 coronavirus is seen at a psychiatric hospital in Banda Aceh on February 6, 2021.
AFP/CHAIDEER MAHYUDDIN
Philippines OKs Sinovac COVID-19 vaccine for emergency use
MANILA, Philippines (Updated 1:12 p.m.) — The country's Food and Drug Administration has granted an Emergency Use Authorization for the coronavirus vaccine developed by Chinese pharmaceutical firm Sinovac Biotech, its chief said Monday.
It is the third COVID-19 jab to get the approval needed for rollout in the government's inoculation program after the vaccines developed by AstraZeneca and Pfizer-BioNTech.
"After a thorough and rigorous review of the currently available published and unpublished data by our regulatory and medical experts, the FDA is granting an Emergency Use Authorization to the COVID-19 vaccine of Sinovac," FDA Director General Eric Domingo said in a briefing Monday.
The announcement was made just a day before government officials said doses of Sinovac's vaccine known as CoronaVac were supposed to arrive in the Philippines. Beijing committed to donate 600,000 doses of the Chinese-made coronavirus jab, of which 100,000 will be allocated to military personnel.
Health Secretary Francisco Duque III said Monday that the Chinese Embassy in Manila need three to five days to prepare the vaccine shipment once EUA is issued.
The EUA will be valid only within the duration of the declared public health emergency or upon the issuance of certificate of product registration, which is the typical license issued to products.
Not best vaccine for health workers
The authorization clears CoronaVac for use on "clinically healthy" individuals aged 18 and 59 years after it was found to have an efficacy rate of 65.3% in clinical trials held in Indonesia and 91.25% in the study conducted in Turkey.
But late-stage trials in Brazil had shown an efficacy rate of 50.4%—just above the threshold the World Health Organization uses to decide if a vaccine is worth using. Brazil conducted trials with healthcare workers exposed to COVID-19 patients only.
"The use of Sinovac vaccine on healthcare workers is not recommended," Domingo said, explaining that CoronaVac is not the most ideal vaccine to administer to medical frontliners because of their constant exposure to the virus.
Medical frontliners are at the top of the government's priority list for COVID-19 vaccination. Aside from them, senior citizens, indigent population and uniformed personnel are also among the priority groups.
"The safety profile is good, adverse events were mild to moderate. The possibility of allergy and severe allergy or anaphylaxis is minimal," the FDA chief said in a mix of English and Filipino.
Unlike competitor vaccines from Pfizer-BioNTech, Moderna and AstraZeneca, Sinovac has yet to submit Phase 3 clinical trial data to medical journals for peer review.
The AstraZeneca shot was found to be 70% effective on average. Meanwhile, COVID-19 jabs from Pfizer-BioNTech and Moderna reported 95% and 94.1% efficacy rates, respectively.
Sinovac shots can be stored at around 2°C, which is the standard temperature that is within the existing cold chain system in the country.
The Philippine government earlier signed a term sheet with the Chinese drugmaker for 25 million doses of its vaccine.
It is aiming to secure a total of 146 to 148 million vaccine doses to inoculate at least 50 million people this year alone, but it has yet to execute definitive supply agreements with pharmaceutical companies. — with a report from Agence France-Presse
As It Happens
LATEST UPDATE: February 25, 2021 - 12:05pm
The national government has so far secured two official deals for COVID-19 vaccine supplies in the Philippines, one with Chinese pharmaceutical company Sinovac and another with the Serum Institute of India.
Watch this space for bite-sized developments on the vaccines in the Philippines. (Main image by Markus Spiske via Unsplash)
February 25, 2021 - 12:05pm
The 600,000 donated doses of Sinovac COVID-19 vaccine are expected to arrive on Sunday, February 28, the Palace says.
February 24, 2021 - 8:51am
Pharmaceutical giant AstraZeneca says its EU supply chains would only be able to deliver half of an expected supply of COVID-19 vaccines to the bloc in the second quarter — but that it would look to make up the shortfall from elsewhere.
A spokesman for the British drugs group tells AFP AstraZeneca was "working to increase productivity in its EU supply chain" and would use its "global capability in order to achieve delivery of 180 million doses to the EU in the second quarter".
"Approximately half of the expected volume is due to come from the EU supply chain" while the remainder would come from its international supply network, he adds. — AFP
February 23, 2021 - 9:52pm
Special envoy to China Mon Tulfo, who is also a columnist, says on ONE News, that he and other government officials were vaccinated with smuggled and unauthorized Sinopharm jabs.
Tulfo said he did not use his position as special envoy to get the Sinopharm doeses. "I just got hold of the vaccine from a friend who smuggled it into the country," he says on ONE News' "The Chiefs".
He says that other government officials also received the smuggled vaccine, "I just cant give their names," he says in Filipino.
He adds that others who received the smuggled vaccines were "Cabinet-level" officials and at least one senator.
February 22, 2021 - 4:28pm
The House of Representatives has passed the COVID-19 Vaccination Program bill on second reading.
A provision of the bill provides funding to cover expenses for people who have adverse reactions to COVID-19 vaccines. The House bill creates a P500-million indemnity fund for this. A previous verison of the bill did not specify the amount of funding.
Since the bill has been certified urgent, the House may dispense with the "three-day rule" and pass it on third and final on the same day.
February 22, 2021 - 12:04pm
The country's Food and Drug Administration has issued an emergency use authorization for the coronavirus vaccine developed by Chinese firm Sinovac.
FDA Director General Eric Domingo says the Chinese vaccine can be used among clinically healthy individuals aged 18 to 59 years. However, it is not recommended for use among healthcare workers.
"The use of Sinovac vaccine on health workers is not recommended as it has 50.4% efficacy rate for this group," Domingo says. — Gaea Katreena Cabico