FDA: No EUA, no Sinovac in Philippines
February 18, 2021 | 12:00am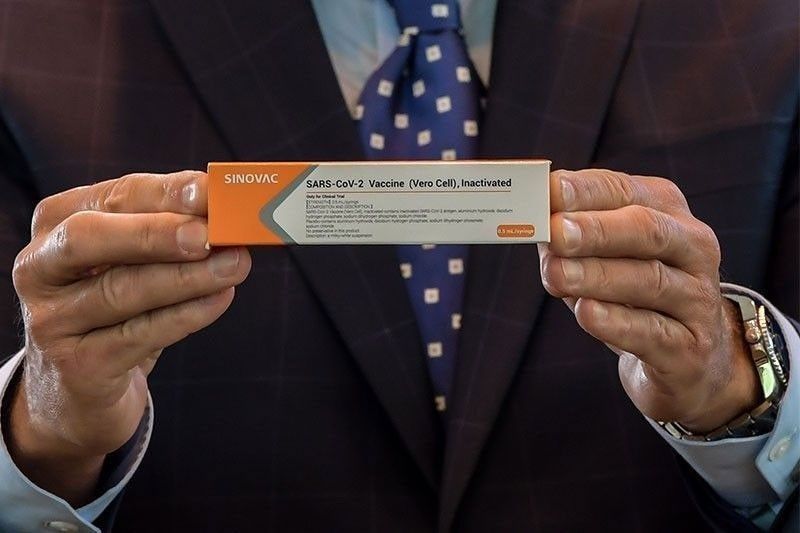 MANILA, Philippines — The expected arrival of Sinovac vaccines from China on Feb. 23 is still up in the air as the company has yet to submit four required documents to the Food and Drug Administration (FDA).
In an interview with "The Chiefs" aired on One News/TV5 last Tuesday night, FDA director general Eric Domingo said the agency could not yet decide on the application of Sinovac for emergency use authorization (EUA) because the vaccine maker has not completed its documents.
"If they are not approved by Feb. 23, they cannot bring or use it (here). You need an authorization to use a vaccine in the Philippines," Domingo said.
The vaccine expert panel had a meeting with Sinovac last Monday night, and the company "promised" to submit its pending documents within the week, according to the FDA chief.
Domingo said he could not ascertain when the FDA could issue Sinovac's EUA as he underscored that this "depends on the company."
"I cannot set a date… It's a 50-50 chance. It does not solely depend on me because if I'm going to make a decision, I'm going to make a conscious decision," he added.
As part of protocol, an application for EUA goes through the Ethics Board, vaccine expert panel and the FDA for evaluation of the vaccine's safety or efficacy profile, quality and manufacturing, among others.
Domingo said it took them only 21 days to issue the EUA of Pfizer-BioNTech and AstraZeneca because unlike Sinovac, they have already passed stringent regulatory authorities in other countries.
"I'd rather see and wait if (Sinovac is) able to submit everything that we require, and then make a decision based on that. It depends on when (it) can complete (its) documents," he added.
But if Sinovac is lacking four documents, the Gamaleya Center of Russia is short of 14 documents for its application for EUA for Sputnik vaccines, according to Domingo.
"That's going to take a little longer. We are asking for four documents from Sinovac and 14 from Gamaleya. Maybe, it's lost in translation," he said.
The FDA chief added that Gamaleya had submitted documents in different formats, among other errors.
"It's very difficult sometimes. Our teams had several meetings with them, and I hope they now understand each other," he said.
Stonewalled
Meanwhile, the FDA continues to be stonewalled by authorities involved in the inoculation of Presidential Security Group (PSG) personnel using smuggled COVID-19 vaccines from China.
Domingo said he and Health Secretary Francisco Duque III have been seeking the list of vaccinees from the PSG and the Department of National Defense (DND), but to no avail.
"We have been writing them, but so far, it's been a blank wall… We have been trying to get all the details, so at least we can monitor these specific individuals who (had been) given this vaccine," Domingo said in the same "The Chiefs" episode.
The FDA chief added that they have already coordinated with Defense Secretary Delfin Lorenzana and PSG commander Col. Jesus Durante III, but they failed to get the names of the recipients and any information about the vaccination program.
Domingo noted that the Bureau of Customs (BOC) is now checking all shipments of vaccines that arrived in the country in September and October last year.
The PSG reportedly used Sinopharm vaccines in inoculating its men against COVID-19.
Domingo, however, underscored that Sinopharm has not applied for a permit to be used in the country.
"Smuggling is illegal in the country. Bringing in the product without permit or registration is a crime, and using product that is unauthorized, they do have liabilities for that," he said.
He added that even if the FDA had issued "compassionate special permit (CSP)" for some 10,000 doses of Sinopharm vaccines donated to the PSG, the permit is not retroactive.
The CSP does not cover previous vaccination activities of the PSG, according to Domingo.
Uncertainty
Faced with uncertainty on the arrival of the initial batch of vaccines from Pfizer, National Task Force against COVID-19 (NTF) and vaccine czar Carlito Galvez Jr. yesterday said he might fly to India to negotiate for the early delivery of the Novavax or Corvavax vaccines to the country.
Galvez's team is waiting for the arrival of 117,000 vaccine doses initially sourced from Pfizer to cover the medical and allied workers during the scheduled rollout this month. The same goes for vaccines from AstraZeneca, which is part of the supply coming from the World Health Organization's COVAX facility.
"We are still discussing… the earliest date for the delivery of AstraZeneca, as promised by WHO, is first and second quarter. Honestly, there is no definitive date given to us," he said.
If China would keep its promise to deliver about 500,000 Sinovac vaccines by Feb. 23, Galvez said these vaccines would be administered to the medical frontline professionals who are initially targeted under the national vaccine roadmap.
If the vaccines from COVAX facility would not be delivered, he said there would be delays also in the administration of the vaccines, which may now start in the second quarter – at least as far as Pfizer and AstraZeneca vaccines are concerned.
At this point, Galvez said the government is working with AstraZeneca, which has acquired its separate EUA from various manufacturing sites, including the Serum Institute of India.
Apart from India, the Philippines can source vaccines from South Korea.
Galvez said he and his team might fly to India to be able to corner a substantial vaccine supply so it can be delivered earlier than targeted by the NTF.
Fake vaccines
Meanwhile, the BOC yesterday warned the public against locally manufactured fake COVID-19 vaccines after the international police claimed that some groups are into alleged illegal manufacturing and distribution of fake vaccines.
In a statement sent to reporters, the BOC said it had strengthened its efforts in all port areas against possible importation of fake and smuggled medicines and COVID-19 vaccines.
"The BOC warns the public to be careful when availing of vaccines as fake vaccines may have severe health consequences to users as the composition of such vaccines are not tested and even worse, fake vaccines may not be effective, thus further exposing users to the dangers of COVID-19," the agency said.
It added that it is now closely working with the National Bureau of Investigation, Philippine Drug Enforcement Agency and the FDA to stop entry of fake vaccines. – Sheila Crisostomo, Christina Mendez