CHED cautions against legislating UP-DND Accord
January 25, 2021 | 3:41pm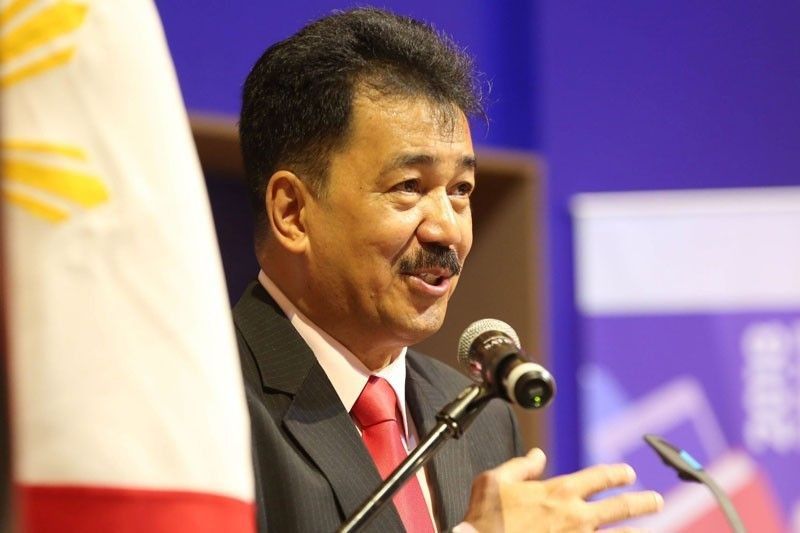 MANILA, Philippines (Updated 3:04 p.m.) — The Commission on Higher Education on Monday distanced itself from proposed measures to legislate the terminated UP-DND accord of 1989, saying the matter should be left in the hands of parties involved.
Criticism from various groups including lawmakers had met the defense department's move to abrogate its decades-long pact with the state-run university on grounds remaining unproven that it is a hotbed for recruiting students to the armed communist movement.
It had led senators to file a resolution opposing the termination, and later on, a bill filed in the upper chamber to institutionalize the accord signed to protect the university's autonomy from military intervention, especially in protests.
But over ANC's "Matters of Fact," Chairman Prospero de Vera III said academic freedom should instead be defined, wary that legislating it may not be based on what would be agreed between the university and the DND.
"I am concerned that there are legislators filling bills already to legislate it," he said. "It is imperative that if there is an attempt to make these policies, they should be grounded on a consensus on what is meant by academic freedom."
Such was the call by CHED days after the highly criticized abrogation of the agreement, where de Vera said he would convene a panel to arrive at an "acceptable definition" to aid in lawmakers' proposal.
He added that the body would include "several eminent persons" which is expected to be announced this week.
"If an accord is indeed reached, it must really be put in very detailed operational guidelines. Monitoring is important if there are violations," de Vera said, echoing his earlier remarks that the accord was "destined to be problematic."
The CHED chairman said too that an important part of reforming the accord should be on allowing it to be changed as it "may need to be adjusted consistent to the changing times."
DND's move was done without consulting UP administrators and is largely viewed as an affront to academic freedom.
It is also seen to reduce spaces for expressing dissent at a time when mass gatherings such as protests are prohibited and it is only in UP campuses, particularly in Diliman, that demonstrations have been carried out.
"You don't need to legislate it. This can be agreed between administrators of the universities and security forces in all universities, both public and private," de Vera added.
But while Defense Secretary Delfin Lorenzana has said that he is willing to engage in discussions with UP officials, he has said that he would only do so if they are able to explain why their students had been among those killed in anti-insurgency operations by government troops.
Senators in their explanatory note on Bill No. 2002 called the junking of the deal as an "attack on [UP's] autonomy" which forms part of long-running "state efforts to minimize [its] unique role and participation... in social change."
The chances of the measure hurdling through the Senate remain unclear to date, with only 10 of its members expressing opposition to the termination of the accord so far, among them graduates of the university.
Three UP alumni in the chamber, however, have yet to release statements on the matter, namely: Majority Leader Juan Miguel Zubiri, Aquilino Pimentel III and Cynthia Villar. Sen. Pia Cayetano, also an alumna, has urged for a dialogue between UP and the DND, but stopped short of supporting the measure. — with reports from Bella Perez-Rubio
(Editor's note: The original headline "CHED opposes proposal to legislate UP-DND accord" was changed to reflect that De Vera is not blocking proposed legislation)
As It Happens
LATEST UPDATE: February 12, 2021 - 4:24pm
The Department of National Defense has told the University of the Philippines that is is terminating an agreement that requires the police and military to coordinate with the university administration on entering or holding operations in UP campuses.
Defense Secretary Delfin Lorenzana said the department "is aware that there is indeed an ongoing clandestine recruitment" inside UP campuses and the accord is being used to prevent government from holding operations.
The move has been criticized widely on social media, with many saying it endangers the academic freedom and activism that UP is known for. UP campuses have also been venues for protests on national and social issues.
Photo: The UP Oblation symbolizes excellence, sacrifice and service for the common good. The STAR, file
February 12, 2021 - 4:24pm
The Department of National Defense says the appeal of UP Diliman's University Student Council to restore the abrogated 1989 DND-UP accord is untimely.
Defense spokesperson Arsenio Andolong points out that discussions between the DND and the UP on the cancellation of the pact have already started.
"Both parties have agreed to sit down again to further express their positions on the issue, and possibly come up with an acceptable deal that would balance legal considerations and moral obligations," Andolong says.
February 8, 2021 - 8:20am
A technical working group will be formed to study a 1992 security agreement between the University of the Philippines and the Department of the Interior and Local Government, DILG spokesperson Jonathan Malaya says.
The agreement prohibits the police to operate on campus grounds without prior notice.
"At first I thought the men who made up the UP police were actually policemen. If these are security guards or security teams, they should be called such and regulated by the PNP. UP police force is not currently regulated by the PNP," Malaya tells ANC's "Headstart."
January 27, 2021 - 11:26am
The police and military should not be in a panel that the Commission on Higher Education says will be tasked with defining academic freedom, Samahan ng Progresibong Kabataan says.
The panel will be convened amid backlash against the security sector insistence on entering UP freely to conduct operations against supposed communist rebels.
"Might we ask [CHED Chair Prospero] De Vera, what qualifies the generals of the AFP and PNP as 'education experts' that justifies them having a role, a determining role at that, in defining academic freedom?" John Lazaro, SPARK national spokesperson, says in a statement.
"To add, why should they be included in a discussion about academic freedom, while the real stakeholders, the students, professors, and school employees are left out of the discussion?"
January 26, 2021 - 3:24pm
The Quezon City government supports academic freedom in the University of the Philippines and in other colleges and universities in the city, Mayor Joy Belmonte says in a press statement.
"I was a lecturer at the UP before, and I know how important academic freedom is in an educational institution. True learning will only happen in an environment where there is a free discourse of ideas by all members of the community," she says.
Quezon City is home to UP Diliman as well as to Ateneo de Manila University, both of which have been accused of being recruitment grounds for communist rebels. The two universities — as well as Far Eastern University, University of Santo Tomas and De La Salle University — have rejected the allegations.
"In Quezon City, academic freedom will always be protected and upheld," Belmonte also says.
--
Disclosure: Quezon City Mayor Joy Belmonte is a shareholder of Philstar Global Corp., which operates digital news outlet Philstar.com. This article was produced following editorial guidelines.
January 24, 2021 - 4:40pm
Defense Secretary Delfin Lorenzana stands by his decision to abrogate the DND's agreement with the University of the Philippines.
"We stand by our choice to protect our youth and encourage our fellow Filipinos to help us finally end this 50-year war," Lorenzana says.
The abrogation of the UP-DND agreement is a fulfillment of my sworn duties. We stand by our choice to protect our youth and encourage our fellow Filipinos to help us finally end this 50-year war.#DefenSecDel #OneDefenseTeamPH pic.twitter.com/f2DfLFvu1C

— Delfin Lorenzana (@del_lorenzana) January 24, 2021