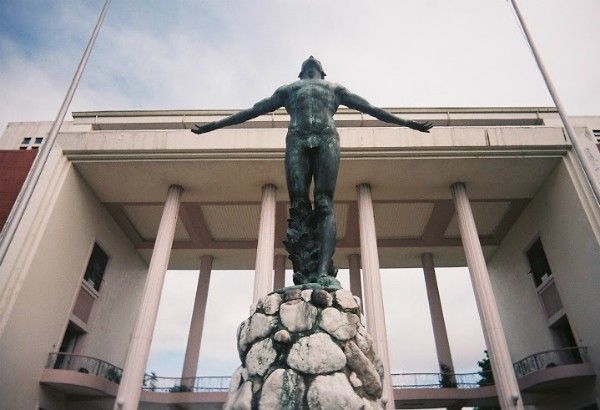 This undated photo shows the renowned Oblation statue at the University of the Philippines' campus in Diliman, Quezon City
File photo
DND ends accord with UP prohibiting state forces in campuses — report
MANILA, Philippines (Updated 9:53 p.m.) — The defense department has ended its decades-long accord with the University of the Philippines which prohibits state forces to enter its campuses without prior notifying its officials, anchored on claims yet to be proven that the institution is recruiting members to the communist movement.
Defense Secretary Delfin Lorenzana had written to UP President Danilo Concepcion that the deal had been terminated beginning January 15, per a report by UP's student paper, The Philippine Collegian.
The accord was signed in 1989 between then UP President Jose Abueva and Defense chief Fidel Ramos, that also holds that military and police cannot enter any UP campus "except in cases of hot pursuit and similar occasions of emergency" or when assistance is requested by university officials.
JUST IN: In a letter addressed to UP Pres. Danilo Concepcion, Department of National Defense (DND) Secretary Delfin Lorenzana says the UP-DND Accord, an agreement that keeps state forces from entering the premises of the University, is terminated effective January 15. #DefendUP pic.twitter.com/1EGyaJDwSY

— Philippine Collegian (@phkule) January 18, 2021
An earlier agreement, the 1982 Soto-Enrile accord between student leader Sonia Soto and then Defense Minister Juan Ponce Enrile, was signed to protect the autonomy of the university from military intervention, especially in protest rallies.
In the letter, Lorenzana, who did not offer evidence to support claims, said the DND "is aware that there is indeed an ongoing clandestine recruitment" inside UP campuses and the accord is being used to prevent government from holding operations.
There is also no plan to station police or military inside UP, nor "supress activist groups, academic freedom and expression." Members of the university community, however, have long been linked to the communist movement or "red-tagged" which had often resulted in government critics and human rights advocates facing threats or worse, killed.
'Don't mess with UP'
Social media has since erupted over the DND's move, drawing outrage and striking fear that rights would be compromised with the accord ending.
Many had flocked to UP's Diliman campus over the course of the pandemic to stage protests with the agreement then still in place and no law enforcement to hold arrests as mass gathering are prohibited, including rallies.
Record on state forces abiding by the deal has since been tested when in June, police in Cebu forcibly entered the UP campus in the province to arrest seven protesters including two students who had been holding a protest.
Sen. Francis Pangilinan, a UP alum and a former student regent, wrote on Twitter: "Tinutulan natin ang panghihimasok ng diktador noon. UP has always been and will always be a citadel of freedom and democracy. Pakiusap lang, please don't mess with UP.
The lawmaker was referring to the Diliman Commune, which took place 50 years ago, when the UP community barricaded for days in protest of the Marcos administration even before it turned into a dictatorship.
Youth Rep. Sarah Elago also described the axing of the deal as a "blatant disregard for students' historic win against campus militarization.
"For education institutions to fulfill their significant role in upholding human rights and democracy, they must be protected from ruling regimes' undue pressures and dictates," she said.
The UP administration has yet to issue a statement, but the Iloilo City-based newspaper Daily Guardian reported that UP Visayas Chancellor Clement Camposano denounced the move.
While the university has long maintained an activist reputation, it is already established that there is nothing wrong with activism, neither is it equal to communism.
Being a communist has not been illegal since the 1990s after the country's anti-subversion law was repealed.
In November 2020, no less than President Rodrigo Duterte threatened to defund the state-run university on claims that it is recruiting students to join the CPP-NPA.
Lorenzana added that the nixing of the DND-UP accord follows after the newly created Anti-Terrorism Council designated the CPP-NPA as a terrorist organization.
The body had been established under the controversial and highly questioned Anti-Terror Law in mid-2020, a legislation that faces numerous petitions before the Supreme Court to declare it as unconstitutional.