Duterte signs law that allows school opening later than August amid state of emergency, calamity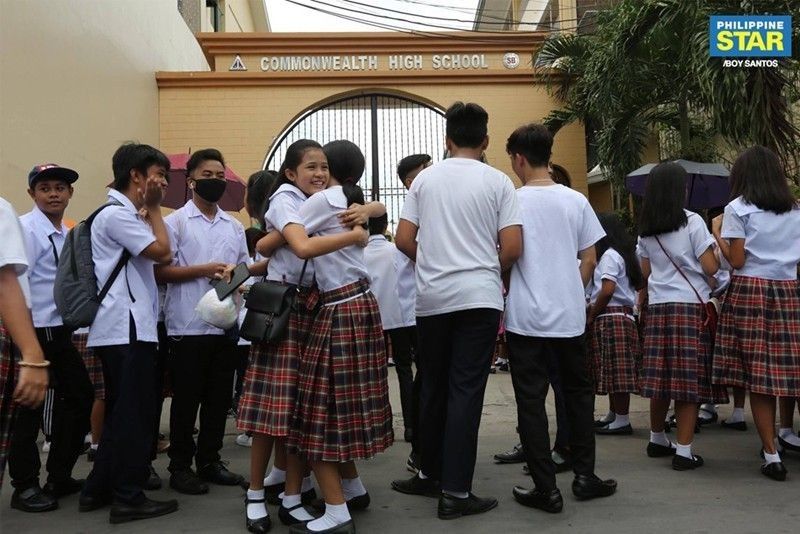 MANILA, Philippines — Schools may now open later than August if the state of calamity or emergency has been declared over the country, or parts of it.
President Rodrigo Duterte signed Republic Act 11480 on July 17 that amends RA 7797 or the "Act to Lengthen the School Calendar from 200 Days to Not More Than Two 220 Class Days."
RA 7797 held that school year may start the first Monday of June but not later than the last day of August.
A copy of the new law was made public only on Monday. It will take effect 15 days from publication in the Official Gazette or newspaper.
JUST IN: President Duterte has signed Republic Act No. 11480, which will allow the President to set a different date for the start of the school year. | via @alexisbromero pic.twitter.com/e6ULieM2h6

— Philstar.com (@PhilstarNews) July 20, 2020
With the new law, the president, upon the recommendation of the education chief, may determine when schools may open when the state of emergency or calamity is in place.
"The school year shall start on the first Monday of June but not late than the last day of August: Provided, That in the event of a declaration of a state of emergency or state of calamity, the President upon the recommendation of Secretary of Education, may set a different date for the start of the school year in the country or parts thereof," RA 11480 read.
The deferred opening of school year applies to basic education schools, including foreign or international schools.
The education secretary will determine the end of the regular school year and may authorize holding of Saturday classes for elementary and secondary levels for public and private schools.
Education Secretary Leonor Briones, in a statement, thanked Duterte for signing the law, and lawmakers for its timely passage.
"The Department has been consulted and has conferred with the President and the legislations throughout the process and we will issue corresponding implementing rules and regulations soonest as required by the law," she added.
School year 2020-2021 is set to open on August 24, through blended learning modes, such as use of the internet, TV and radio. Face-to-face learning is prohibited until a vaccine against COVID-19 has been found. — Kristine Joy Patag with report from The STAR/Alexis Romero
As It Happens
LATEST UPDATE: July 12, 2022 - 10:42am
Follow this thread for updates on when classes will resume, and how those classes will be conducted.
Photo: Students wearing protective face masks have their temperatures taken while entering their college campus in Manila on January 31, 2020. AFP/Ted Aljibe
July 12, 2022 - 10:42am
DepEd says School Year 2022-2023 "shall open on Monday, August 22, 2022, and shall end on July 7, 2023. It shall consist of 203 school days or as may be determined by further issuance/s in case of changes in the school calendar due to unforeseen circumstances."
April 18, 2022 - 10:11am
Sen. Nancy Binay calls on the Commission on Higher Education and the inter-agency task force on COVID-19 not to "burden" students over requirements for face-to-face classes.
Higher educations students are being required to present medical insurance and other documents before participating in face-to-face classes.
"This is a cumbersome and unnecessary requirement para sa college students, considering that by law, all Filipinos are automatic members of PhilHealth. Sa totoo lang, 'di kailangang dagdagan ang proseso, dapat nga mas simplehan pa," Binay says.
November 12, 2021 - 9:10am
The Department of Education announces that it will increase the number of participating schools in the pilot implementation of face-to-face classes.
"The expansion of the number of pilot schools will allow a greater degree of experience among all our regions that will serve us well for the expanded phase of face-to-face classes," DepEd says.
With the approval of the Office of the President, the Department of Education is announcing that it will increase the number of participating schools in the pilot implementation of face-to-face classes.

Read: https://t.co/cCqC91kZPw pic.twitter.com/Us3GvFxp1F

— DepEd (@DepEd_PH) November 11, 2021
November 10, 2021 - 6:56pm
COVID-19 immunization has started for tertiary students in Ilocos Norte as part of the massive vaccination campaign of the Commission on Higher Education.
This in preparation for the reopening of in-person tertiary classes, CHED-Regional Office 1 said as a ceremonial vaccination of students at Mariano Marcos State University was held on Monday in collaboration with the Department of Health, Department of Interior and Local Government, the provincial government and Mariano Marcos Memorial Hospital and Medical Center.
About 800 students are expected to be inoculated through the CHED immunization drive.
Prior to this, MMSU had already vaccinated 75% of its student population. — The STAR/Artemio Dumlao
September 28, 2021 - 8:13pm
President Rodrigo Duterte has authorized limited face-to-face classes for the following programs:
Engineering and Technology programs
Hospitality/ Hotel and Restaurant Management
Tourism/ Travel Management
Marine Engineering
Marine Transportation
Commission on Higher Education Chairman Popoy De Vera, who made the announcement, said the authorization applies to "degree programs that require hands-on experience in higher education institutions under Modified General Community Quarantine."