Duterte signs law that allows school opening later than August amid state of emergency, calamity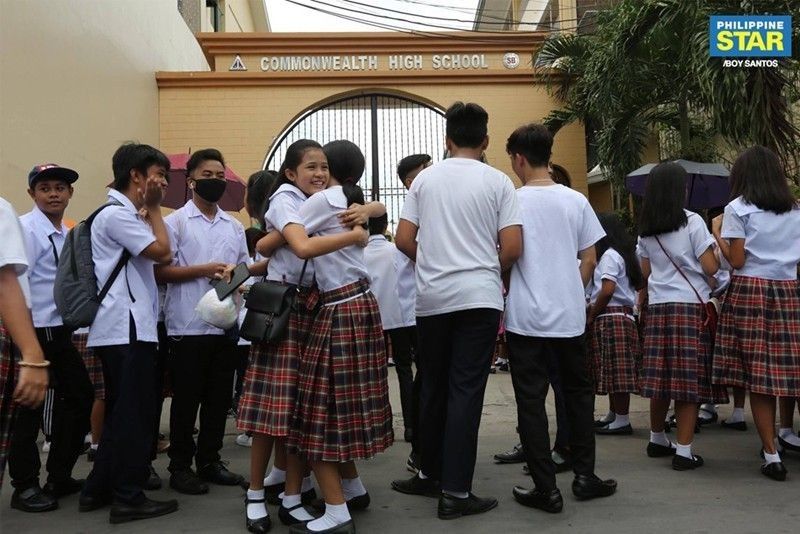 MANILA, Philippines — Schools may now open later than August if the state of calamity or emergency has been declared over the country, or parts of it.
President Rodrigo Duterte signed Republic Act 11480 on July 17 that amends RA 7797 or the "Act to Lengthen the School Calendar from 200 Days to Not More Than Two 220 Class Days."
RA 7797 held that school year may start the first Monday of June but not later than the last day of August.
A copy of the new law was made public only on Monday. It will take effect 15 days from publication in the Official Gazette or newspaper.
JUST IN: President Duterte has signed Republic Act No. 11480, which will allow the President to set a different date for the start of the school year. | via @alexisbromero pic.twitter.com/e6ULieM2h6

— Philstar.com (@PhilstarNews) July 20, 2020
With the new law, the president, upon the recommendation of the education chief, may determine when schools may open when the state of emergency or calamity is in place.
"The school year shall start on the first Monday of June but not late than the last day of August: Provided, That in the event of a declaration of a state of emergency or state of calamity, the President upon the recommendation of Secretary of Education, may set a different date for the start of the school year in the country or parts thereof," RA 11480 read.
The deferred opening of school year applies to basic education schools, including foreign or international schools.
The education secretary will determine the end of the regular school year and may authorize holding of Saturday classes for elementary and secondary levels for public and private schools.
Education Secretary Leonor Briones, in a statement, thanked Duterte for signing the law, and lawmakers for its timely passage.
"The Department has been consulted and has conferred with the President and the legislations throughout the process and we will issue corresponding implementing rules and regulations soonest as required by the law," she added.
School year 2020-2021 is set to open on August 24, through blended learning modes, such as use of the internet, TV and radio. Face-to-face learning is prohibited until a vaccine against COVID-19 has been found. — Kristine Joy Patag with report from The STAR/Alexis Romero
As It Happens
LATEST UPDATE: September 27, 2021 - 3:32pm
Follow this thread for updates on when classes will resume, and how those classes will be conducted.
Photo: Students wearing protective face masks have their temperatures taken while entering their college campus in Manila on January 31, 2020. AFP/Ted Aljibe
September 27, 2021 - 3:32pm
WHO Philippines says it applauds the government's decision to approve the pilot run of limited face-to-face classes in low-risk areas.
Dr. Rabindra Abeyasinghe, WHO representative in the Philippines, says they will continue to work with the government, particularly the DepEd and DOH, to support safe in-person learning.
"very child has the right to education, & schools are central to children's development, safety, & well-being. Prolonged school closures have a significant impact on their physical & mental health development, and their skills attainment and career prospects," Abeyasinghe says.
.@WHOPhilippines applauds the Philippine Government's decision to approve the pilot run of limited in-person schooling in low-risk areas. We are joined by @UNPhilippines and @UNICEFPhils in commending @DepEd_PH and @DOHgovph for the collaborative preparedness for this pilot run.

— World Health Organization Philippines (@WHOPhilippines) September 27, 2021
September 26, 2021 - 3:09pm
Father-of-two Shkelqim Kameni took his children out of school because of Austria's strict COVID testing for pupils and his opposition to the vaccine.
The 28-year-old shop manager from the western city of Salzburg is among a sharp rise in parents opting to homeschool instead.
Even weeks before the new school year started this month, the divisive issue garnered media coverage and has provoked heated exchanges online between parents.
Speaking to AFP at an anti-vaccine demonstration, Kameni said he was afraid that rigorous Covid testing created too much pressure in the classroom.
"Probably a child (who tests positive) will be mobbed... it's psychological abuse of children; it's child abuse," he said at the rally in downtown Vienna this month, attended by thousands.
More than 7,500 children have been withdrawn from school for this academic year, the education ministry says. — AFP
September 20, 2021 - 12:15pm
A return to classroom learning in some schools is closer to happening, with presidential spokesperson Harry Roque saying the government has authorized face-to-face classes in areas where there is minimal risk of COVID-19 transmission.
The Department of Health and the Department of Education will assess the areas for potential pilot classes. Pilot classes will also need the endorsement of the local government unit and of parents and guardians of the learners who will be involved.
September 13, 2021 - 12:18pm
Classrooms in the Philippines were silent Monday as millions of school children hunkered down at home for a second year of remote lessons that experts fear will worsen an educational "crisis".
While nearly every country in the world has partially or fully reopened schools to in-person classes, the Philippines has kept them closed since the start of the coronavirus pandemic, the UN says.
President Rodrigo Duterte has so far rejected proposals for a pilot reopening of primary and secondary schools for fear children could catch COVID-19 and infect elderly relatives.
"I want to go to school," seven-year-old Kylie Larrobis told AFP, complaining she cannot read after a year of online kindergarten in the tiny slum apartment in Manila she shares with six people.
"I don't know what a classroom looks like — I've never seen one."
Larrobis, who enters first grade this year, cries in frustration when she cannot understand her online lessons, which she follows on a smartphone, said her mother, Jessielyn Genel.
Her misery is compounded by a ban on children playing outdoors. — AFP
March 22, 2021 - 3:13pm
The Department of Education (DepEd) Benguet has identified at least 17 schools for the pilot testing of face-to-face classes for the fourth quarter of the year.
DepEd Benguet Schools Division Superintendent (SDS) Gloria Buya-ao confirmed the testing of the limited face to face classes. She identified Lanipew Elementary School and Tacadang Integrated School in Kibungan; Naguey Elementary School in Atok; Kayapa Elementary School in the boundary of Benguet and Nueva Viscaya; Otbong Elementary School in Bokod; Amgaleyguey Elementary School in Buguias; Tonglo-Carino Elementary School also in Buguias; and Oyusan and Ja'pa Elementary School in Atok.
Other schools identified were Beckes Pol-oc Primary School; Beckes Pol-oc Primary School, Busoc Primary School, Mario laruan elementary school and Pasdong Elementary School in Atok; Gadang Elementary School in Kapangan; Baayan Elementary School and Bilis Elementary school in Tublay. — AFP