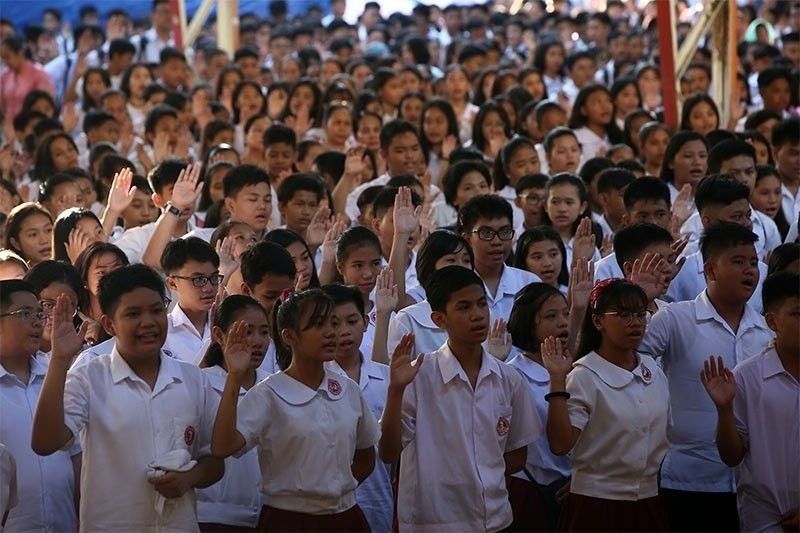 The agency said it is optimistic that it would meet its adjusted enrollment target of 21.97 million, which is 80 percent of the 27.7 million students last school year.
The STAR/Miguel de Guzman/File
DepEd expects more students to enroll
Janvic Mateo
(The Philippine Star) - July 18, 2020 - 12:00am
MANILA, Philippines — Despite the end of the 45-day enrollment period in public schools last Wednesday, the Department of Education (DepEd) still anticipates an increase in the number of enrollees in the coming weeks.
The agency said it is optimistic that it would meet its adjusted enrollment target of 21.97 million, which is 80 percent of the 27.7 million students last school year.
Data as of July 17 showed that more than 21.3 million have already signed up at public and private elementary and high schools, representing 76 percent of the enrollment last year.
More than 20.1 million students have enrolled in public schools, while only 1.1 million enrolled in private schools.
DepEd said it expected a further increase in the enrollment figures in the coming weeks due to a lag in reporting of data, especially from private schools.
"Their enrollment period does not necessarily coincide with the enrollment period of DepEd," the agency said.
"Reports for homeschooling are not yet in, while learners in the Alternative Learning System (ALS) have been affected by the loss of jobs occasioned by the downturn in the economy," it added.
Late enrollees would also be accepted until late September, based on the basic education enrollment policy that allows late enrollment "provided that the learner will be able to meet 80 percent of the prescribed number of school days for each school year."
Despite a drop by over six million, DepEd said the number of those who enrolled is encouraging given the current impact of the coronavirus disease 2019 (COVID-19) pandemic.
"Despite the challenges posed by the economic impact of COVID-19, a clear majority of our parents have decided that the education of their children must continue," said the agency.
Officials earlier projected a 20 percent drop in enrollment as a result of lost jobs and other opportunities.
DepEd said they would reach out to those who have not enrolled to encourage them to sign up for the ALS, which is originally intended for working adults and other disadvantaged individuals who cannot enter the formal education system.
Support for private schools
The Coordinating Council of Private Educational Associations (COCOPEA) has reiterated its call for government support to private schools that are in danger of shutting down due to low enrollment.
COCOPEA managing director Joseph Noel Estrada said "urgent government economic intervention is needed" as enrollment is very low in the private sector.
The 1.1 million students who have so far enrolled in private schools only represent around 26 percent of the four million private school students last year, DepEd data showed.
More than 300,000 students have so far transferred to public schools, with Estrada saying many of them probably from their member institutions.
The group previously sought government support to prevent the shutdown of private institutions, including financial subsidy for teachers and other personnel.
Commission on Higher Education chairman J. Prospero De Vera on Wednesday said a number of private colleges and universities have informed them of their plan to cease operations next school year due to low enrollment.
Last week, Cavite Gov. Jonvic Remulla said around 100 private schools in the province would not reopen next school year.
Eleazardo Kasilag, president of the Federation of Associations of Private Schools Administrators, last month said some of their members are considering temporary closure until face-to-face classes can be resumed.
The government is currently considering proposals to allow limited face-to-face classes in areas classified as low risk for COVID-19.