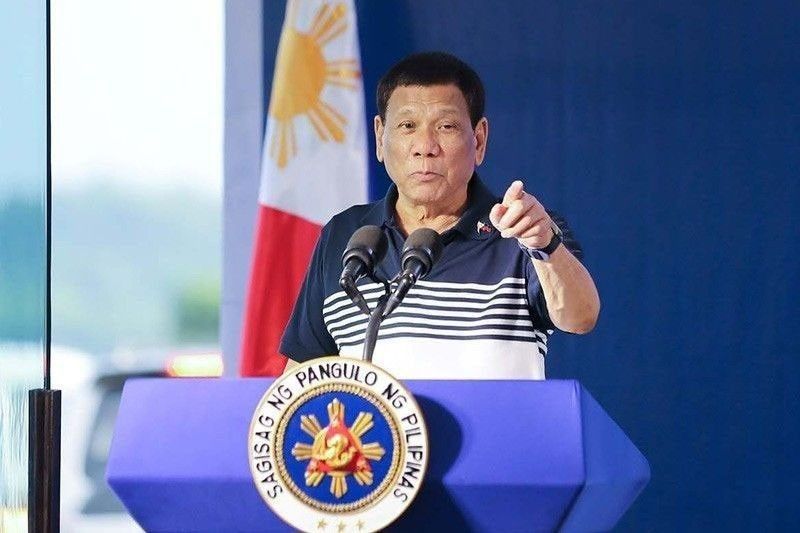 "You know, don't be too touchy about the issues because always there will be pros and cons. Let's just listen to them because this is a democracy. In a democracy, there is the favor of attacks, issues plus attacking the guy personally," Duterte said in a televised address late Monday.
Alfred Frias/Presidential Photo
MANILA, Philippines — President Duterte has advised beleaguered Health Secretary Francisco Duque III "not to be too touchy about issues" as calls for the latter's resignation for alleged incompetence and corruption continue.
"You know, don't be too touchy about the issues because always there will be pros and cons. Let's just listen to them because this is a democracy. In a democracy, there is the favor of attacks, issues plus attacking the guy personally," Duterte said in a televised address late Monday.
"I know you are hard-pressed and I know your situation. You just tell us... if that is the one that's in... gray matter between your ears, tell us. If they don't want to believe it's up to you but that is my view. Maybe you should adopt that kind of attitude. So be it. If I committed the wrong, as long as there is no malice there," he added.
President Duterte also said he is taking responsibility for the Department of Health (DOH)'s purchases of medical equipment.
The DOH is under fire over the purchase of allegedly overpriced medical supplies for the government's response to the coronavirus disease 2019 (COVID-19). Some senators have also questioned the agency's decision to buy more expensive testing kits and machines.
Some groups have called for Duque's resignation, saying he is no longer capable of leading the department.
"I would like the Filipino nation to know that I take full responsibility for my directive for them to rush (the purchase). I don't care where you will get it, you steal and I remember saying it. I do not care whether you go and steal, borrow or kill a person to get what... needs to be done," Duterte said in a public address delivered Monday night.
Duterte said it was he who ordered Duque to purchase medical supplies to enhance the country's capability to fight the pandemic.
"I would listen to Secretary Duque. But I gave him the instruction and I admit it in public now... I told him, 'Do everything you can.' He said 'There's so many propositions.' 'I do not care. If it's not cheap, if it is expensive, go – just go ahead and do something about it because we are boxed in the corner.' And those were the early days," the President said.
Asked at a press briefing yesterday what was preventing Duterte from removing Duque, presidential spokesman Harry Roque replied: "That's up to the President. For now, none of the Cabinet members have been axed. That means the President still trusts all members of the Cabinet."
Roque said the government would not investigate the purchase of personal protective equipment (PPE) because there was no irregularity involved.
"What will be investigated is the extraction machines and test kits because most of them, especially the test kits, came from one company in China and the prices vary depending on who sells them. That is what the President wants investigated," the Palace official said.
Grateful Duque
Duque expressed his gratitude to President Duterte in a telephone interview. "I am very thankful to the President for his consistent trust and confidence in my capability. He understands the difficulties that I am going through… I am very appreciative of the President's support," he said.
He appealed to critics for "unity against the formidable enemy which is the COVID-19."
He assured the public, particularly critics, that the DOH is doing its best to combat the virus which has afflicted 5.3 million people around the world and killed more than 342,000 as of May 25.
"What is happening to us and the rest of the world is unprecedented. Nobody has prepared and expected this and even the first world, rich countries are at a loss... The virus is five months old and it is still evolving," he added.
Also expressing support for Duque is the Philippine Hospital Association (PHA).
PHA president Jaime Almora said at a press conference that they see no need to replace Duque. He said PHA's survey system and chat group indicate "no clamor for any drastic change" in the DOH leadership.
"Let's remove politics from our anti-COVID campaign. Let's help each other. The focus is to help each other, how to cooperate and make our efforts united in this fight," he maintained.
He admitted some PHA members have complained about not receiving their PPE from the government as well as their share of the Interim Reimbursement Mechanism from the Philippine Health Insurance Corp. (PhilHealth).
"We hope to get their names so that we can forward it to PhilHealth. We also plan to give questionnaires on how they would rate the performance of DOH because we want to be factual in whatever we come up with," Almora added.
Senators, however, lamented Duterte's continued support for Duque. "I call for a fair and impartial investigation despite the President's pronouncement. These are taxpayers' money we're talking about here – to the tune of billions pesos getting wasted due to corruption or gross negligence," Minority Leader Franklin Drilon said in a statement.
"Duque has been remiss in his sworn duties as a public servant that endangered billions of public funds. He has become a liability," he said.
Not surprising
Sen. Francis Pangilinan said he was not surprised by Duterte's pronouncements.
"I am not surprised if it's business as usual and the plunder of people's money continues. Filipinos are forced to go hungry, without food, without jobs but corruption persists in the face of a pandemic," Pangilinan said.
Sen. Leila de Lima said Duterte has a record of tolerating corrupt and incompetent officials who have shown unflinching loyalty to him.
"Sec. Duque, the top health official in our country, continues to hold his position despite his countless blunders. From the start of quarantine, the Senate has demanded the resignation of the health secretary for his failure to prepare the country on the pandemic. Despite all of these, President Duterte still keeps him," De Lima said.
"The COVID-19 pandemic, as it stands, is already proving to be a handful for even the most competent of governments around the globe. However, here in the Philippines, it is invariably worsened by man-made disasters of incompetency and lack of integrity that the very President of this nation not only tolerates, but even worse, grants impunity to," De Lima said.
"Imagine, the President in the middle of a crisis, not even lifting a finger while already being confronted with solid evidence of ineptitude and lack of regard for public accountability," she added.
Workers' group Sentro ng mga Nagkakaisa at Progresibong Manggagawa (SENTRO) said Duterte should just fire Duque if the latter continues to ignore calls for him to resign.
"Acknowledging the national government's shortcomings is the least he can do after all the sufferings people endured," SENTRO pointed out.
The group said the working people are left to fend for themselves as the government prepares to reopen most of the economy.
"Reopening the economy without mass testing is a death sentence for workers. We are essentially being forced to choose between starving or risking COVID-19 infection," SENTRO said. Sheila Crisostomo, Paolo Romero, Mayen Jaymalin, Cecille Suerte Felipe