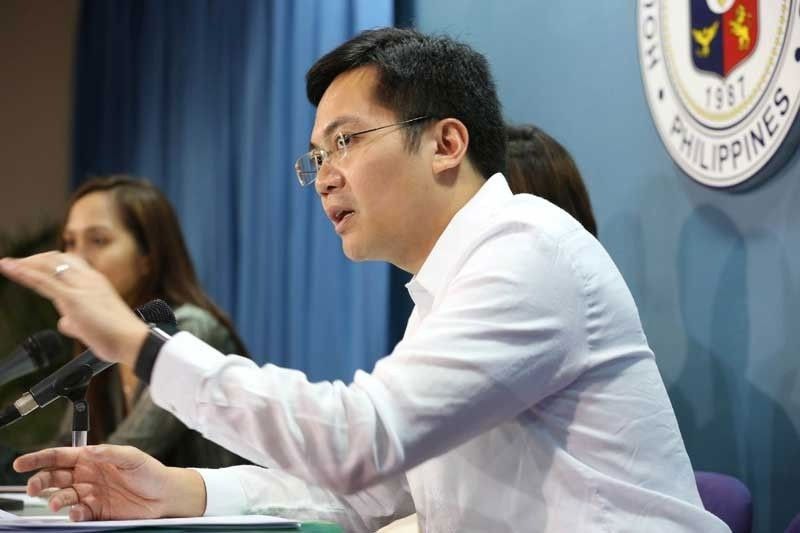 "Our priority right now is the testing capacity, our healthcare capacity, health facilities, isolation. Once we accomplish these things, we can talk about the modified community quarantine," Cabinet Secretary Karlo Nograles said in a press briefing yesterday.
Boy Santos/File
IATF: Too early for modified quarantine
MANILA, Philippines — Despite what it described as "encouraging developments," the government is not easing the quarantine measures and would not implement a "modified lockdown" in Luzon until the capacity to handle cases of coronavirus disease 2019 (COVID-19) has improved.
"Our priority right now is the testing capacity, our healthcare capacity, health facilities, isolation. Once we accomplish these things, we can talk about the modified community quarantine," Cabinet Secretary Karlo Nograles said in a press briefing yesterday.
Earlier, Socioeconomic Planning Secretary Ernesto Pernia called for a modified lockdown, saying some restrictions on transportation and the movement of food sources should be eased.
He also called on the government to consider allowing retail shops that sell basic needs to resume operations.
"Hindi pa po tapos ang boksing (The bout with COVID-19 is not yet over). There are encouraging developments and signs that we have made inroads to containing this outbreak. But as we enter a critical period in our efforts to comprehensively assess the extent of this outbreak, we urge everyone to continue to be vigilant and do their part to prevent the spread of this disease," he added.
Nograles, also the spokesman for the Inter-Agency Task Force on Emerging Infectious Diseases, said social distancing should be observed even after the end of the quarantine period, which started last March 17 and was supposed to end on April 13. President Duterte extended the quarantine until April 30 to give the government more time to conduct tests.
"But again, just to manage everybody's expectations, social distancing will be a constant, social distancing, the wearing of face masks, the washing of hands, disinfection, all these will be part of the new normal until we find a vaccine," he said.
Nograles said the National Economic and Development Authority would study measures to be implemented once the Luzon-wide quarantine is lifted – something he described as "forward planning."
Asked if there is an assurance that the quarantine would end on April 30, Nograles replied: "I can't say. Again, we will take one day at a time. For now, we are increasing our testing capacity, we are isolating PUIs (persons under investigation) and patients with COVID-19.
"If we are successful in the two aspects, then that will help us make a decision when April 30 is approaching," he added.
Presidential spokesman Salvador Panelo defended President Duterte from critics who claimed that he had issued contradicting statements about the impact of COVID-19, saying his earlier remarks were based on previous developments.
Duterte drew flak after he claimed in an address last Monday that he had warned the country about the risks of COVID-19 from the start.
Some critics pointed out that the President had tried to belittle the coronavirus in his previous speeches, citing his remark that there was "nothing really to be extra scared of."
Some people also recalled Duterte saying that everything was "well" in the country and there was no need for a "hysterical" response to the virus that "would die a natural death."
Panelo said Duterte's previous statements were based on developments at the time.
"In other words, it depends on the situation. The President was just following the guidelines of the World Health Organization and (his actions) were based on what he was seeing around him," Panelo said.
The country should develop telemedicine as a viable alternative to physical visits to doctors, Sen. Sonny Angara said yesterday.
"We have seen in the past weeks that consults with medical professionals have become very difficult. Clinics and hospitals are struggling to cope with the surge in patients seeking medical attention. With COVID-19 being highly contagious, physical visits to physicians are discouraged, which makes the situation even more difficult for the public," Angara said.
"Patients with COVID-19 could easily spread the virus to the health professionals and the latter could then infect other patients. It's a vicious cycle which could prove to be fatal not only for the patients, but the health professionals as well. During these times, the use of telemedicine could help bring the necessary health care to our people and more importantly, save lives," said Angara who was discharged from a hospital in Metro Manila this week after having recovered from COVID-19.
The pandemic is now be wreaking havoc in the country's healthcare sector but this could also be an opportunity to improve the system.
This was the opinions of doctors Jason Ligot, health communication specialist and director of Organic Intelligence and Albert Domingo, independent health system and public policy consultant in an interview with The Chiefs on OneNews Cignal TV Tuesday night.
According to Ligot, the "important roles of local government units have been highlighted by COVID-19.
"Some cities outperformed others because they have pro-active local government leaders who planned or, at the very least, knew how to respond and mobilize resources. I will give credit to local government units who at the onset were able to organize and mobilize resources," he said.
For his part, Domingo noted that the government has been "adapting quite fast" with its response to the pandemic.
"The government, overall, is doing quite well. There are some areas of improvement and we are seeing it. For instance, if more testing should be done," he added.
Defense Secretary Delfin Lorenzana said yesterday the Filipino people are united and will win the battle and overcome the COVID-19 pandemic.
Lorenzana also called on Catholics to reflect on the true essence of Christian values in the observance of Holy Week.
"This sacred season is a time to reflect on our faith and the essence of our Christian values," Lorenzana said. – With Jaime Laude, Paolo Romero, Sheila Crisostomo