PNP ready for longer quarantine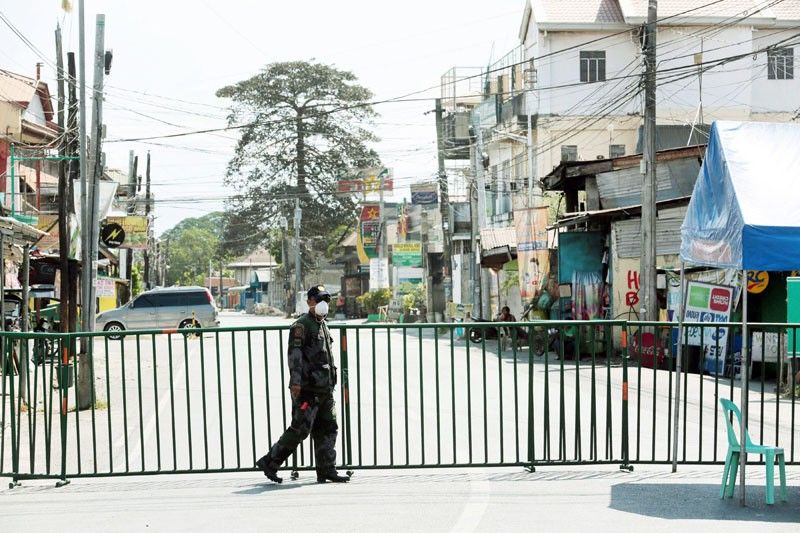 MANILA, Philippines — The Philippine National Police (PNP) is ready for an extended enhanced community quarantine (ECQ).
The quarantine is until April 13, but government officials want it extended for at least two more weeks to ensure the coronavirus disease 2019 (COVID-19) is contained.
PNP spokesman Brig. Gen. Bernard Banac said they have enough personnel to enforce the Luzon-wide quarantine for longer duration to prevent the spread of the infectious disease.
"Our back end personnel are ready to take over the functions from some of our frontliners," he said in a phone interview.
A total of 14 PNP personnel tested positive for COVID-19, including two who died of the disease.
At least 1,867 have been placed under quarantine for showing symptoms of the virus or had contact with COVID-19 patients.
In the event of an extension, Banac said the PNP would implement stricter security measures to make sure citizens remain in their homes.
Constant coordination between checkpoints would also be done to ensure unimpeded delivery of basic goods by cargo trucks, he said.
"For as long as we have enough supply of food and other commodities, malaki ang maiambag nito para manatili ang ating mga kababayan sa kanilang mga bahay (this can greatly contribute to keeping our countrymen at home)," Banac said, referring to the lockdown extension.
Yesterday, the PNP created a task force that would address the medical and logistical needs of police officers deployed at the frontlines.
The Administrative Support to COVID-19 Operations Task Force, headed by PNP deputy chief for administration Lt. Gen. Camilo Pancratius Cascolan, will oversee the delivery and distribution of personal protective equipment and other essential supplies for their personnel.
He will also ensure medical supplies donated by private individuals and non-governmental organizations are properly distributed.
The administrative task force will likewise manage the rotation of police officers to guarantee "there are fresh legs on the field." National Task Force COVID-19 Response chief implementer Carlito Galvez Jr. said President Duterte is likely to decide on the extension of ECQ between April 12 and 14.
Galvez told dzMM that the curve on cases of COVID-19 has not been flattened yet.
'Deciding is very difficult'
Malacañang said deciding on whether to lift or extend the Luzon-wide lockdown that will lapse after Holy Week is "very very difficult."
Cabinet Secretary Karlo Nograles said the Inter-Agency Task Force (IATF) for the Management of Emerging Infectious Diseases would consider several factors before coming up with a recommendation to the President.
The IATF will look at four factors – health, social, economy and security – in deciding whether the ECQ should be extended.
In a press conference, DOH Undersecretary Maria Rosario Vergeire said "it is important to study the trend of cases every day – is it increasing or decreasing?"
"The numbers will be a basis in determining if the ECQ should be discontinued or extended. We also have to look into the capacity of our healthcare system," she added.
Vergeire said other concerned agencies are making assessments in the aspects of social, economy and security. – With Alexis Romero, Jose Rodel Clapano, Sheila Crisostomo, Delon Porcalla, Evelyn Macairan