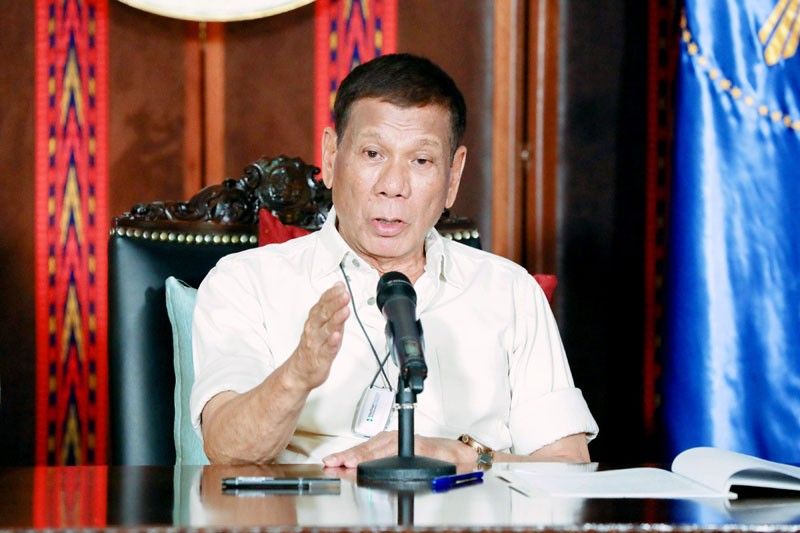 Photos show President Duterte gesturing as he updates the nation on the government's COVID-19 response effort during a televised address at the Malago Clubhouse in Malacañang the other night.
STAR/File
Duterte downplays calls for his ouster
'Don't believe in fake news'
MANILA, Philippines — President Duterte downplayed calls for his ouster that he said were based on fake news aimed at discrediting his administration's handling of the coronavirus 2019 (COVID-19) crisis.
"My only appeal, don't believe in fake news. If you go for fake news, you will be cursed here everyday," he said in a taped address televised late Friday night.
Calls for his ouster have been making the rounds online, as his administration struggles to address the prevailing health crisis that has upended the lives of millions reeling from the effects of the enhanced community quarantine.
Duterte reiterated there is no need to force him out of office, as he is ready to step down if necessary to prevent bloodshed.
"This 'oust Duterte' (expletive). You know, let's be frank – the military, the police and you are listening. If the chiefs of the Army, Navy, Air Force and the police, if they say, if they go here and tell me 'Duterte, step down now,'" he said.
"No need for 'oust, oust Duterte.' After all, the military and the police are in charge. If they don't like something, the truth is you can't do anything about it. And if they do wish for something, you can't stop them either," Duterte said.
He said he is cognizant of the major role played by the military in keeping the country stable.
"So I tell them, 'you don't have to bring tanks to me. You would be fighting your mistahs,"' he said.
"Why should I let them shoot each other? So there, no more of that 'oust Duterte' fake news. Pay attention to the Armed Forces and the police – whatever they say, that's it," he said.
He also stressed that the task of addressing the needs of the people should not be politicized. He claimed this was the reason why he chose Rolando Bautista, a former military official, as chief of the Department of Social Welfare and Development (DSWD).
Malacañang has directed Bautista to personally supervise the distribution of the P200-billion social amelioration package to about 18 million low income households.
"So to really avoid and probably a disaster na hindi na aabot sa tao, sinabi ko kay (not to reach the people, I told) Rolly – General Bautista, secretary of the DSWD, 'Ikaw na ang humawak' (You take charge)," Duterte said.
Since the DSWD is undermanned, Duterte said he is also calling graduates and students of the Reserved Officers Training Course (ROTC) to assist the DSWD.
"The problem is, they might not be able to do it (all by themselves). I said, well he's a military man, he can always ask the Armed Forces to...(help in the) distribution," the President said.
"This is not about politics, that's why I removed (the authority) from the local executives and the barangay captains," he added.
Duetrte also called on his critics to stop politicking and just help ease the impact of the crisis, especially on ordinary people. He added he would like to tap young volunteers who are still full of idealism.
"I'm calling upon mga ROTC, get in touch with DSWD. Doon sa mga siyudad (In the cities), just give your accreditation. Maybe an I.D. at makatulong kayo (and you can help)," Duetrte said.
Desperation
He also said he would rather hang himself in the Rizal Park if the situation in the country worsens dramatically.
Although known for exaggerating, Duterte said desperation might force him to end his life as his administration works on containing the spread of the disease and easing its impact on the population.
The President also expressed sadness for the death of a former law classmate due to COVID-19 infection.
"If this crisis persists, we might get decimated, and that means I'll be a useless president not capable of doing anything. Without money, let's see each other in Rizal Park. Right there at the flagpole, I will hang myself," he said.
He lambasted critics, particularly human rights lawyer Chel Diokno, whom he accused of discrediting his administration instead of pitching in to help the people.
As COVID-19 continues to spread, he said it's important that people cooperate with the government and follow closely quarantine measures.
The President said the government has funds to facilitate the distribution of relief goods and amelioration package among 18 million poor households.
Workers affected by
"no work, no pay" policies can also get emergency funds from the Department of Labor and Employment while treatment in hospitals of COVID-19 patients would be shouldered by the government.
"I said we have the money, right? Now, it's here. But we need billions and the money might not last for six months. We'll all be dead," he said.
He said the Inter-Agency Task Force for the Management of Emerging Infectious Diseases lays down the policies and the guidelines for the national government's strategy against COVID-19.
The National Action Plan team is composed of Defense Secretary Delfin Lorenzana as chairman and presidential peace adviser Secretary Carlito Galvez Jr. as chief implementor.
In his address, Duterte said medical experts around the world are still in the process of finding a vaccine for COVID-19.
"If they cannot – not really invent – but if they cannot come up with a vaccine, patay tayong lahat (we'll all be dead). Hindi tayo makalabas, hindi na tayo makatrabaho. Maglabas ka, patay ka (we can't come out or go to work. You go out, you die) ," he said.