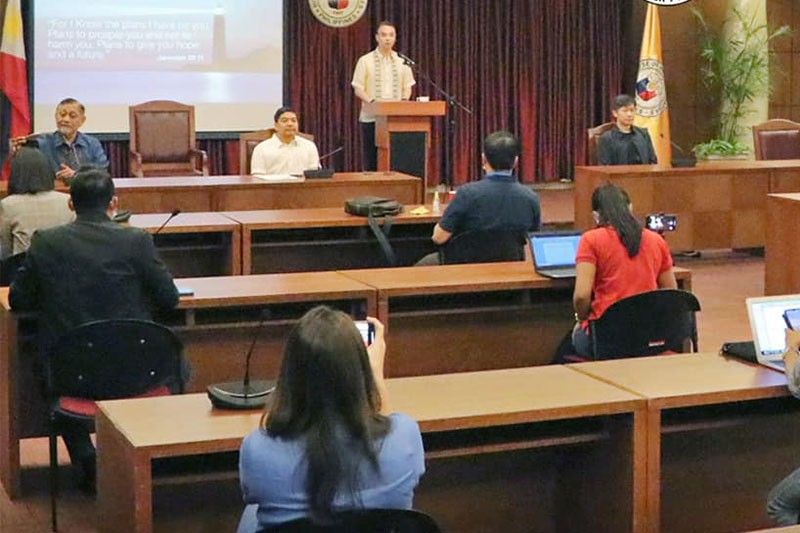 In this March 16, 2020 photo, House-accredited reporters follow social distancing protocols during the press conference of Speaker Alan Peter Cayetano.
House of Representatives
House closes several facilities after COVID-19 infection, death
MANILA, Philippines — The House of Representatives on Wednesday announced that it will shut down several facilities in its Batasan Complex based in Quezon City in order to contain the spread of the virus which causes COVID-19.
At least one employee has died due to COVID-19 while another has tested positive for the disease just this week.
RELATED: New House employee tests positive for COVID-19 | House employee, Negros councilor die of COVID
They both worked at the congressional chamber's Printing Service office.

Facilities that will be closed down today until further notice are:
Legislative Library, Archives and Museum Building
Fastfood Center
Sports and Fitness Center
Daycare Center
Procurement and Supply Management Service
Printing Service
North Multi-Level Steel Parking
South Multi-Level Steel Parking
"Access will be allowed to these facilities only for compelling reasons and under strict guidance," the House said in a Wednesday morning release.
"The closure of these facilities will allow us to better manage the disinfection and sanitation of our facilities, which we intend to do every week."
For permission to access the facilities, concerned parties may contact House sergeant-at-arms and former Philippine National Police deputy director-general Ramon Apolinario.
The House began sanitizing and disinfecting its 11 buildings in the Batasan Complex based in Quezon City on March 13 to 15.
Work has also been suspended in the chamber from March 16 to April 12.
New work arrangements were announced last Friday, including a rotational skeletal workforce for the duration of the suspension and option to work from home. However, all employees are required to to be on-call and consequently be able to report to the office for their official duties.
As It Happens
LATEST UPDATE: April 29, 2020 - 7:51pm
Photo shows members of the Philippine National Police deployed in Manila amid COVID-19 threat. The STAR/Edd Gumban
President Rodrigo Duterte on March 16, 2020 declares an enhanced community quarantine over all of mainland Luzon, an expansion of an earlier general community quarantine over the National Capital Region.
The entire National Capital Region—16 cities and a municipality—is under community quarantine from March 15 to April 14, which means the enforcement of social distancing measures like letting fewer people on public transportation, reduced store hours, and the possibiity of curfews.
According to a memorandum issued by the Palace on Saturday, March 14, the quarantine means that "movement of people shall be limited to accessing basic necessities and work; and uniformed personnel and quarantine officers shall be present at border points."
Travel restrictions in and out of the capital will also be implemented.
April 29, 2020 - 7:51pm
Batangas, one of the provinces hardest hit by the novel coronavirus, has reported no new cases of the disease for two consecutive days.
The provincial DOH Office says the number of COVID-19 cases in the province stood at 91 with no new cases as of Wednesday afternoon.
Lipa City has the most cases with 26, followed by Batangas City (21) and Nasugbu (11).
Tanauan City has the fourth most cases with eight, followed by Bauan (5) and Alitagtag (3). Cuenca and Sto. Tomas City had two cases each, while the municipalities of Calaca, Lemery, Lian, Lobo, Mabini, Mataas na Kahoy, Padre Garcia, San Jose, San Juan, San Pascual and Taal had one case each, respectively. — The Filipino Connection
April 29, 2020 - 5:39pm
Quezon City's Task Force Disiplina has been instructed to withdraw its complaint against Michael Rubuia whom city "enforcers" were caught on video beating with sticks over alleged quarantine violations.
The QC government says in the same statement that the enforcers of Task Force Disiplina have been issued show-cause orders for their actions. They may also be put on preventive suspension.
It also says Ruguia will be released to the city's drug rehabilitation center "in view of his positive drug test."
A police report on the April 27 incident did not mention the beating by task force personnel nor that he Ruguia had tested positive for drugs.
More on that incident here: QC to investigate 'local authorities' caught on video beating man lacking face mask
April 28, 2020 - 10:26pm
A 72-year-old Person Deprived of Liberty at the Correctional Institution for Women-Mandaluyong who had tested positive for COVID-19 died on Monday, the Bureau of Corrections says Tuesday.
She was the first confirmed COVID-19 case at the correctional facility and had been hospitalized on April 13 "after experiencing pneumonia symptoms," BuCor says.
"It can be recalled that her admission to the hospital triggered the contact tracing and isolation of those PDL that had contact with her days before she was brought to the hospital," BuCor also says.
Of 130 PDLs tested, 47 have been confirmed to have COVID-19.
A CIW PDL who had been admitted to East Avenue Medical Center on April 13 and who died on April 21 has also been confirmed to have had COVID-19. The results of the test, done on April 14, were only released on Monday.
April 27, 2020 - 2:59pm
Two new confirmed COVID-19 cases were reported in Lipa City on Monday even as the total recoveries jumped to five out of the 26 confirmed cases so far, the Lipa City government said.
Mayor Eric Africa announced that two male patients, ages 78 and 27 years old, tested positive for the virus, raising the city's total infections to 26 – the most in Batangas province. — The Filipino Connection
April 26, 2020 - 3:10pm
Community farms could be a "short cut" to meeting the country's food needs during the COVID-19 pandemic, Caritas Philippines says, citing community farming projects that the Catholic Church in the Philippines is helping.
"The social amelioration program is not efficiently solving our food security problem however we see it as a necessary short-cut solution," Bishop Jose Colin Bagaforo, national director of Caritas Philippines says
"Thus we at NASSA/Caritas Philippines strongly urge our government, especially the Department of Agriculture to start mobilizing farmers at the community level while we still have time."
The Department of Agriculture has said urban and community farming is among its strategies toward food security during the pandemic.
Bagaforo says "our community farms are helping deliver fresh vegetables to families severely affected by work suspension in Iligan, Bayombong and Camarines Sur, while a local farmers' cooperative supported by the diocese of Libmanan in Camarines Norte and the Gratia Plena program of the Diocese of San Jose in Nueva Ecija are supplying thousands of sacks of commercial and organic rice to Luzon provinces."
Backyard gardening programs in Iloilo, Bukidnon, Quezon, Leyte, the Samar provinces, Capiz, Oriental Mindoro and Zambales have also helped ensure food security for farming families, he says.