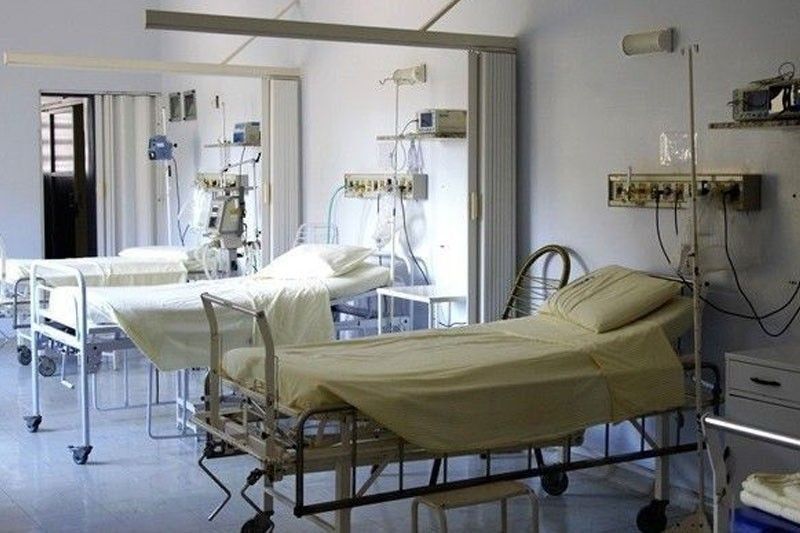 The 12th fatality experienced fever and cough on Feb. 29 and was tested positive for the disease on March 9. He was admitted to the Makati Medical Center on March 7 and was reported to have pre-existing asthma.
STAR/ File
House employee, Negros councilor die of COVID
A 41-year-old "sickly" employee of the House of Representatives' printing office and a 56-year-old Filipino male succumbed yesterday to coronavirus disease 2019 (COVID-19), bringing to 12 the total number of deaths in the country due to the virus.
The 12th fatality experienced fever and cough on Feb. 29 and was tested positive for the disease on March 9. He was admitted to the Makati Medical Center on March 7 and was reported to have pre-existing asthma.
Two other cases – an 86-year-old American male from Marikina City, and a 64-year-old councilor from Negros Oriental – succumbed to the virus over the weekend.
"It is with deep sadness that we inform you that our employee from our Printing Service passed away. He left behind his loving parents, wife and two children," House Secretary General Jose Luis Montales confirmed.
Rep. Jericho Nograles of party-list Pwersa ng Bayaning Atleta also posted a message on his social media account, "Sad news. He was a friend who worked at the Printing Office. Let's be mindful of any symptoms and do our part on the community quarantine guidelines."
House insiders said that the printing employee had "no history of travel to any country with confirmed COVID-19 case" and that he also had "no known history of exposure to a confirmed case of COVID-19."
Friends and fellow employees revealed he had "been sickly since last year" and had in fact been in and out of the hospital – for gastroenteritis on Nov. 4, 2019 – and that he went on leave last Jan. 9 to go to a hospital, and on sick leave since Jan. 14-16 for "acute diarrhea."
He also went on sick leave from Feb. 3 to 6, and 17 this year for upper respiratory tract infection.
The patient last reported for work in the House on March 3, and was admitted on March 9 at the Ortigas Hospital and Medical Center where he was diagnosed with community acquired pneumonia.
On March 11, he was transferred to San Lazaro Hospital in Manila, where he tested positive for COVID-19 the next day, and eventually died yesterday.
"We thoroughly cleaned, sanitized and disinfected the House premises, especially the Printing Service office and its immediate surroundings on March 13 to 15. All Printing Service personnel have been put on home/self- quarantine and are being monitored.
"So far they're okay. DOH (Department of Health) and LGU (local government unit) are conducting contact tracing to identify all other persons, including employees of other departments of House, who had been in contact with him," the House leadership stated.
"These persons to be identified by DOH will also undergo self-quarantine, and confinement and testing, if warranted," the officials assured.
"We have been extending full assistance to the family from the time the victim had been hospitalized. Another Printing Service employee who was admitted for dengue underwent testing for COVID-19. The results are expected to come out March 16," they stated.
Councilor succumbs to COVID
Meanwhile in Negros Oriental, the COVID-19 Task Force has reported that Patient 39, who earlier tested positive for the virus, died yesterday at the Silliman University Medical Center in Dumaguete City, due to multiple organ complications.
Patient 39 was a 65-year-old councilor of Tayasan town in Negros Oriental, also an immunocompromised patient, who had undergone a kidney transplant before he was infected with COVID-19, according to the task force advisory.
The Tayasan councilor was among the participants of the Philippine Councilors League (PCL) national convention on Feb. 26 at the SMX Convention Center in Pasay City, and who reportedly stayed with relatives in Greenhills, San Juan City.
Dumaguete Mayor Felipe Antonio Remollo earlier said that he is not keen on a lockdown of the city, with only one case positive for COVID-19 and who is not even from there.
Remollo said a Philippine-style lockdown may be imposed but a 100 percent enforcement is not possible due to lack of personnel.
A Negros Occidental town councilor, who also attended the PCL national convention, is now under the care of a government medical facility after exhibiting flu-like symptoms, according to Toboso Mayor Richard Jaojoco.
Ryan Gamboa, PCL Negros Occidental chapter president, said there were about 270 councilors from Negros Occidental who attended the convention and so far, none have exhibited any COVID-19 symptoms.
A technical assistant of Gamboa, who also attended the PCL national convention, is now under home quarantine, after she was classified as a Person Under Monitoring for COVID-19.
Gamboa said the assistant was feeling better with no flu symptoms but advised her to self-quarantine until her test results arrive.
Suspected COVID death
A police officer assigned in Metro Manila, who was a patient under investigation (PUI) for possible COVID-19 infection, died on Saturday.
The lawman died at a hospital in Pasay City at around 8 p.m., according to a police memorandum. The attending physician cited respiratory failure as the cause of death.
The memorandum said the policeman was a PUI, whose test result won't be available until, March 17.
A separate statement from the National Capital Region Police Office said the police officer had experienced severe coughing three months ago but did not seek medical attention. He also had diabetes.
The victim and his wife were first brought to a hospital on March 5 for medical checkup and went home to General Trias City, Cavite.
On March 7, the policeman was brought to a hospital in Cavite for fever and viral infection where he was treated as an outpatient. – With Gilbert Bayoran, Emmanuel Tupas, Mayen Jaymalin
He was taken to a hospital in Pasay City last March 9 for tonsillitis and possible pneumonia where he was confined until his death.
The policeman's corpse is still at the hospital and scheduled for cremation on Friday. – With Gilbert Bayoran, Emmanuel Tupas