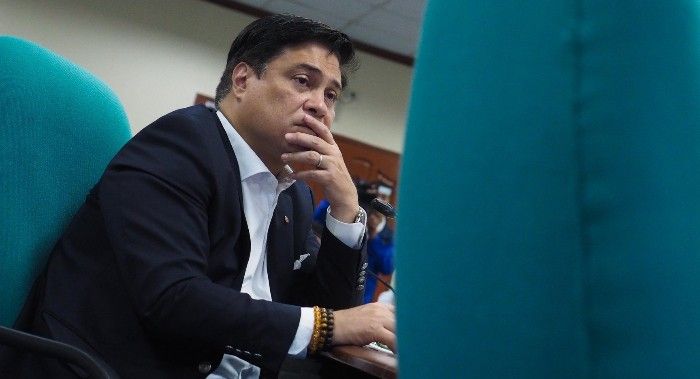 In this March 2, 2020 photo, Sen. Miguel Zubiri listens to a resource person at a hearing by the Senate Committee on Cooperatives about concerns of the Cooperative Development Authority over the implementation of its charter.
Office of Sen. Zubiri
Zubiri positive for COVID-19
Paolo Romero
(The Philippine Star) - March 17, 2020 - 12:00am
MANILA, Philippines — Senate Majority Leader Juan Miguel Zubiri announced last night that he was found positive for the coronavirus disease (COVID-19) but he remains asymptomatic.
"It is with sadness that I announce that I am positive for COVID-19. I had a test taken last Friday while on self-quarantine, and this afternoon, I received a call from (Health) Secretary (Francisco) Duque on my condition," Zubiri said on his social media account.
"My heart sank with what he had said, but I'm uplifted with the fact that I am asymptomatic and have no fever or cough nor am I weak or have any headaches," he said.
He said his decision to self-quarantine last Wednesday evening after session was "the best decision I made and could have protected my family from contamination."
As one of those in the Senate who espoused and advocated stronger government response on controlling COVID-19, he said he was "very careful" in his dealings with people at work.
"I practiced social distancing as well as a no handshake policy but yet I got contaminated. How, I do not know. This just goes to show how easily this virus is spread and therefore it is best for everyone to stay home and stay clean," Zubiri, who is also president of the Philippine Eskrima Kali Arnis Federation, said.
He said he would stay locked in isolation for 10 more days until he gets checked again "with hopefully a negative result."
"I hope my coming out will show how dangerously infectious this virus is. For my countrymen, let us heed the warning of the government and do not leave your homes," Zubiri said.
Pinay recovers
Meanwhile, a 44-year-old woman from Pasay City has recovered from COVID-19, making her the first Filipino to overcome the respiratory illness, the Department of Health (DOH) reported last night.
Patient 14 is the third case in the country to recover from the disease, following two Chinese nationals – PH1 and PH3 – who have both gone back to China.
The DOH said PH14 "tested negative twice for COVID-19 as confirmed by Makati Medical Center." She was officially discharged last Sunday.
PH14 was confirmed infected with the virus on March 9. She had no travel history and no known exposure to confirmed cases.
There were two more confirmed cases of COVID as of 7 p.m. last night, raising the total number to 142, the DOH said.
The death toll remains at 12, with a 56-year-old Filipino male (PH12) from Manila, who began experiencing fever and cough on Feb. 29, as the latest fatality.
He was admitted to the Makati Medical Center on March 7 with "pre-existing asthma" and turned positive for the virus on March 9.
The agency added that PH12 died of "acute respiratory distress syndrome, secondary to COVID-19."
No test for PUIs with mild symptoms
The DOH yesterday said persons under investigation (PUIs) for possible infection with the COVID-19 would no longer be tested if they manifest mild symptoms.
Based on the "Algorithm for Triage of patient with possible COVID-19 infection in health care facilities," PUIs who have "no co-morbidity" or pre-existing conditions and the "non-elderly" will also not be tested for the virus anymore.
"No need to test. Provide instructions for quarantine at home or barangay isolation units," the Algorithm stated.
On the other hand, PUIs "mild +/- co-morbidity +/- elderly" are considered "severe and critical" will be admitted in a designated COVID-19 isolation area and be tested.
The STAR tried to reach the DOH for clarification but failed to get a reply.
In an interview with the UNTV, DOH Undersecretary Ma. Rosario Vergeire said PUIs or those who are symptomatic, with history of travel to areas with localized transmission of COVID-19 and with history of exposure to an infected individual, should undergo home quarantine.
"Do not go to hospitals immediately because you might get the infection there… If you are an elderly with mild symptoms, then you can go to hospital," Vergeire said.
She said the priority are the elderly who now comprised most of the 140 confirmed cases of COVID-19 as of March 15.
The DOH COVID-19 data show that of the 140 cases, 75 belong to 51 to 90 age group.
Edsel Maurice Salvana, director of the Institute of Molecular Biology and Biotechnology at University of the Philippines-Manila's National Institutes of Health, said PUIs on home quarantine can be brought to hospital "if they feel short of breath or (if) they deteriorate."
"Eventually, there will be testing in the community, but right now, we are prioritizing the severe and the critically ill," he added.
2 deaths, 26 cases
Two deaths and 26 new cases of COVID-19 were reported yesterday in Makati, Pasay, Batangas, Cavite, Bulacan and Antipolo.
Of the 26 new cases, 14 were reported in Makati, four in Batangas, four in Bulacan, two in Cavite, one in Pasay and one in Antipolo.
The two fatalities in Makati were admitted to the Makati Medical Center but were not residents of the city, according to Mayor Abby Binay.
The city government is also checking the conditions of 34 persons under monitoring (PUM) or those who do not exhibit symptoms but with history of travel and exposure to COVID-19 cases and 52 PUIs or those who met the PUM criteria and are already suffering symptoms of the disease, Binay said.
She assured residents that the 14 patients who got infected with the virus "are very confined" now and are relatives living in the same house.
In Pasay, a regular employee of the Government Service Insurance System (GSIS) has tested positive for the virus, prompting a lockdown in the state pension fund's offices in the city and Quezon City.
The female employee had a travel history to Japan and started manifesting symptoms on March 7. She was admitted to San Juan de Dios Hospital on March 11, GSIS president and general manager Rolando Macasaet said in a statement yesterday.
Batangas Gov. Hermilando Mandanas confirmed yesterday that there are now four positive cases of COVID-19 in his province.
He said one is a 79-year-old female patient from Batangas City with travel history in London. Her brother, 72, also tested positive.
The third case is a 64-year-old female patient residing in Lemery with a travel history while the fourth patient is male and currently confined in a hospital outside the province.
All the patients are now being treated in medical facilities outside Batangas, according to Mandanas.
Aside from the four confirmed cases, the province has 43 PUIs and 114 PUMs.
Another 175 patients previously being monitored had been cleared, Mandanas said.
In Cavite, two more COVID cases were reported.
Gov. Jonvic Remulla said the first case was reported in Imus City while the second was in Silang.
In Antipolo, Mayor Andrea Ynares said a 60-year-old man from Barangay Mambugan in Rizal was the city's first case of COVID-19.
The patient was brought to hospital on March 8 for pulmonary infection but was later found positive for the coronavirus.
In Bulacan, the province's public health officer reported four confirmed COVID-19 cases.
The patients are a 58-year-old female and a 33-year-old male from San Jose del Monte; a 31-year-old female from Malolos, and a 70-year-old female from Guiguinto town.
'Info disclosure causes panic'
Meanwhile, Binay explained that the Makati government is "limiting access to information and not telling more about identities of patients and barangays with positive cases (of COVID-19)" so as not to scare people.
"Disclosing information about patients testing positive for the coronavirus does not help" and could cause further panic, Binay said, noting that the city is still grappling with rising cases.
"The problem is, when people find out there is indeed a case in their community, they would flee to their provinces," she said.
She added that revealing information could be "counterproductive" in the city government's effort to trace people who might have contact with COVID-19 positive patients.
"We want them to stay in their area so we could locate them," she said.
Asked about information circulating on social media, Binay confirmed that a person living in Barangay Guadalupe Nuevo tested positive for COVID.
The patient was among 14 positive cases of the virus from the city, she added.
Of the cases, two already died, both at the Makati Medical Center. – With Sheila Crisostomo, Ghio Ong, Mary Grace Padin, Arnell Ozaeta, Ed Amoroso, Ramon Efren Lazaro