State of calamity in Philippines for 6 months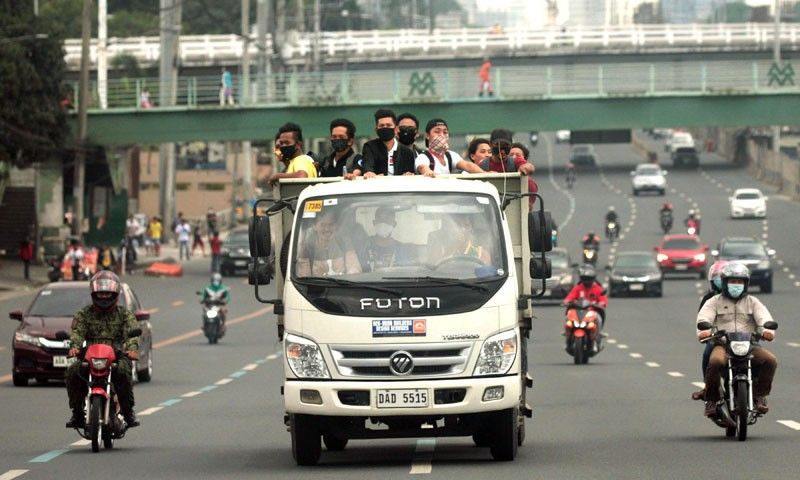 MANILA, Philippines — President Duterte has declared a nationwide state of calamity for six months to address the outbreak of the coronavirus disease 2019 (COVID-19) in the country.
The declaration will allow the President to tap, among others, the government's calamity funds, which were earlier reported to amount to P16 billion under the 2020 national budget.
It will also allow local government units (LGUs) to speedily access special funds to assist their constituencies during the public health emergency.
"There is hereby declared a State of Calamity throughout the Philippines for a period of six months, unless earlier lifted or extended as circumstance may warrant," Duterte said in Proclamation No. 929 signed last Monday.
In Proclamation 929, Duterte noted that COVID-19 cases continue to rise rapidly, which has prompted the Department of Health (DOH) and the Inter-Agency Task Force for Emerging Infectious Disease (IATF) to raise the alert level to CODE Sublevel 2, indicating there are already recorded cases of community transmission.
"Despite government interventions, the number of confirmed cases of COVID-19 continues to rise," the President said.
The President added that the declaration will "afford the National Government, as well as the Local Government Units, ample latitude to utilize appropriate funds including the Quick Response Fund, in their disaster preparedness and response efforts to contain the spread of COVID-19, and to continue to provide basic services to the affected population."
Duterte declared the state of calamity on the same day he imposed an Enhanced Community Quarantine throughout Luzon starting March 17 to April 12 as part of the government's intensified efforts to contain the spread of the virus.
"All government agencies and LGUs are enjoined to render full assistance to and cooperation with each other and mobilize the necessary resources to undertake critical, urgent and appropriate disaster response and measures in timely manner to curtail and eliminate the threat of COVID-19," the President said.
Duterte directed all law enforcement agencies, with the support of the Armed Forces of the Philippines, to "undertake all necessary measures to ensure peace and order in affected areas, as may be necessary."
"The Executive Secretary, the Secretary of Health and all other concerned heads of departments are directed to issue guidelines governing the implementation of the Enhanced Community Quarantine throughout Luzon," the President said.
Prior to this, Duterte declared the State of Public Health Emergency throughout the Philippines to contain COVID-19.
Secretary to the Cabinet Karlo Nograles said the President's declaration of state of calamity would allow him to release funds to boost government efforts to address the disease. This would also empower the local government officials to access their quick response funds to enable them to bring urgent assistance for their constituents.
Malacañang, meanwhile, has ordered agencies and local governments to ensure compliance with price controls on essential medicines and supplies and selected agriculture products to prevent traders from taking advantage of the panic over COVID-19. ?The directive is contained in Memorandum Circular No. 77 signed by Executive Secretary Salvador Medialdea yesterday. ?"The ongoing global concern on the spread of the COVID-19 has increased the demand for essential emergency drugs and medical supplies and basic food commodities, thereby making these products susceptible to acts of illegal price manipulation," Medialdea said in the circular. ?"There is a need for coordinated measures to promote and protect the health of the Filipino people and ensure the accessibility of the general public to essential commodities until the COVID-19 situation is stabilized," he added. ?Under the circular, the existing price control measures being implemented by the health and agriculture departments shall be maintained.
The President, without face mask or protective gear, visited a checkpoint at the border of Bulacan and Valenzuela before dawn yesterday.
According to Presidential Security Group (PSG) commander Jesus Durante, the President removed his mask when he alighted from the vehicle to check on stranded motorists being inspected by law enforcers along MacArthur Highway.
Durante said they advised people to maintain a distance of at least two meters from Duterte, who "did not initiate any handshake," to avoid any unnecessary contact.
Even the President's close-in security personnel "kept our distance and never had any physical contact with the people," the PSG chief added.
Durante noted that it was the first time for him "to see that even the people are cooperative" and kept their distance.
Reports said Duterte also checked the situation along Mindanao Avenue in Quezon City before passing by SM North to Balintawak.
He wanted to proceed to San Jose del Monte, Bulacan but was prevailed upon by PSG personnel. The Department of Health earlier reported cases of COVID-19 in Bulacan.
Calamity fund
Metro Manila mayors yesterday appealed to the national government for more assistance as they raised fears that calamity funds would be depleted.
San Juan Mayor Francis Zamora said it would be difficult to simultaneously provide constituents with three meals per day and procure items necessary to curb the spread of COVID-19.
"Calamity funds would surely be depleted. We have activated ours but if we are talking about feeding everyone every day, three meals a day… in terms of food, the funds would surely be depleted," Zamora said after the Metro Manila Council meeting yesterday.
The mayor explained that aside from food, city governments need to procure medicines, supplements, masks, alcohol, hospital equipment, makeshift tents and other necessities in case the number of COVID-19 cases increases.
As of Monday, at least 12 Metro Manila cities have passed an ordinance declaring a state of calamity: Manila, San Juan, Valenzuela, Quezon City, Mandaluyong, Makati, Pasig, Pasay, Parañaque, Las Piñas, Muntinlupa and Taguig.
OVP to procure test kits
The Office of the Vice President (OVP) has allotted P5.3 million for the procurement of test kits.
Vice President Leni Robredo, in a video message posted on her official Facebook page, called on the government to immediately release the subsidies for poor Filipinos under the Pantawid Pamilya Pilipino Program (4Ps) and for workers in the informal sector, including tricycle and pedicab drivers as well as vendors.
In partnership with civil society group Kaya Natin!, the OVP has raised P17.3 million for the purchase of 36,503 personal protective equipment (PPE) sets for 2,433 frontliners.
Robredo said the supply could last 15 days.
The OVP has so far distributed PPE sets to eight government hospitals.
Robredo said they will provide 29,153 PPE sets in the coming days.
Taguig on lockdown
Taguig Mayor Lino Cayetano yesterday declared the city under lockdown, saying only the delivery of basic goods and supplies will be allowed.
Supermarkets, groceries, convenience stores and banks would still be open.
"We are working to help small groceries and sari-sari stores to have working supply chain. They will be allowed to operate under strict barangay monitoring and social distancing rules," Cayetano said.
A curfew from 8 p.m. to 5 a.m. would be strictly implemented, he also said.
Cayetano said all mass public transport would be suspended. He did not state whether health workers and other employees exempted from the quarantine would be provided transport.
Scarce items
Pasig Mayor Vico Sotto, whose city was placed under a state of calamity earlier this week, said PPE, thermal scanners and testing kits have become scarce.
"We have the funds, money, but the problem is we can't find enough stock. The first batch we bought was very few," Sotto told "The Chiefs" last night on Cignal TV's One News.
Sotto said Pasig needs more than 100 thermal scanners to help its medical frontliners and law enforcement officers to address the threat of COVID-19.
Mayor Marcelino Teodoro said Marikina is in the same situation.
"Now we are searching for sellers, we have exhausted all our options. Our thermal scanners are still not enough," he said.
The mayors also lamented how thermal scanners were supposed to cost around P850, but some merchants are selling them for P10,000 each.
"We are calling upon business owners. Please, let's not take advantage of the health situation for profits. Let's do the right thing," Sotto said.
While Marikina has procured about 3,000 locally developed testing kits, Pasig is in dire need of more, according to Sotto.
The DOH said last week that the government's lack of testing kits was the reason why the DOH was underreporting the number of infected persons. – With Helen Flores, Neil Jayson Servallos, Ralph Edwin Villanueva