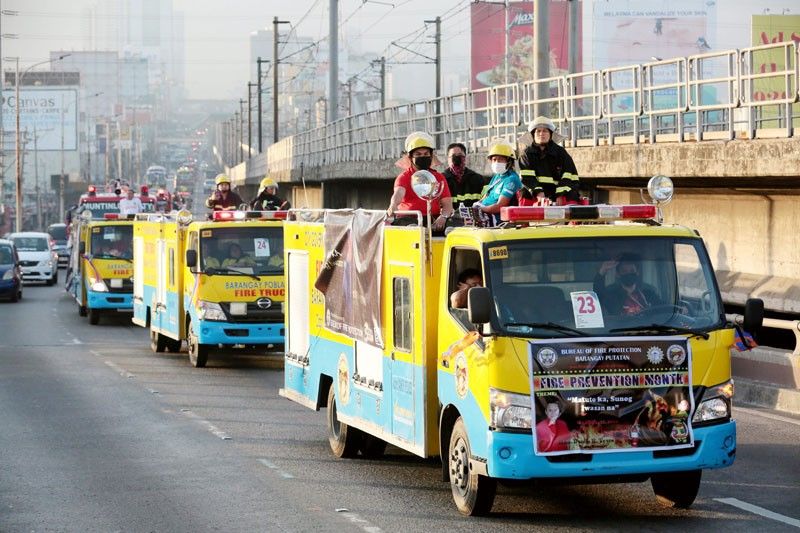 Firefighters and volunteers from the National Capital Region pass through the Kamuning flyover in Quezon City as they take part in a parade of fire trucks yesterday to mark the start of Fire Prevention Month. MICHAEL VARCAS
BFP hopes fire truck parade will make Guinness record
MANILA, Philippines — The Bureau of Fire Protection (BFP) is hoping that its parade of 242 fire trucks yesterday in Metro Manila will make it to the Guinness World Records.
Firefighters from the BFP National Capital Region (NCR) and volunteer groups joined the kick-off ceremony for Fire Prevention Month this March through a parade of fire trucks.
Chief Superintendent Wilberto Rico Neil Kwan Tiu, Metro Manila fire chief, said the parade surpassed the record set on Jan. 20, 2012 by the Atoka Fire Department in Oklahoma, where 220 fire engines rolled out.
"Our kick-off today set a new record in the history of the BFP as the longest parade of fire engines," Kwan Tiu said in a statement.
But Col. Gerrandie Agonos, BFP spokesman, said the record set during the parade was unofficial as no representative from Guinness World Records was present to witness the event.
The parade started at the SM Mall of Asia in Pasay City around 6 a.m.
With sirens blaring, the fire trucks traversed EDSA to Quezon City Memorial Circle.
"It was just part of the Fire Prevention Month awareness campaign of the BFP," he said in a text message.
With the theme Matuto Ka, Sunog Iwasan Na (Learn Your Lesson, Avoid Fire Now) the BFP is hoping there would be fewer fire incidents this year due to its intensified information drive.
A total of 18,612 fire incidents were recorded throughout the country last year. Since 2020 started, the BFP has already documented 3,633 fires.
The usual mass gathering of firefighters signalling the start of Fire Prevention Month was scrapped this year due to the threat posed by the coronavirus disease 2019 (COVID-19).