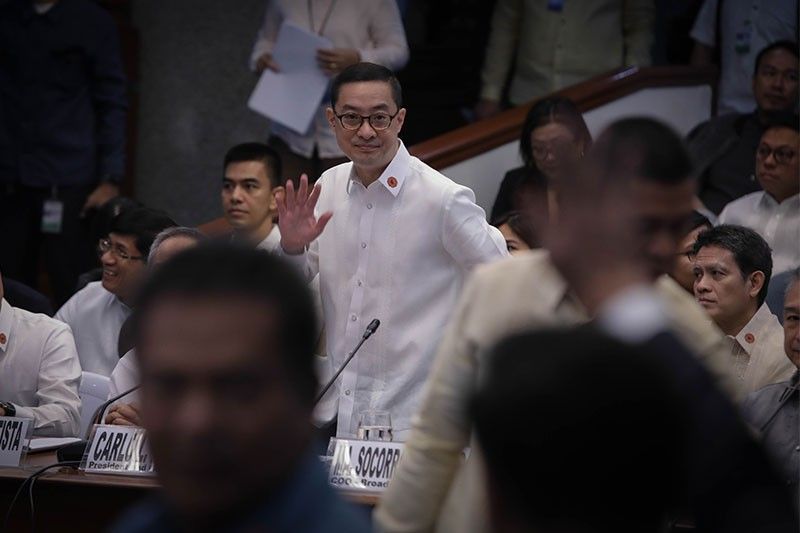 ABS-CBN President and CEO Carlo Lopez Katigbak attends the Senate inquiry on the compliance of the broadcast network's compliance with the terms and conditions of its franchise.
The STAR/Mong Pintolo
'Sorry for offending': ABS-CBN does not have own political agenda, CEO says
Franco Luna
(Philstar.com) - February 24, 2020 - 2:32pm
MANILA, Philippines (Update 2; 3:21 p.m.) — Amid a quo warranto petition aimed at revoking the already-expiring franchise of broadcast giant ABS-CBN Corporation, the company's CEO on Monday apologized to President Rodrigo Duterte for offending the chief executive in the past.
ABS-CBN CEO Carlo Katigbak, however, was careful to point out that all of Duterte's national advertisements, amounting to P117 million in worth, were aired.
The president's ire for the media company can be traced back to his comments on these advertisements during his electoral campaign in 2016, after which Duterte had been quoted as saying that the network swindled him.
Among Duterte's complaints for the network was their decision to air unflattering political advertisements paid for by his rivals while not airing his own paid political advertisements.
But at Monday's Senate hearing on the media company's legislative franchise, Katigbak disclosed the check issued by ABS-CBN refunding P2.6 million in unaired political ads paid for by the Duterte campaign, which he said was one of the sources of Duterte's anger towards the company.
"We're sorry if we offended the president, that was not the intention of the network," Katigbak told the Senate panel.
"[ABS-CBN] does not and will not have its own political agenda."
'We're sorry for offending the president'
Katigbak also explained that during the campaign period for the May 2016 general elections, the network offered "two kinds of political ads sold to candidates" which included both national ads and local ads.
According to the ABS-CBN CEO, the full 117 minutes of Duterte's ads ordered for national airing were indeed accommodated and aired. It was only the local ads that were not fully accommodated because of what he said was the low allocation for minutes.
But Katigbak pointed out that "lawful election propaganda includes propaganda for or against a candidacy," and thus, the company's internal committee approved its airing.
The Omnibus Election Code recognizes that an "election campaign" is "an act designed to promote the election or defeat of a particular candidate or candidates to a public office" and includes "publishing or distributing campaign literature or materials designed to support or oppose the election of any candidate."
The Fair Elections Act, meanwhile, holds that "[e]lection propaganda whether on television, cable television, radio, newspapers or any other medium is hereby allowed for all registered political parties, national, regional, sectoral parties or organizations participating under the party-list elections and for all bona fide candidates seeking national and local elective positions."
It, and the Omnibus Election Code that it cites, include as lawful election propaganda "paid advertisements in print or broadcast media" as well as "handwritten or printed letters urging voters to vote for or against any particular political party or candidate for public office."
Katigbak said that "we were required not to discriminate against any candidate."
"Any candidate who comes to our station with an ad that is allowed, we will accommodate."
Duterte had explicitly said that he will see to it that ABS-CBN's franchise will not be extended, although the Palace had also said that the president, whose words often translate into policy, will not meddle in the affairs of Congress.
Furthermore, presidential spokesperson Salvador Panelo told the public not to take these words literally.
Despite these caveats, Duterte has constantly singled out ABS-CBN along with other media organizations including The Philippine Daily Inquirer and Rappler, for what he says is their content that puts him in a bad light.
Palace: Accepting ABS-CBN apology up to Duterte
It would be up to Duterte to decide whether or not to accept the network's apology for failing to air his campaign commercials in 2016, Malacañang said Monday.
"It has been a while since it (failure to air the commercial) happened. They only apologized after they were lambasted. It's up to the president. I don't know how to respond to that. It's a personal decision," presidential spokesman Salvador Panelo said at a press briefing when asked whether Duterte would accept the broadcast giant's apology.

"Dapat noon pa nila ginawa (They should have done that before)," he added.

Panelo, nevertheless, said he was "glad" that ABS-CBN finally "admitted its shortcomings to the President."

"That's what the president has been saying. You know you did something wrong... Did you do anything about it? None. That's what he called hubris. You are too arrogant," the Palace spokesman said.
Drilon: Violation of the freedom of the press
Malacañang has denied that Duterte's ire for the media network was connected to any political vendetta, emphasizing the separation of powers between the two branches. But both chambers of Congress are dominated by administration allies and have historically voted favorably towards the president's decisions.
"All the president wants is fair reporting. Kung masama ka sa pangulo, mas magiging masama siya sa'yo (If you are bad towards the president, he will treat you worse)," Sen. Christopher "Bong" Go, former presidential aide and de facto spokesperson, said in the same Senate hearing.
In an earlier interview with ANC's Headstart, Senate Minority Leader Franklin Drilon asserted that the issue was also one of press freedom.
"Inevitably freedom of the press will be involved, because in our mind, the cancellation of the franchise is not based on Constitutional issues but on something else," Drilon said, although he did not specify what exactly this was.
"Certainly, editorial content is not a ground for cancelling the franchise, because that smacks of violation of the freedom of the press and it can be even viewed as a prior restraint which is violative of the freedom of speech." — with a report from The STAR/Alexis Romero
As It Happens
LATEST UPDATE: September 24, 2020 - 11:13am
ABS-CBN Corp. stopped broadcasting on its TV and radio stations on May 5, 2020 after the National Telecommunications Commission issued a cease and desist order. The network's franchise had lapsed on May 4 without action by the House of Representatives.
September 24, 2020 - 11:13am
Eugenio "Gabby" Lopez III tenders his resignation as chairman emeritus and director of ABS-CBN Corporation due to personal reasons.
Lopez also steps down as director of ABS-CBN Holdings Corporation, Sky Vision Corporation, Sky Cable Corporation, First Philippine Holdings Corporation, First Gen Corporation and Rockwell Land Corporation.
"He expressed his appreciation for the trust of the stockholders as well as to his co-directors and senior management for the privilege of having served with them over the years," ABS CBN Head of Corporate Communications Kane Errol Choa says in a statement.
September 12, 2020 - 11:56am
A group of teachers denounces anew the shutting down of ABS-CBN network, with its education platform—Knowledge Channel—just like what ousted dictator Ferdinand Marcos Sr. did 48 years ago.
"In the spirit of upholding press freedom and the people's right to information, and the media's burgeoning role in education amid the pandemic, ACT supports the Knowledge Channel Foundation Inc. in its bid to extend its services and resources to the Department of Education as the public education system shifts to remote learning in response to the pandemic," says the Alliance of Concerned Teachers Philippines in a statement.
September 10, 2020 - 4:35pm
The National Telecommunications Commission recalls the frequencies assigned to broadcast giant ABS-CBN following the non-renewal of its legislative franchise.
In its decision released Thursday, the NTC points out that ABS-CBN does not have a valid franchise to continue operating television and radio broadcasting stations nationwide.
"Indubitably, the denial of Respondent's franchise renewal application in Congress, coupled with the denial of Respondent's Petition by the Supreme Court, lead to no other conclusion except that Respondent had already lost the privilege of installing, operating, and maintaining radio broadcasting stations in the country," the NTC says.
August 30, 2020 - 2:27pm
Broadcast journalist Ted Failon is leaving ABS-CBN after 30 years, the network says Sunday, adding his final appearances on "TV Patrol" and "Failon Ngayon sa TeleRadyo" will be on August 31.
"The closure of ABS-CBN's radio broadcast operations led to his painful decision and we respect it. We admire Ted's talent, passion, and commitment to radio as his most effective medium in serving the Filipino people," the network also says.
Last Friday, 12 regional "TV Patrol" programs went off the air also due to a House panel's decision in July to junk ABS-CBN's application for a new franchise.
August 26, 2020 - 1:21pm
ABS-CBN will stop production on 12 local "TV Patrol" programs on August 28, the network announces.
"This unfortunate development is the latest service affected by the denial of ABS-CBN's franchise by the House of Representatives last July 10, which also led to the closing of ABS-CBN Regional's operations," it also says.
The following "TV Patrol" programs will have their final broadcast on Friday:
TV Patrol North Luzon (Baguio, Dagupan, Ilocos, Isabela and Pampanga)
TV Patrol Bicol (Naga, Legazpi)
TV Patrol Palawan
TV Patrol Southern Tagalog (CALABARZON)
TV Patrol Central Visayas (Cebu, Dumaguete, Bohol)
TV Patrol Negros (Negros Occidental, Negros Oriental)
TV Patrol Panay (Iloilo, Capiz, Aklan, Antique, Guimaras)
TV Patrol Eastern Visayas (Samar, Leyte)
TV Patrol Northern Mindanao (Misamis Oriental, Misamis Occidental Lanao Del Norte, CARAGA, Dipolog)
TV Patrol South Central Mindanao (SOCSKSARGEN, Cotabato)
TV Patrol Southern Mindanao (Davao)
TV Patrol Chavacano (Zamboanga)
These programs go off the air as regional newspapers and media outlets grapple with the economic effects of the COVID-19 pandemic.
Regional newspapers, a vital source of community news, have had to reduce pages or shift to online news in recent months.