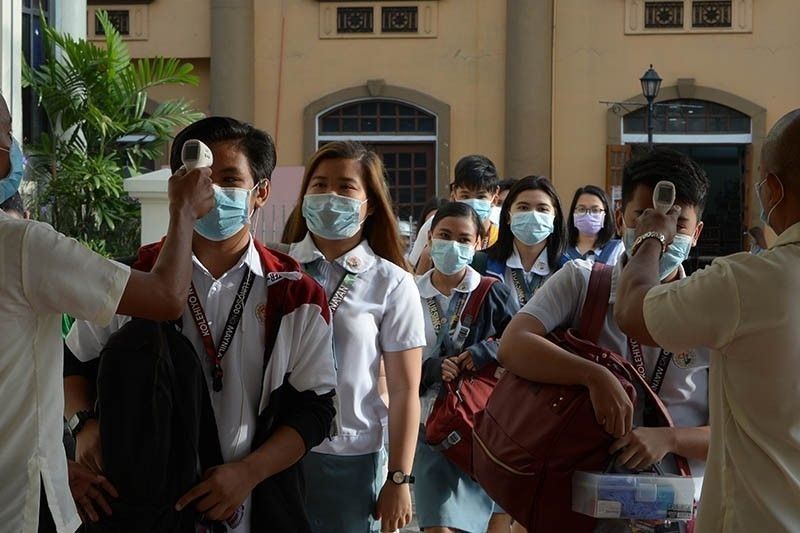 Students wearing protective face masks have their temperatures taken while entering their college campus in Manila on January 31, 2020.
AFP/Ted Aljibe
DepEd: National, regional school events may resume next week
MANILA, Philippines — School activities temporarily suspended due to the threat of the coronavirus disease (COVID-19) may resume starting next week, the Department of Education said.
In a memorandum issued late Wednesday, DepEd said the conduct of national, regional and off-campus activities may resume beginning February 24 provided all precautionary measures identified by the DepEd and the Department of Health (DOH) are "strictly followed."
This, after the DOH, the Department of the Interior and Local Government and the Department of Tourism said it is safe to organize and attend public gatherings and festivals as long as precautionary measures are observed.
DepEd also reiterated that schools should ensure adequate supply of water and soap in campuses, and hand sanitizers and alcohol.
School personnel should also maintain cleanliness of campuses, including the regular disinfection of doorknobs and handles.
The Philippines has three confirmed cases of COVID-19—including the first fatality outside mainland China. The country's first coronavirus patient was discharged from the hospital weeks ago, while the third confirmed case returned to China.
The illness has killed over 2,000 and infected more than 74,000 people across China. Hundreds more cases were reported in nearly 30 countries.
As It Happens
LATEST UPDATE: April 10, 2020 - 8:18am
Follow this page for updates on a mysterious pneumonia outbreak that has struck dozens of people in China.
April 10, 2020 - 8:18am
UN Secretary-General Antonio Guterres calls for the Security Council to unite in its response to the COVID-19 pandemic, calling it "the fight of a generation — and the 'raison d'être' of the United Nations itself."
"A signal of unity and resolve from the Council would count for a lot at this anxious time," he tells the group which was holding its first meeting on the new coronavirus by videoconference.
The contents of Guterres' speech was relayed to AFP by diplomats attending the session, which was still ongoing. — AFP
April 10, 2020 - 8:17am
EU finance ministers agrees a 500-billion-euro ($550-billion) rescue Thursday for European countries hit hard by the coronavirus epidemic, but sidelines a demand by Italy and France for pooled borrowing.
"Europe has decided and is ready to meet the gravity of the crisis," tweets French Finance Minister Bruno Le Maire after the talks. — AFP
April 10, 2020 - 8:16am
British Prime Minister Boris Johnson left intensive care, where he had spent the three previous days for treatment against coronavirus, his Downing Street office says.
"The Prime Minister has been moved this evening from intensive care back to the ward, where he will receive close monitoring during the early phase of his recovery," says the statement. — AFP
April 9, 2020 - 6:06pm
The Philippines receives 20 units of COVID-19 test kits from the Government of Brunei Darussalam through its Ministry of Health.
The test kits, which yield a total of 1,000 tests, were delivered immediately to the Research Institute for Tropical Medicine.
April 9, 2020 - 2:35pm
Education Secretary Leonor Briones announces that she tested positive for the novel coronavirus (COVID-19).
"I am going on isolation. However, like my fellow Cabinet member, I will continue working - virtually attend IATF meetings, preside over the DepEd EXECOM and MANCOM, and make all decisions necessary to keep DepEd in full operation," says Briones in a statement.